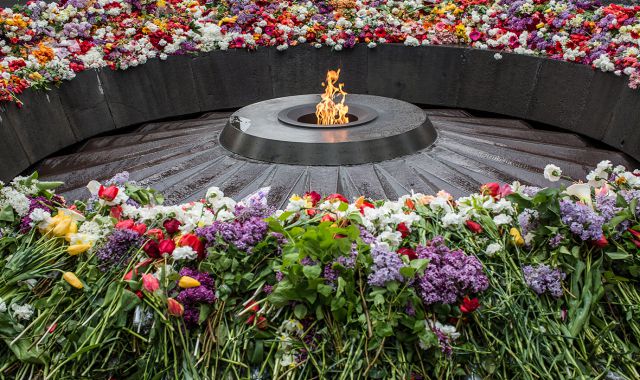 As Egypt's Coptic Orthodox Pope Tawadros II landed in Armenia to participate in the centennial of the Armenian genocide, Armenians have united their voices in demanding the international community recognize the mass killings as a genocide.
"The day signifies a great cultural loss, a painful memory of the disturbing incident and a lack of closure," says Vana Borghosizian, an 18-year-old American University of Sharjah student who says she continues to feel the impacts of the genocide today.
"It [the genocide] has my Armenian identity and the Armenian identity in general," explains Vana.
"With every story my parents told me about their grandparents (survivors of the genocide who found refuge in Aleppo, Syria), I felt them pass on a piece of the pain my great grandparents felt themselves," adds Vana.
"Usually, the knowledge that is passed through generations of a family, becomes a part of its own little heritage and culture. This knowledge may include food recipes, traditions, religion, family history and in my case, as well as the Armenian case, horror stories from the Armenian genocide.
"These stories became a part of our own little heritage within the family, and within every other Armenian family, heavily impacting what it means to be an Armenian."
Armenians have long campaigned for Turkey and members of the international community to recognize the mass killings of up to 1.5 million Armenians as to ensure their lives are remembered.
Egypt's Coptic Pope Tawadros II is among a number of world leaders that have visited Armenia in recent weeks to mark the centennial.
"Turkey's blatant denial of this factual piece of world history disgusts every Armenian culturally scarred by the genocide," says Vana of the continued denial by Turkey of the genocide.
"As though the systematic murder of 1.5 million Armenians, the rape,abuse and orphaning of countless others were not enough, Turkey's denial only magnifies the pain we all feel and angers us more. Their effort to hide the facts pushes us to speak louder with each passing year."
Nevertheless, one Turkish student, who preferred to remain anonymous, explains that calling it a genocide would be inaccurate.
"It was a gangs war. Turkish and Armenian gangs fought each other," says the student.
"I don't believe, because I am a citizen of Turkey, that it is a genocide. If they believe it is a genocide, they should do research. The Turkish government hasn't apologized because they have always said the documents are available for everyone and everyone can look. They don't support the assertion it was a genocide."
Another Turkish citizen blamed Armenian 'gangs' for the mass killing of people in Armenian territory of the Ottoman empire.
"There are no documents proving the existence of genocide. There are no mass graves. Have you ever seen any mass graves of the so called genocide? I have seen lots of mass graves of Turkish people who were killed by Armenian gangs at the time," says the man who also preferred to remain anonymous.
Nevertheless, Vana believes that those that deny it was a genocide simply do not want to feel shame for what happened.
"It was a genocide and denying it would only condone future genocides to come," asserts Vana.
"Taking a step forward and saying 'okay look we committed genocide' would deter them and others from doing it again as they would see the shameful consequences of it. They cannot run away from their actions."
However, Farah Hamdy, an Egyptian student in the UAE, says it is important to also remember the genocide as a crime against all of humanity.
"We must let go of the notion of 'us' against 'them'. For it is these terms that have been essentially the cause of the Holocaust, the Bosnian ethnic cleansing and the Armenian genocide, as well as other similar incidents," argues Farah.
"We need to recognize that these crimes were committed towards the human race as a whole. Only then will we be able to guarantee that nothing like this ever happens again."
---
Subscribe to our newsletter
---