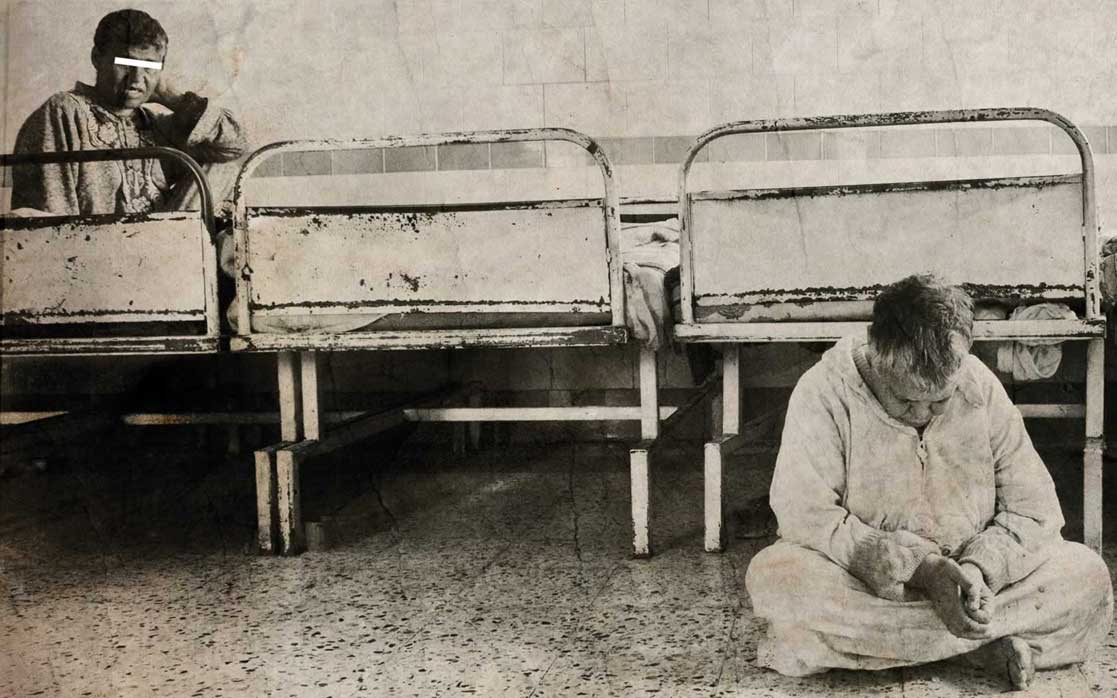 Cairo-based visual artist, Nermine Hammam, visited a mental hospital in Egypt in 2009 to expose the lives of those often forgotten by the state, their friends and their own families. In this exhibition titled 'metanoia' (a profound, usually spiritual, transformation), the digitally reworked photographs examine the widespread issues faced by Egypt's mental health patients, leaving viewers with poignant visuals that are intended to confront and change one's thinking.
All text below and photographs are by Nermine Hammam and were printed on hahnemühle archival paper. You can see more of her work by clicking here.
Patients are photographed in an austere, decaying mental hospital. Sometimes they are solid, filling the image; sometimes the architecture looms and dwarfs lone, bent figures. They are restless, often looking away, self-absorbed – but occasionally someone turns to the camera to smile or perform. The figures in these careful compositions are more important than their surroundings, which are bleached of colours. There is a heavy feeling of waiting, almost like looking at actors waiting to go on stage.
Some have been abandoned by families who fear the stigma of being genetically associated with the mentally handicapped. Before laws passed in 2009, patients could be sent here without proper medical assessment, and with no identification. In an increasingly individualized society a diminished community cannot care for the needy at home, but the conditions in the hospital are also clearly inadequate.
Angles are distorted and people recline on painterly patterned fabrics. The ageing of the images and picking out of patterns or textures makes the marginalized slightly less painful to look at. This beautification also dignifies, and their gestures of sorrow are universal.
For more on Nermine Hammam's work, check out: http://www.nerminehammam.com/
---
Subscribe to our newsletter
---