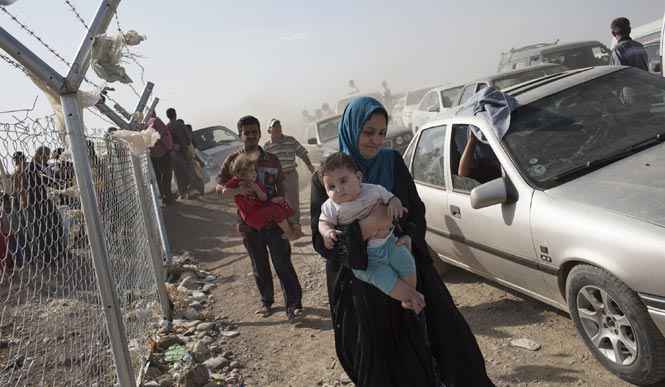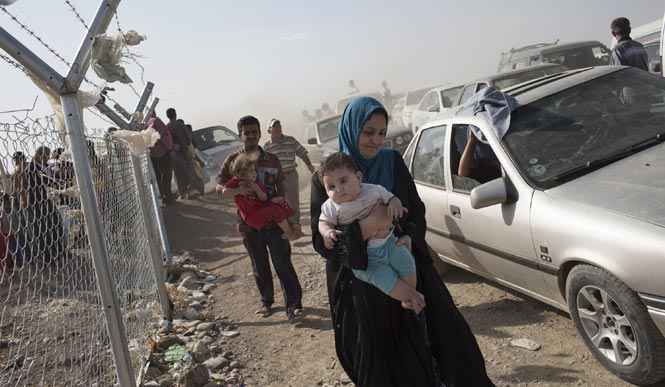 Islamist militants extended the Islamic State to northern Iraq after capturing the largest Christian town in Iraq when Kurdish troops withdrew from the town of Qaraqosh overnight, eye witnesses and clerics told Agence France-Presse.
Thousands of Iraqi Christians have been forced to abandon their homes from the town of Qaraqosh, which is home to approximately 50,000 Christians, as Jihadist militants of the Islamic State continue their offensive across the country.
"I now know that the towns of Qaraqosh, Tal Kayf, Bartella and Karamlesh have been emptied of their original population and are now under the control of the militants," said the Chaldean archbishop of Kirkuk and Sulaimaniyah, Joseph Thomas.
Several residents in the area confirmed that northern Iraq, a home to a large percentage of the country's Christian population, was seized by the Islamic State of Iraq and Syria (ISIS).
"It's a catastrophe, a tragic situation. We call on the UN Security Council to immediately intervene. Tens of thousands of terrified people are being displaced as we speak, it cannot be described," the archbishop told AFP.
In the last few days, the towns in north Iraq were bombarded by ISIS militants, some of the militants are less than 50 kilometers away from Erbil, the Kurdistan capital of the independent region.
The towns seized by ISIS were among several towns in the area that Christians found refuge in last month.
---
Subscribe to our newsletter
---