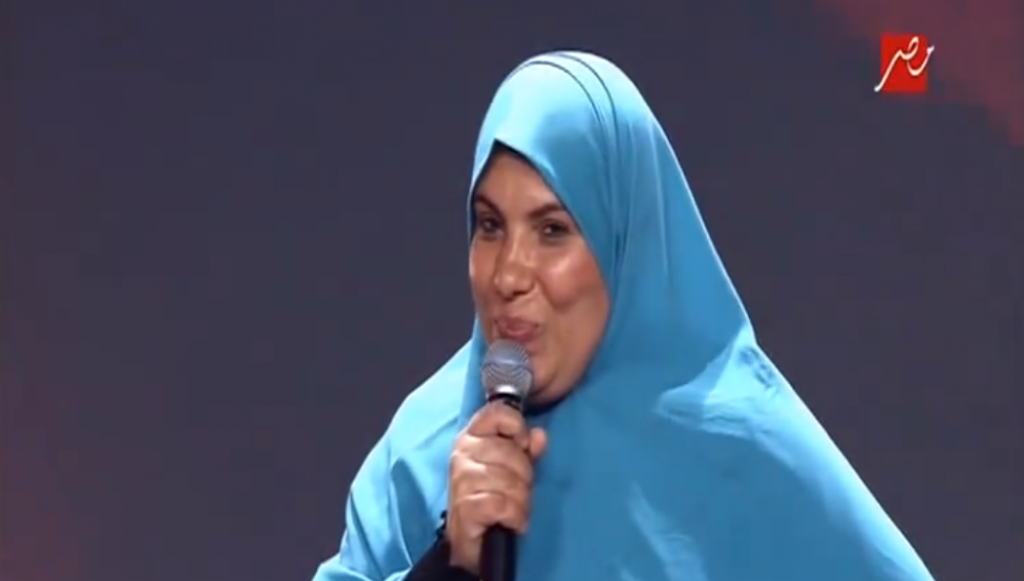 She's appeared on talk shows, during news reports, in feature articles, and most lately on Arabs Got Talent. Mona al-Beheiri has quickly become an embarrassment for Egyptians worldwide.
What started off as a mildly amusing and genuine interview with a simple Egyptian woman has become a facade of deception, lies and cringe-worthy stupidity.
In early 2014, al-Beheiri, with broken English, passionately shouted in a microphone "Listen your Obama, we are Egyptian women. You are, listen Obama, Shut up your mouse (mouth), shut up your mouse Obama! Sisi, yes, Sisi, yes. Morsi, no, Morsi, no."
While she may have represented a certain segment of Egyptian society at the time, and while she appeared genuine at the start despite the amusing nature of her interview, al-Beheiri no longer represents a single Egyptian woman beyond her self.
Al-Beheiri's consistent interviews and appearances are a farce simply intended to make money – yet she continues to be paraded in the media. From being a simple and genuine Egyptian woman to becoming a money-making figure, Mona al-Beheiri is now shamelessly used  at the expense of the image of Egyptians.
Egyptian women are, and should be, represented by the likes of the numerous successful women who have made history and reached significant heights: Umm Kulthum, Huda Sha'arawi, Doria Shafiq, Faten Hamama, Lotfia El Nadi, Jihan El Midany, Nadia Younes, Tahani Toson, Sameera Moussa and many others have all earned their place in history.
It is Nabawiyya Moussa, who was the first woman to complete the Sanawiya (high school degree) in Egypt, the first female principle of a primary school in Egypt and one of the leaders of equality in education for men and women, whose name should continue to be echoed on television screens and media programs today, not the 'Shut Up Your Mouse Obama' woman whose five minutes of fame have lasted longer than they should.
Nevertheless, MBC, probably after paying al-Beheiri a significant sum of money to exploit her naivety, decided to feature this farcical lady on television screens across the Middle-East for millions of viewers.
While Mona al-Beheiri reflects on the world stage the image that Egyptian women are uneducated and ignorant, MBC (and other media outlets) have looked at the dollar signs and ignored the immense negative impact that 1:57 minutes of airtime can have on women across Egypt.
(And if you really want to, below is the cringe-worthy and talentless appearance of Mona al-Beheiri on Arabs Got Talent – which was likely paid for by MBC's executives)
---
Subscribe to our newsletter
---