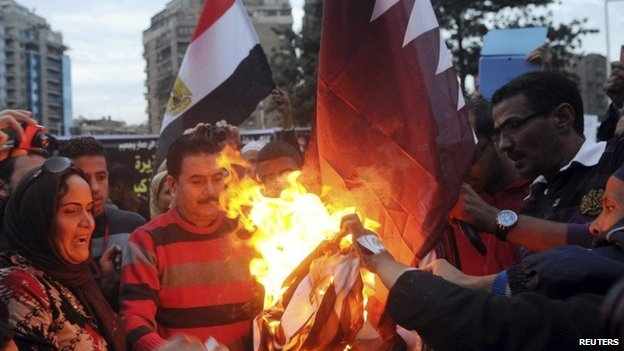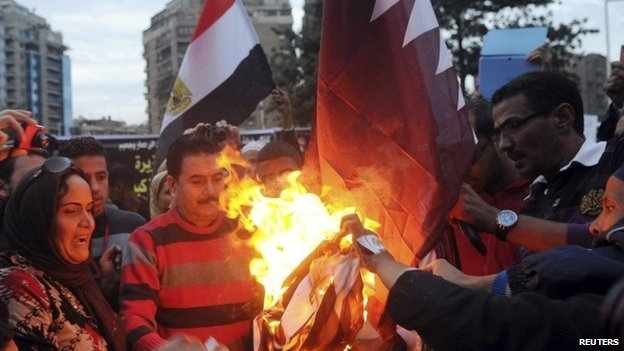 Qatar recalled late Wednesday its ambassador in Cairo for "consultations" over a statement by Egypt's delegate to the Arab League, its Foreign Ministry said.
In a meeting on Wednesday, Egypt called on the AL council to support the measures it has adopted to protect itself and its citizens and preserve its "legitimate right to self defence", reported state-run news agency MENA.
Egypt also urged for support for the airstrikes it carried out against militants in Libya in response to beheading 21 Coptic Egyptians inside Libya at the hands of militants believed to belong to the Libyan division of the Islamic State fighters.
Egypt's AL delegate Tareq Adel said Egypt won the support of all AL members except for Qatar, which he accused of "supporting terrorism," reported MENA.
Qatar's Foreign Ministry condemned Adel's statement.
"Qatar supports and shall always support the will of the people of Egypt and their stability," the Foreign Ministry said in a statement.
The Qatari ministry said its reservations on the Egyptian airstrikes on Libya are due to its belief in "joint Arab action" which obliges Arab countries to consult one another before any country carries out a unilateral military operation against another country. It added that such military operation could harm unarmed civilians.
The strikes, which Egypt says hit militant targets, were carried out in coordination with the Libyan air force.
The internationally-recongnised Libyan government called on Egypt to "continue its military airstrikes against extremist and terrorist hotbeds in Libya after coordinating with the Libyan leadership" in a statement issued late Tuesday.
In a televised speech on Wednesday, Egypt's President Abdel Fattah al-Sisi denied that the airstrikes hit any civilians, citing an air force pilot.
The Qatari Foreign Ministry also objected to Egypt and Libya's calls to lift an arms embargo enforced on Libya since 2011. It said lifting the embargo might "strengthen one party at the expense of another before ending dialogue and forming a national unity government which could call for lifting the ban."
UN special envoy to Libya Bernardino Leon is currently holding dialogue between different Libyan factions in hopes of reaching a political solution to the exacerbating crisis in Libya.
The calls to lift the embargo come at a time of unprecedented violence in Libya, in which conflicting parties are attempting to control the country.
Libyan capital Tripoli has fallen under the control of the Fajr Libya or Libya Dawn Islamist militia in August 2014.
Meanwhile, Egypt and the international community only recognise authorities based in the eastern Libyan city of Tobruk.
Egyptian ties with Qatar have deteriorated following the army's ouster of Islamist President Mohamed Mursi in July 2013, which was prompted by mass protests against his rule. Qatar was a strong supporter of Mursi's regime.
Egypt has withdrawn its ambassador to the Gulf state in March 2014 following critical comments made by Qatari emir Sheik Tamim bin Hamad Al Thani on Egypt's domestic affairs.
Nevertheless, Egypt and Qatar both embraced an appeal by the late Saudi King Abdullah in December 2014 to consolidate relations between them.
---
Subscribe to our newsletter
---