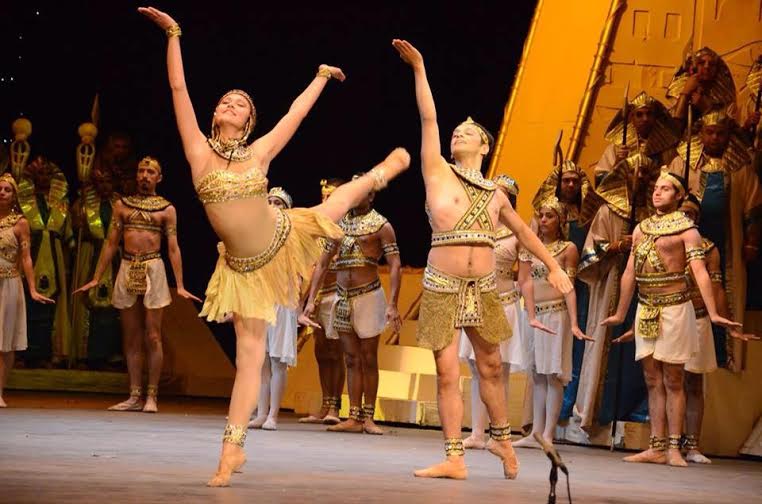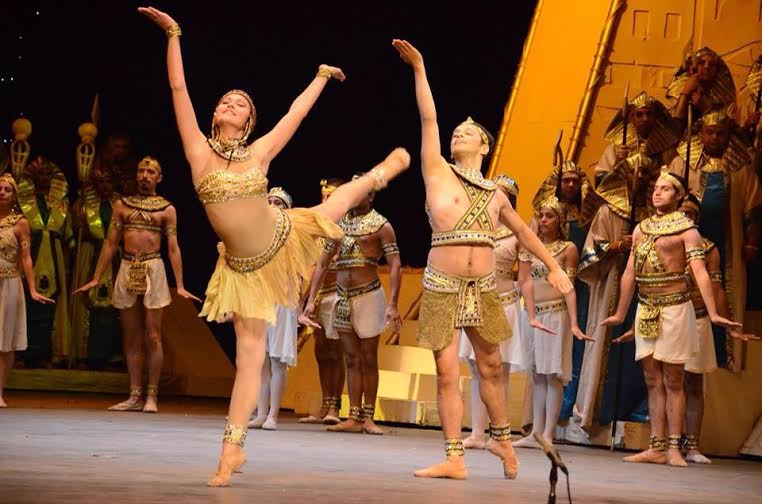 By Rana Khaled, Daily News Egypt
When the curtains rise and the coloured lights turn on, with the orchestra playing its enchanting piece in the background, you'll see him entering the stage in the prince's costume, dominating the audience's attention with his remarkable aura and graceful movements.
Ahmed Yehia is one of the leading Ballet dancers in Egypt. He was chosen by the late director, Youssef Shahin, to play a role in the epic film "Alexandria- New York", featured at the Cannes Film Festival, and was awarded many local and international prizes.
In an interview with Daily News Egypt, Yehia revealed his childhood memories and secrets. He shed light on the main obstacles Ballet dancers in Egypt currently face, and gave insight on local folk Ballet shows, the private schools of Ballet and the future of this art in the Arab region.
How and when did you start Ballet dancing? Was it your own choice or not?
I started learning Ballet in 1989 when I was about 8-years-old. My father was an artist by nature, and he used to participate in the theatres of Al-Saqafa Al-Gamahereya as well as the theatrical plays organised by his university. When one of his friends suggested taking me to the Higher Institute of Ballet, he was so enthusiastic and he immediately convinced me to join it. At the beginning, the whole thing was so arduous. The training sessions were too difficult as I had to attend a five hour class everyday, which required exerting huge physical effort. I was also fed up with one of our tough professors who used to hit me cruelly, and I decided to leave Ballet classes forever! However, my whole life changed completely when one of the teaching assistants of the institute told me: "Ahmed, you have great capabilities, if you exert more effort to love and care more about Ballet, a brilliant future will be waiting for you!" Until now, I consider this sentence one of the important turning points in my whole career. I decided to accept the challenge. I concentrated more in classes; I started to love what I do, and paid greater attention to every single movement. Gradually, I started to realise that I could achieve remarkable improvement within short period of time unlike my other peers!
As a Ballet dancer in a conservative society where all the kinds of dance are considered taboo, how do you deal with ordinary people's inflexible views about Ballet?  And how do you try to change their perception for such art?
When I started dancing Ballet in the 1990s, most people were convinced that Ballet wasn't a suitable art for our eastern societies for both girls and boys. After establishing the Cairo Opera House, performing about seven Ballet shows monthly made people more familiar with this kind of art. Some important Ballet dancers like Sherehan, Shereen and Nelly Kareem and many others started to appear in various cinema films and TV series allowing Ballet to gain greater popularity among the public audience. No one can deny how they participated to change the public's conceptions and perspectives about it. In general, Opera has a very special audience around the world, and I don't talk about the socio-economic backgrounds but I mean people who have a special way of thinking and remarkable taste of arts. I don't think this phenomenon is only connected to our Arab societies. We can say that it's common worldwide.
What are the main messages the Ballet dancers try to convey through their performances?
Like all other kinds of arts, I believe that Ballet aims mainly at conveying the messages of love, beauty, freedom, sufferings, confusion and life. Like a painter who expresses various feelings in his different drawings, or the actor who plays different roles in different plays or films, the Ballet dancer can mix love and enthrallment in a show like "Swan Lake", or blend action and suspense in a Ballet like "The Pirate", drawing a fascinating picture that can dominate the minds and souls of the viewers for long hours.
Have you ever participated in national or international competitions?
In 1997, I participated in my first Ballet competition organised by the Ministry of Culture when I was 14 years old, and I came in second place. In 2000, I went into the same competition and I was ranked the first among all other contestants, and they sent me to Japan to join one of the biggest international Ballet competitions. Actually, I was astonished to see the huge difference between the Egyptian and European Ballet, as I realised that our local understanding of Ballet needs revolutionary development. However, I decided to challenge myself and join the same competition for the second time after long months of training and I was chosen among the best 15 dancers around the world.
Have you ever thought about finding a better chance for professionalism outside Egypt?
Actually, I had a great chance to travel to Germany when I was 20 years old, and I started to prepare the required papers when the late director Youssef Shahin offered me the main role in his film "Alexandria-New York". I got the idea of travelling outside of my mind, and I decided to stay and accept his offer and this can be considered a second turning point in my whole life.
Talk to us more about your acting experiences in Cinema and Television.
Till now, I participated in four films and one TV series. The first one was "Alexandria-New York", then "Ostoghomaya", I also participated as guest of honour in the "Zay El-Ward" TV series, "Al Belyatsho", as well as "Hya Fawda" films. Although I'm very interested in acting, I don't want to be distracted between acting and Ballet dancing right now. I prefer to give Ballet all my passion, energy and concentration until I reach a certain age when I won't be able to dance anymore. Then, I'll get back to concentrating on acting as it doesn't require a certain retirement age.
Why are most of the Ballet shows concentrated in Cairo? And why don't you perform in different governorates all over Egypt?
Ballet shows need well equipped theatres that must include special decorations, lightening and orchestra, which isn't available in most of the Egyptian governorates, unfortunately. However, we managed to perform some shows in the Sayed Darwish theatre in Alexandria, as well as Opera Damanhur. Since 1990, the Egyptian Ballet troupe has been performing in many different countries around the world including France, Russia, India, Japan and America.
We knew that the Egyptian Ballet troupe has lately performed many eastern Ballet shows with folk music. What's the main objective behind performing such local Balle
t shows? And does audience prefer them over the classic ones?
In addition to the known classic Ballet, the troupe presents some eastern shows in which you can find the amazing blend of our Egyptian heritage and culture with the eastern traditional music that's carved in people's minds and souls. We actually have different shows including "Isis and Osiris"," Nile Ballet", "Hassan w Naema", "Al-Laila Al-Kabera" and "Atteya sharara Ballet ". I can say that "Al-Laila Al -Kabera" is the most successful one and it has its own fans. However, the classic Ballet is still able to attract larger numbers of audience which is an undeniable fact.
Many professional Ballet dancers turned to establishing private Ballet schools lately. What's the main reason behind this phenomenon? And what are the main obstacles that Ballet encounters in Egypt from your point of view?
Unfortunately, the High Ballet Institute encounters many problems nowadays as it doesn't receive enough attention from the government. In fact, 90% of the professors aren't qualified to teach as they never danced before, while 90% of the students aren't qualified to join the institute in the first place.
Even the institute's buses that were allocated to bring students from all over Cairo and Giza districts are now allocated for transferring the employees. I always thank God that I joined the Ballet institute when it was a real institute, and I was lucky enough that I didn't witness this regression! As for the private schools, I think that we have large number of them nowadays but they won't be able to replace the absent role of the Ballet institute. I train students in one school called "Easy Talent Academy", and I think it's one of the most important schools for teaching Ballet nowadays as it teaches children hardworking, punctuality and patience in addition to Ballet movements and types.
What are your favourite Ballets? And do you enjoy dancing the same shows every time?
My favourite Ballets are "Swan Lake", that always comes in first place, "Romeo and Juliet" as well as "The Pirate", and I enjoy performing them so much unlike "The Nutcracker" Ballet that I'm used to performing every Christmas since I was a little child. I sometimes feel sick of it!
How do you see the future of the Ballet in Egypt?
I believe that there will be no Ballet in Egypt after 20 years, if the High Ballet Institute remains the same as it is right now! I also noticed that 99% of the Ballet students are girls and most of them learn Ballet for the sake of enjoyment and fun, not for professionalism or building a career. Actually, we lack caring, concentration and professionalism! I think the media must play a crucial role in raising people's awareness about such non-commercial art and address the officials asking them to pay greater attention to it.
What are your upcoming shows?
We'll have "Don Quixote" in April and "Al-Laila El -Kabera" in May, God willing.
---
Subscribe to our newsletter
---