It has been just under a month since Mohamed Fahmy decided to sue his employer Al Jazeera for negligence and breach of contract. In this exclusive interview with Egyptian Streets, Fahmy candidly discusses everything from his imprisonment to press freedom in Egypt to the potential consequences of his controversial court case.
How do those you were imprisoned with – Greste and Mohamed – feel about your decision to sue Al Jazeera? Why have they not been as vocal as you in their criticism of the network?
I haven't had a chance to speak in depth with Peter or Mohamed since I launched the lawsuit earlier this month so I really can't say how they feel about it.  What I can say is that they are trusted friends, respected colleagues and journalists of great integrity who, like me, suffered tremendously as a result of Al Jazeera's conduct.
Peter spent just several weeks in Egypt before his arrest. He had stated in a Shorouk newspaper interview dated 9 May 2015 that he had not spent enough time in Egypt to fully relate to the politics of the country. He also added that Al Jazeera admitted to committing mistakes. He seems to have forgiven them. I on the other hand remain on trial with the possibility of returning to prison, I lost my Egyptian citizenship, I live with a permanent disability in my arm due to an injury exacerbated in prison and have spent quite some cash on my legal fees. It is hard for me to forgive Al Jazeera for their deliberate negligence of a responsibility that is life threatening, especially because their cavalier attitude has continued well into the retrial.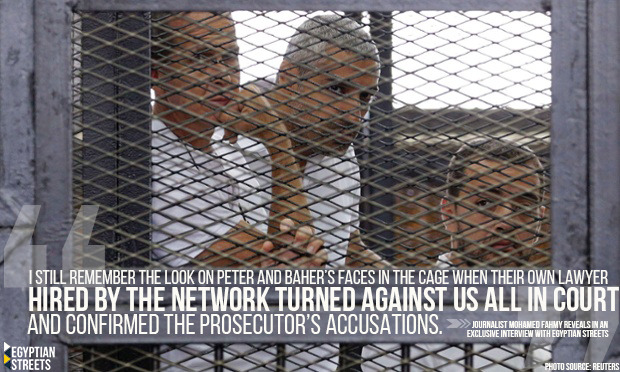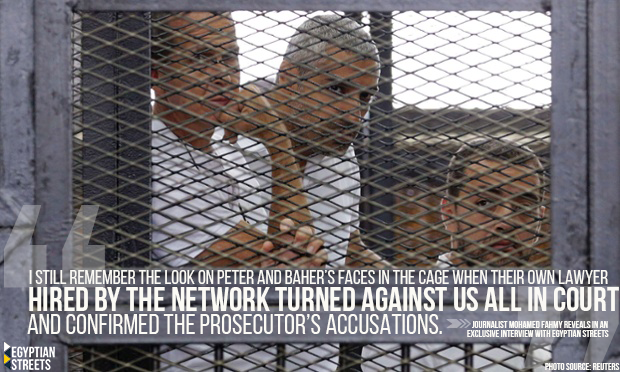 My esteemed colleagues Baher and Peter were not included in the managerial emails and communications between the network and myself before the arrest, and so did not realize the extent of the negligence, lies and errors the network committed.
It's easy for observers, commentators, and executives to be opinionated as they sit on a panel in Europe or in an office in Qatar, but when you are still in a soundproof cage and living the uncertainty of possibly returning to prison, such naïve rhetoric and passive approach sounds like gibberish to me.
I still remember the look on Peter and Baher's faces in the cage when their own lawyer hired by the network turned against us all in court and confirmed the prosecutor's accusations. Baher and I were in awe when we learned for the first time during the retrial last March – a year after our arrest – that the network did not have the valid broadcast and operation licenses as indicated by the prosecutor's report presented to the judge. The channel was authorized at one point to operate only from Media City in Cairo. Many senior Al Jazeera reporters – current and former – have highlighted the network's failures in platforms like The Guardian and The Tahrir Institute. Al Jazeera's longtime service provider in Egypt, Mr. Nader Gohar, has also spoken out against the network's negligence, highlighting their contribution to our imprisonment.
Are you concerned that by raising this case now, you could potentially be helping to legitimize Egypt's wider crackdown on journalists? In other words – is this the right time to take such action?
No, I'm not.  I have always been clear that freedom of the press must be universally respected and that no journalists should face death or imprisonment just for doing their job.  To this end, I have in fact launched a non-profit organization in Canada to promote the right of journalists to report freely and safely.
At the same time, news organizations have an obligation to report fairly and objectively and to take all reasonable steps to protect their employees – or at the very least to not deliberately and callously endanger their employees.  Al Jazeera has failed or refused to meet these most basic standards and they deserve to be held accountable.
We have to say it loud and clear that we were kept in the dark and were victims of a network that brought their activism into their journalism. Respecting that thin line between political activism and journalism is what Al Jazeera managers breached, thereby leaving us as pawns in their political vendetta against Egypt – as collateral damage. I was jailed for 412 days and only upon my release was I able to work more freely with my legal team to prepare the lawsuit. While in prison, I was able to uncover new evidence, which I obtained by talking with incarcerated Brotherhood activists, and then from reading their official confessions obtained from their lawyers upon my release on bail. To me, it was a matter of principle to hold Al Jazeera accountable for using us three journalists as pawns, and likewise a matter of principle that I do whatever I could as soon as I could to cast the spotlight on Al Jazeera's actions in an effort to protect other journalists before they also end up behind bars — or worse.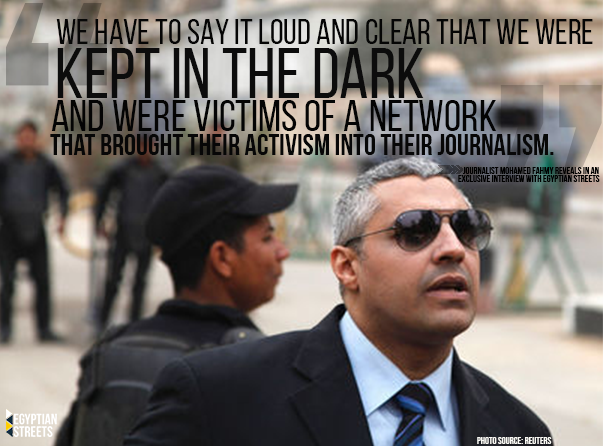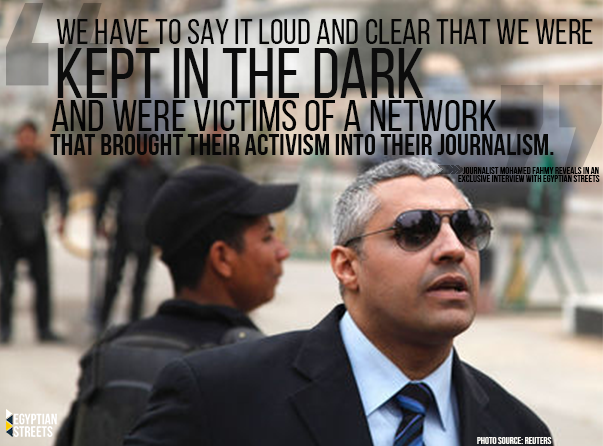 I also believe it's naive to expect true freedom of speech anywhere in the world, yet we have to keep pushing for reform as we choose our battles. I raised the lawsuit after exhausting all constructive diplomatic efforts with the network during my communication from prison and after my release on bail through direct communication and third party interventions that have all fallen on deaf ears. The network's negligence has to be challenged loudly as they continue to make mistakes and refuse to take responsibility openly for their mountain of shortcomings. I genuinely hope this lawsuit forces Al Jazeera to better protect my friends on the field from similar situations – or worse, ones that could be fatal.
In response to your criticism of Al Jazeera, there have been rumors (whether or not they are advocated by the network) that you are doing this as part of some sort of 'deal' with the Egyptian government. What is your response to these rumors and why do you think they are out there?
Glad you brought this up. As my ongoing legal predicament indicates, any rumors to this effect are obviously false. The sad Al Jazeera statements sent to the press are full of lies. The network said they fully paid my legal fees and that they paid my bail after eight hours. They also put forward what I consider slander when they say that I am performing under duress from the Egyptian government. In reality, they reimbursed me partially for my legal fees and only after the intervention of the Committee to Protect Journalists (CPJ) and the Media Legal Defence Inititative (MLDI). My brother paid C$ 40,000 for the bail, and they reimbursed us four days later in two installments, and only after pressure. If my brother didn't pay, I would have remained incarcerated an extra two days due to the closure of the cashier over the weekend.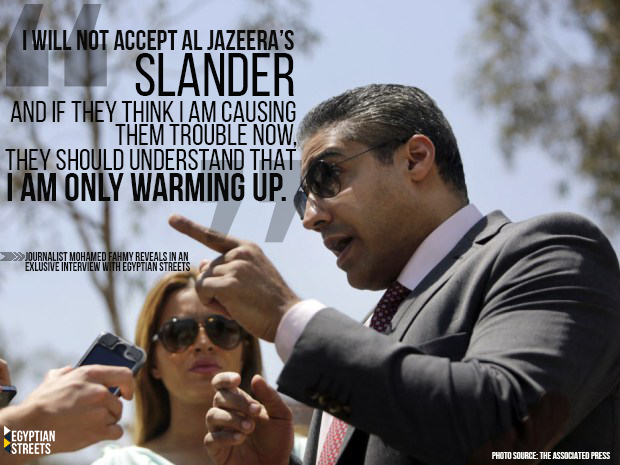 The network is trying to discredit me. The global journalism community vouches for my golden reputation. Anyone that has worked with me knows I am a straight-up guy and a journalist that has always been a government's nightmare because I challenge officials that supposedly work for the people. The only deal I had with the Egyptians was to renounce my Egyptian nationality in return for my deportation, and they did not come through due to the decentralized system in Egypt where each security apparatus has their own ego to promote. My Canadian government was aware of all my communication with the Egyptian government and we were told my release was imminent.
My fiancée quit her job, Canada gave her a visa, and the embassy looked into flights for me. I guess the Egyptians changed their minds about my release but let Peter go for reasons I am not aware of. I will not accept Al Jazeera's slander, and if they think I am causing them trouble now, they should understand that I am only warming up.
How long have you been consistently working in Egypt as a journalist? When – under the many different shifts of power that have taken place – did you feel most safe and free to do your work?
I started working in Egypt mostly for CNN from January 29th 2011 until mid-2013. I had produced several documentaries in Egypt during my employment with a TV network based in the United Arab Emirates during the Mubarak era when it was much easier to be a journalist than it is now.
I protested against the Brotherhood as a private citizen when I took off my journalism hat for several months before joining Al Jazeera English. I agree with uprooting the Brotherhood, however, I am not too happy with the way things are going now. I try to distance myself from the politics but it's hard concerning the political nature of my case.
The slogan under which you are taking Al Jazeera to court is "journalism is not political activism" – in light of this statement, what are your views on the local state and private media outlets in Egypt which, like Al Jazeera, seem problematically close to the government? Do you think you can adequately retain integrity in your criticism of Al Jazeera if you do not also critique local media in the country?
It's not criticism. I am way past this phase – I am revealing documented breaches of the law committed by a network while keeping their own staff in the dark. Some of the managers injected their politics into every aspect of the journalism, from the people they hired based on religious ideology rather than competence, to the linguistics guide used in describing the political events and the editorial line forced on the staff in the Arabic and Mubasher channels.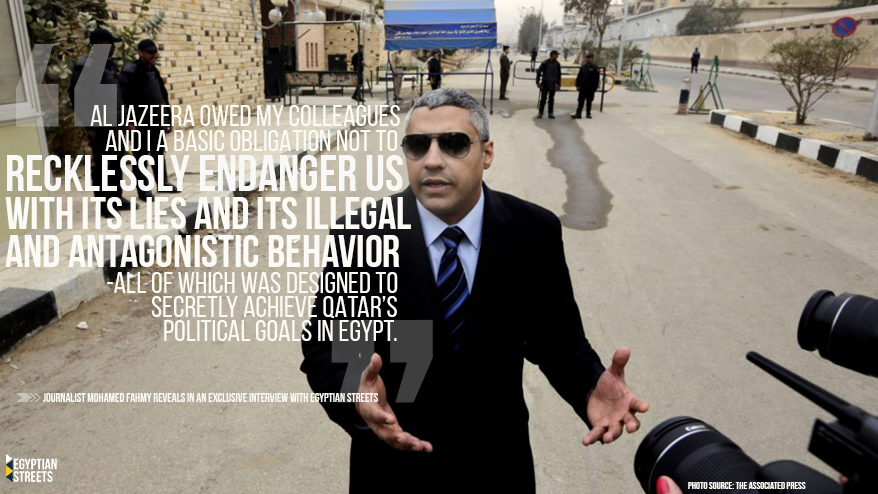 You will also find many articles on the internet, which I released from prison, that highlight Egypt's erroneous mistakes. I have criticized the Egyptian media briefly in an article I wrote in prison for The Globe and Mail, in which I called many of them "civil servants of the state."
That said, it was specifically Al Jazeera who was my employer. Al Jazeera owed my colleagues and I a basic obligation not to recklessly endanger us with its lies and its illegal and antagonistic behavior – all of which was designed to secretly achieve Qatar's political goals in Egypt.
The condition of Egyptian prisons has been in the news for a while now, with claims that not only are the prisons a health hazard, but that torture and abuse is common. In your personal experience, were you ever mistreated in any way? Were the prison facilities hazardous?
It was of course a very harrowing experience.  I will say, however, that while I was personally never physically abused, I did witness a good deal of ill treatment and inhumane conditions, especially during my time in the Tore Supermax ("Scorpion") prison where I spent a month in solitary confinement. There is a sewage problem under the prison, which leads families of insects into the cells. The toilets don't flush – you have to improvise.
The prison food is ok, but the authorities are too strict and too often revert to punitive measures like revoking outing and family visits without specific reasons. You can only see your family members through a glass barrier during the weekly visits, which is traumatizing. What you hear about in the news is usually ill treatment in police stations – apart from some isolated incidents in some prisons like the recent reports that emerged from Abu Zabal prison as I have read.
I don't believe it's a systematic organized technique or orders from a higher authority to the officers.  My broken shoulder was neglected as I slept on the concrete floor with no adequate treatment. I received the operation I needed only after a late intervention and a transfer to a private hospital where I had a corrective bone surgery. However, I still need another operation that I will hopefully do in Canada.
Since your release from prison on bail, and given the general hostility of Egyptians towards Al Jazeera, what has it been like re-entering Egyptian society, particularly now that you've lost your Egyptian citizenship? Have you faced any issues (such as confrontations from members of the public/your family or friends)?
I am actually surprised and humbled that strangers constantly approach me everywhere I go to express their support.
However there are those who still approach me openly to express their objection and tell me that I "sold out" by renouncing my citizenship. I take the praise with a smile, and the critique with an open heart. I tell them and the members of my extended family who are not happy about the citizenship issue that I literally had no choice when I was approached in prison. I intend to apply for it and if the court rejects my request, then I will do whatever it takes to get that green Egyptian passport back in my hands.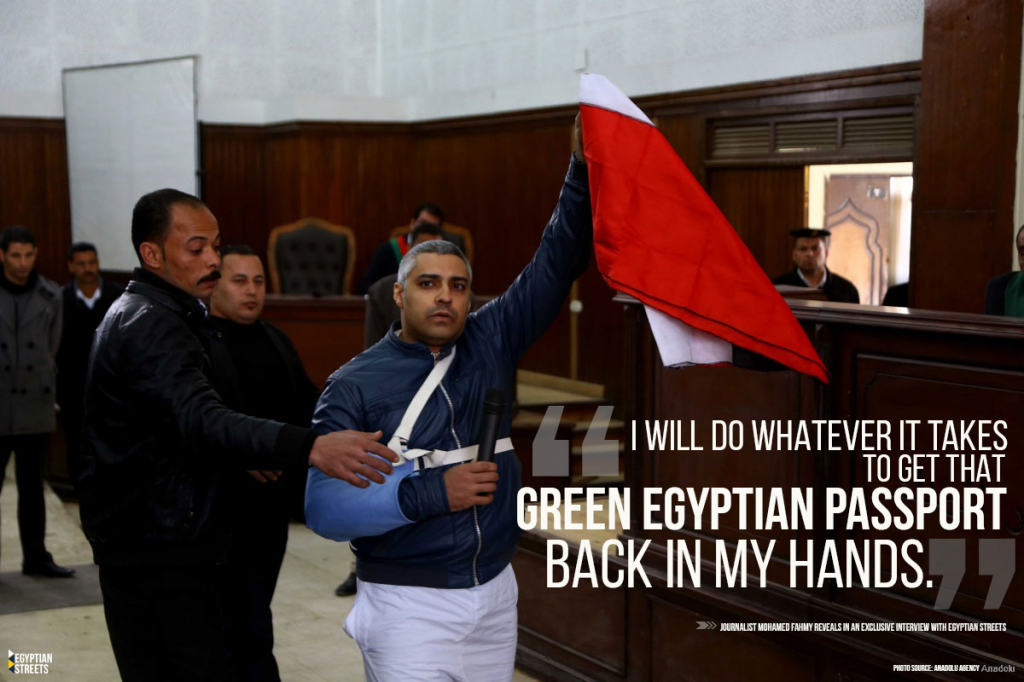 What does the future hold for Mohamed Fahmy?
I am still trying to get married after I received my Canadian passport. I am under the mercy of Egypt's wrenching bureaucracy, waiting on specific documents to allow me to register an official marriage. I have started writing my book, The Marriott Cell and I am working on a surprise project that will be announced soon. I plan to move to Vancouver where I will manage my non-profit NGO, The Fahmy Foundation for a Free Press, which I had established during my detention with the help of my Canadian lawyers. The Foundation aims to provide financial assistance and advocate for journalists behind bars worldwide. Eventually, I will dive right back into what I do best, which is journalism. And of course, I will continue to offer my insights and advocacy on social media through my Twitter handle @MFFahmy11.
---
Subscribe to our newsletter
---