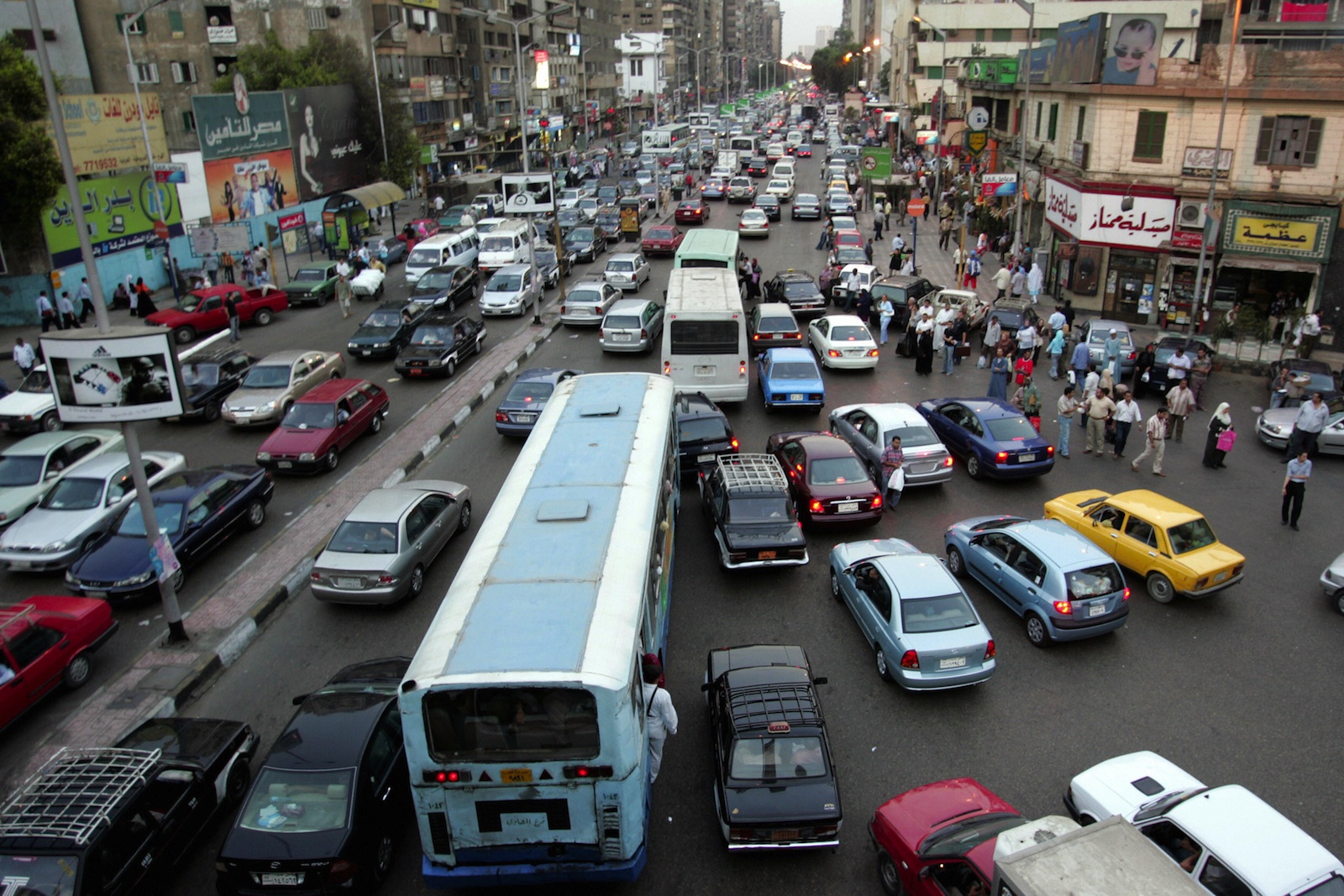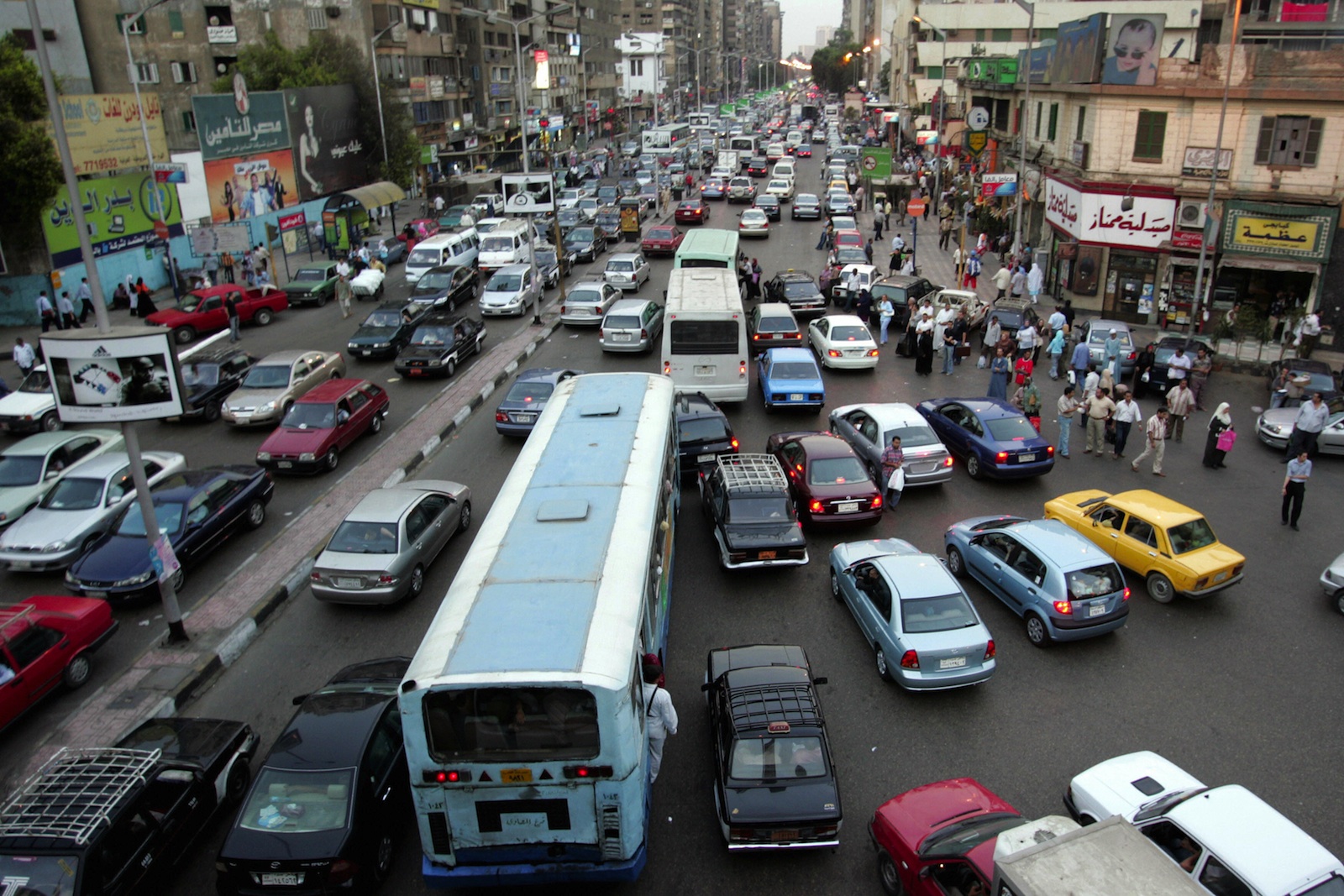 By Basma Mostafa, Community Times
It does not take long for someone who has just arrived in Cairo to become familiar with the mayhem that passes for everyday life in the city.  While the mention of Cairo may conjure up images of great historical sites and felucca rides down the Nile, it is the city's constant traffic congestion that dominates the lives of the 20 million Cairenes who spend large stretches of their days trapped in it.
There is more to the hassle of Cairo's streets than buses overflowing with passengers and microbuses weaseling their way through tightly lined cars though. The World Bank released a study in May 2014 revealing just how severe the situation is: Cairo's seemingly never-ending traffic costs Egyptians EGP 47 billion in losses every year and this number is expected to rise to EGP 105 billion by 2030. Stating the obvious, the report confirms that the problem and difficulty of driving in Cairo comes as a result of poor urban and traffic planning and management, as well as a lack of order in the country.
In his book, Understanding Cairo: The Logic of a City Out of Control (AUC Press, 2010), urban planner David Sims points out that, although only 14 percent of the capital's population owns private cars, these vehicles are the major contributors to traffic congestion.
"The private car accounts for roughly two-thirds of all vehicles on the streets of the Greater Cairo region, with the remainder being made up of different kinds of buses, taxis, trucks, government vehicles and motorcycles," writes Sims.
The World Bank's study also supports that private cars dominate the transportation scene, which make up 55 percent of vehicles in Cairo and it further states that there are "no incentives for people to rationalize their travel or carpool," which increases congestion. Cairenes who can afford to buy their own cars do not hesitate to do so for many reasons: Gasoline and diesel are heavily subsidized (up to 50 percent), there is a decrease in car taxes and the car loan system has made it easier for people to buy a vehicle.
Public Transport
Struggling to fit into the ebb and flow of life in Cairo, most of the city's daily commuters rely on the city's inefficient public transportation system. According to the World Bank's report, Cairo has only 4 kilometers of metro lines for every million inhabitants in Cairo; a city like London has 166 kilometers per million inhabitants and Mexico City has 12 kilometers. Where Egypt has 231 buses, London has 753 and Mexico City has 362. Meanwhile, taxis and microbuses copiously crowd the city's streets to compensate for the nonexistent metro lines and buses, further contributing to congestion.
While public transportation prices (buses, microbuses, the metro, etc.) are generally low and affordable – usually at the expense of the quality and reliability of the services – the demand for these services continues to rise. As a result, Cairenes may find themselves at the mercy of informal means of transportation like the tuk-tuk (rickshaws). In narrow and inaccessible streets, tuk-tuks are quite prevalent; they are unlicensed from the state and are often run by teenagers.
Microbuses: The Street Bullies
Microbuses are known for their ability to fit in the tightest of streets and can be spotted manically driving through Cairo's streets, practically pushing and shoving other cars out of their way. Although microbuses are every driver's worst nightmare, they have become a crucial part of Cairo's public transport system.
Yossra Sameh, a 22-year-old medical student at Ain Shams University and a regular user of Cairo's public transportation, believes microbuses are an affordable option but not always a reliable one.
"Drivers often raise fares for no obvious reasons and riders that are in a hurry to get to their destinations are forced to oblige," Sameh explains. "Microbuses and buses drop their riders nearly anywhere along their route, which is convenient for passengers but leads to more congested traffic."
Other problems with microbus drivers include speeding, cutting people off, holding up traffic to have a chat and driving down against traffic; Sameh even recounts an incident where she rode with a 13-year-old driver who could not possibly have had a driver's license.
"Then comes the problem of harassment, which I have faced in all types of transportation," she adds. "On a microbus, men may get really comfortable while sitting and 'accidentally' touch you, as if they don't even notice you are there and although the metro has women-only cars, there are many incidents of men riding them."
While Sameh believes private cars make traffic problems worse, she says driving is much safer for girls. As a medical student, she often returns home late at night due to work and doesn't feel comfortable using public transportation at night.
The Metro: A Quick Solution Made Slow
Despite its limited lines, in 2013, Cairo's metro transported nearly four million passengers a day, according to The Egyptian Company for Metro Management and Operation, proving that Cairenes wholeheartedly depend on the metro to deliver commuters quickly and away from rush hour traffic.
However, Nema Al-Araby, who lives in Heliopolis and works in Dokki, struggles with her metro rides on a daily basis.
"What makes me really angry is people's attitudes. They see the entry and exit signs everywhere on the cars and yet they choose to ignore them, which is a disaster during peak hours. I have missed my stop on many occasions because I couldn't get through to the door," she explains. Al-Araby adds that the metro is often late and that you never really know when to expect the next train.
Other Modes of Transportation
Hadeer Taha, a creative copywriter, says she has been struggling with public transportation ever since her college days.   With her home located in 6th of October City, Taha had to endure a daily commute to Cairo University in Giza without a car.
Taha previously worked in Heliopolis; the commute was terrible and she had to take four different forms of transport to arrive at her destination.
"Every form of transport has its own set of secrets that you need to learn," she says.
Taha believes that passengers should familiarize themselves with the rules and etiquette of riding microbuses; for example, drivers use hand gestures to convey destinations to commuters or you might see a young boy hanging out the door to shout them, plus they don't run on a set schedule.
"Once you memorize the microbus's route and get to know the city well enough, you will know whether you should sit at the front of the van or at the back. You eventually learn that if you choose to sit at the front, other passengers will pass their fares forward so that you can give it to the driver," Taha explains.
Taha notes how spending such long hours stuck in traffic can be energy depleting and in that sense, owning a private car is no better since being behind the wheel requires much concentration. She claims, "Cars do make traffic worse but many people have no other choice."
Businessmen and white-collar workers would rather drive themselves to work and arrive looking and feeling good than dusty and disgruntled.
Driving in Cairo: Complicating Things Further
Abdalla Osama, an engineering manager who lives in New Cairo and works in Maadi, says he drives for around 90 minutes on a daily basis.
"Cairo's streets are filled with street holes and misplaced speed bumps that can cause serious damage to your car," Osama notes. He adds that drivers in Cairo often do not understand the concept of driving in a lane. The problem is made worse by the lack of clear street lines on major Cairo roads such as the Ring Road, which Osama takes every day to work.
When it comes down to it, owning a car does not make moving around the city any easier.
"Traffic is horrible and requires regulation. People break traffic laws all the time," he explains. "Before planning a city, you need to decide where its residents will live, where they will work and where they will do their shopping," he adds, explaining that if all these factors had been taken into consideration, we would have fewer traffic jams.
Passant Muhammad, who lives in Nasr City and works in downtown Cairo, has been driving for five years. "Typically, my commute to work should not take more than 20 minutes but because of Cairo's traffic, it takes much longer—at least an hour," she says. But her problems with Cairo's traffic go beyond all the time she wastes driving; she explains that it is never easy to find a parking spot in many of Cairo's neighborhoods, including Maadi, Nasr City and Mohandiseen.
Muhammad believes carpooling might solve some of Cairo's traffic problems but at the end of the day, you can never ride with someone you don't personally know.
"Websites and applications that offer carpooling services cannot verify the information provided by users, so you never really know who these people are," she explains, concluding that if the country had a better transportation system, she wouldn't rely on driving so much and would use public transportation instead.
While the Egyptian government hasn't been able to do much to stop the ever-growing problem in its tracks, private endeavors have been launched to at least try and warn drivers about traffic gridlocks. Applications like Bey2ollak allow users to exchange information on traffic and its ever-changing status, so if there is someone out there on the road who knows what the situation is, they could help other people heading in that same direction. Conclusively, the World Bank study suggests that private cars are inefficient when it comes to transporting people and that authorities should remove fuel subsidies and re-invest funds into the public transport system.
On-Demand Transportation: A Viable Solution
In the absence of reliable and safe public transportation, those who cannot afford to buy a car or find driving in Egypt absolutely nerve-wracking are left with very little to do. Services like Easy Taxi, Uber, and Careem have emerged as viable transportation options, facilitating the lives of many Egyptians.
Raghda Mostafa, who lives in Nasr City, started using Uber two to three months ago and says it has made her life immensely easier.
"I really hate driving, so I couldn't move around the city freely, but since I began using Uber, I have been able to go wherever I wanted," Mostafa said.
Mostafa has tried using Easy Taxi, which allows you to order a regular white cab through your smartphone but she believes it is no different than hailing a cab from around the street. Uber, on the other hand, is an on-demand car service. Mostafa explains that Uber resolves many of the white taxi problems, such as rigged meters and some drivers' refusal to drop you off exactly where you want.
Uber's smartphone application tells you how much you will pay for a ride, which costs around EGP 5 to 7 more than a regular white taxi. And if you order a car during rush hour, the application tells you that it will cost more. You then have the option to accept or wait until traffic subsides. Mostafa says that unlike regular taxis, she was never subject to harassment, adding that drivers are required to share their names and license numbers.
Esraa ElAbbassy, who lives in Dokki and works in Nasr City, says Uber has been one of her greatest transportation experiences, adding that drivers are very committed to their job.
"They don't talk to you unless you address them first, they don't take calls unless they are from family members and they jump out to open the car door for you," she adds. In addition, the smartphone application estimates how long it will take you to reach your destination. "If I could afford to use Uber every day, I would definitely do that," Abbassy concludes.
Yara Fahmy, who lives in Mohandiseen, says her experience with Easy Taxi wasn't that different from regular taxis. Fahmy has tried Careem, which is also an on-demand car service, which offers a good service but still has a long way to go.
"I once ordered a ride and I wanted to cancel it, so I called the call center in advance but no one picked up," Fahmy explains. "They called me right before my ride and when I said I wanted to cancel, they said I had to pay a late cancellation fee of 40 pounds. Of course, I didn't comply."
Apart from that, Fahmy is fond of the service Careem offers.
"The drivers are really committed and I feel safe because I have the car's license number and the driver's information," she adds. The service costs Fahmy approximately 10 pounds more than a regular white taxi, but she believes the experience is so comfortable that it's well worth the extra money.
Although the likes of Easy Taxi, Uber, and Careem have provided more options to Cairo's commuters, it seems that there is almost nothing you can do to evade Cairo's perpetually overcrowded streets.
---
Subscribe to our newsletter
---