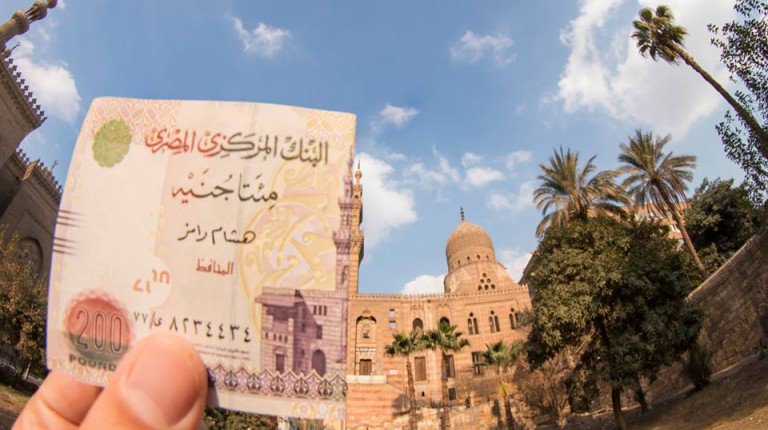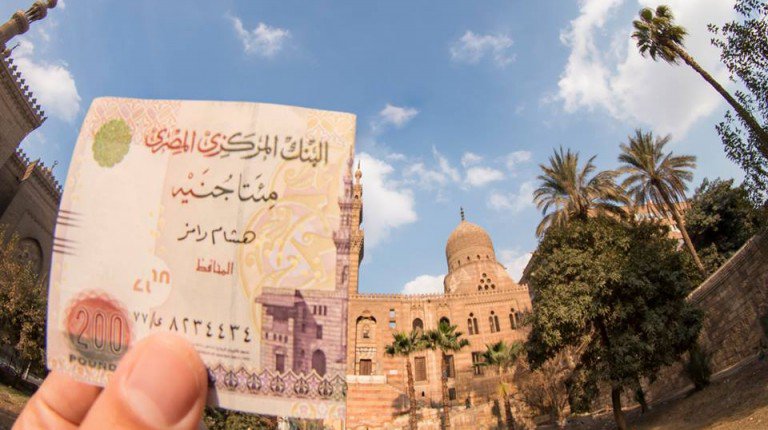 By Nada Deyaa', Daily News Egypt
Locals handle Egyptian pounds on a daily basis, but few see past their use as currency in return for certain services. A closer look at the drawings on those bills, their indications, and what they resemble is not likely to occupy many people's time.
As a loyal fan of historical places, and in an attempt to depict the remarkable unique sites in Egypt, photographer Bishoy Fayez decided to hold a photo shoot in which he photographed all the historical landmarks depicted on each denomination of the local currency.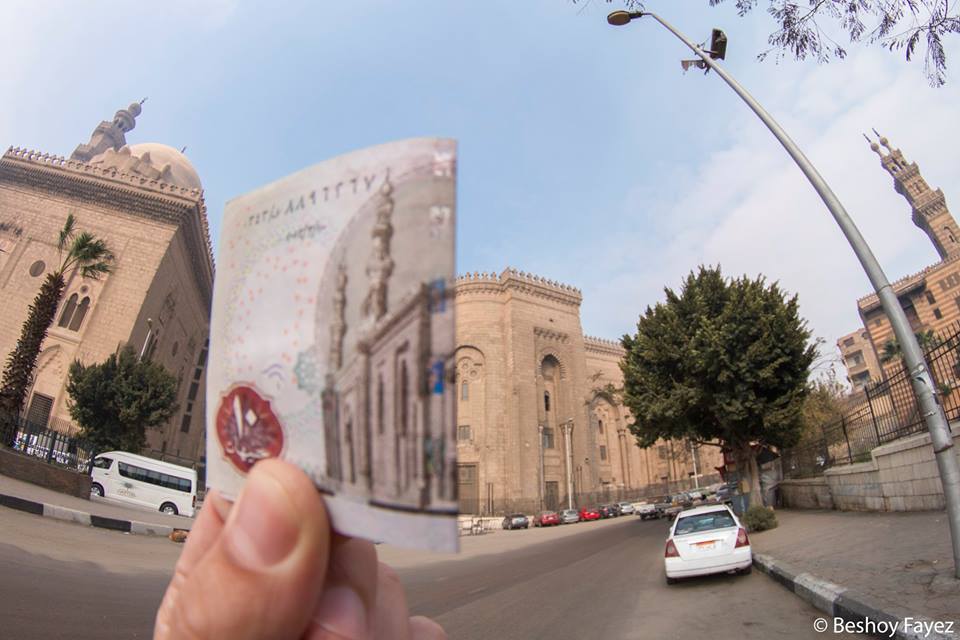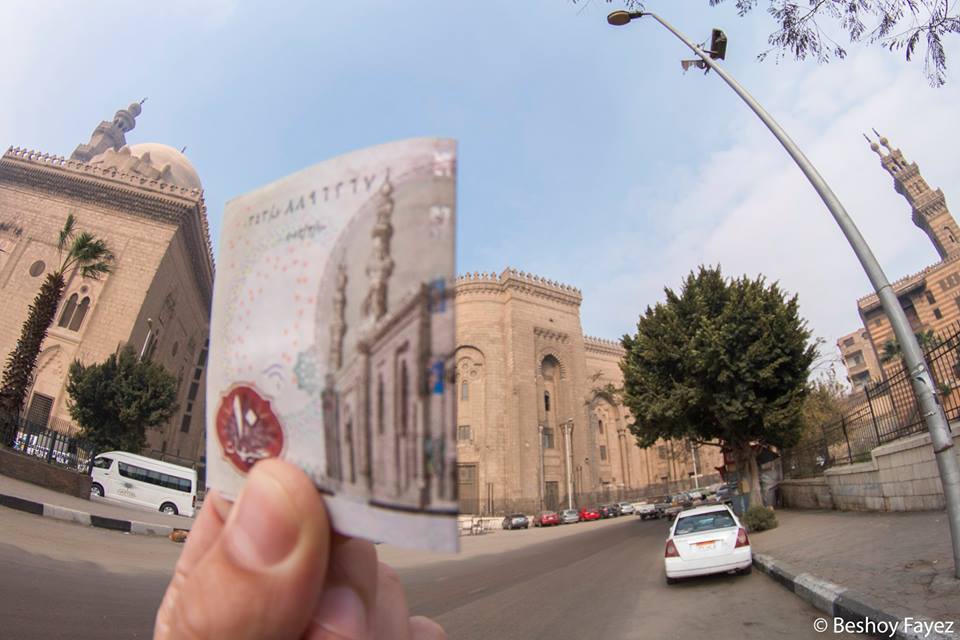 The names and places of mosques and monuments depicted on the notes is not widely known among people in Egypt; landmarks such as Abo-Houriba Mosque, located at Al-Darb Al-Ahmar in Cairo and appearing on the EGP 50 note, and Al-Rifa'i Mosque, located in Midan al-Qal'aa and depicted on the EGP 10 note.
Through several pictures of Egyptian pound denominations, ranging from the EGP 200 bill to the now-defunct quarter pound note, Fayez superimposed the image as depicted on the notes over the real-life image, then photographed them through a fish-eye lens.
By publishing these pictures on social media with a description of the places, their location, and a brief history about them, he helped people gain a little more knowledge about their heritage in an accessible, unique, and creative method.
"Ever since I was a child, I paid a lot of attention to details, and the pictures of buildings drawn over money were always something that caught my attention and made me curious to see them in real life," said Fayez. "Through this photo shoot I wanted to let people know about the details of the places they might see pictures of every single day while using money, yet without knowing anything about them in real life."
The shoot is part of a project called "Egypt through fisheye", in which Fayez takes pictures of places all around Egypt using the fish eye lens to provide a wider, more interesting  depiction of the places.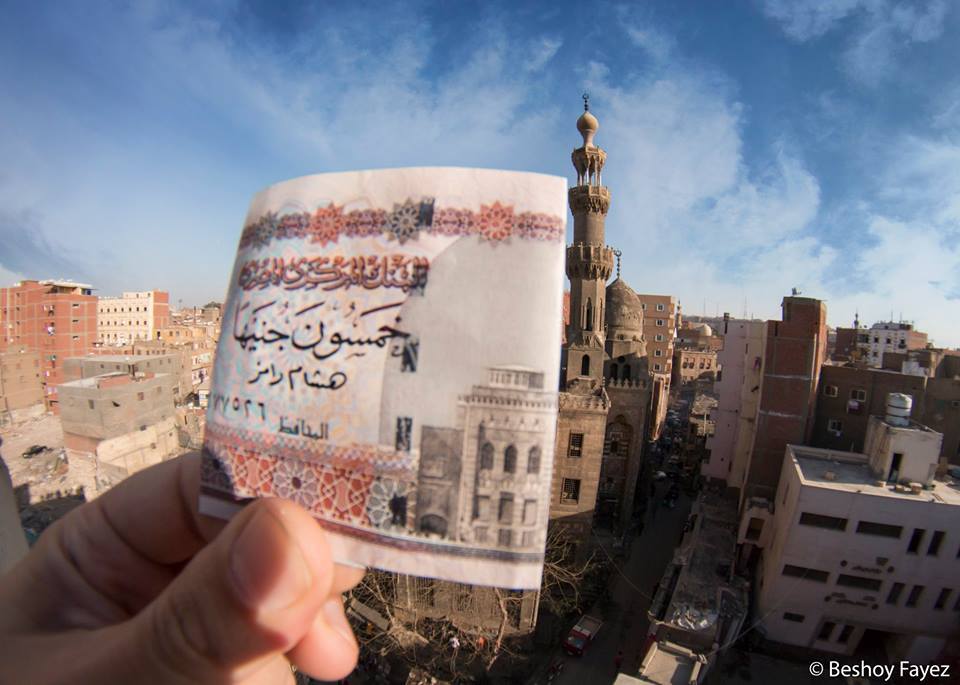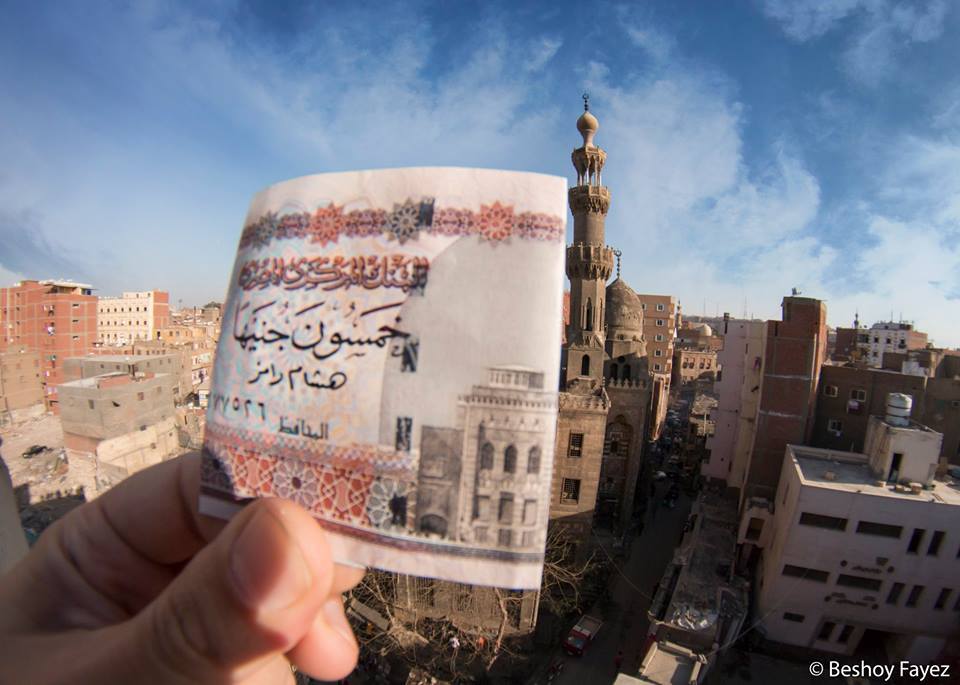 Fayez aims to reintroduce audience to places they have seen several times before in new ways, as well as raise the awareness of places they have not visited before.
Over the past three years, alongside his job as senior project coordinator, the 29-year-old has spent his time roaming around Egypt to capture different shots of several places and neighbourhoods.
For two months, Fayez spent his days visiting the locations of the landmarks at different times of the day and during a variety of weather conditions to ensure he captured the best shot of the place.
"Even though I'm like a lot of people who visited these mosques several times, I thought taking pictures of them against their pictures over the money is like seeing them for the first time with a new perspective and a new view," he added.
"I visited each location an average five times, each at a different time of the day, from dawn to sunset. There were times I'd spend the entire day taking shots and go back home to find that the pictures on the money did not exactly match the building, so I'd go back again for another day," he explained.
Holding the money with one hand and the camera with the other presented an added challenge, in addition to the attempts of taking a clear, wide shot. "I had to stand over a pigeon tower with my hands up in the sky just to get a perfect shot of the EGP 50 bill. It took me seven days to achieve the final result."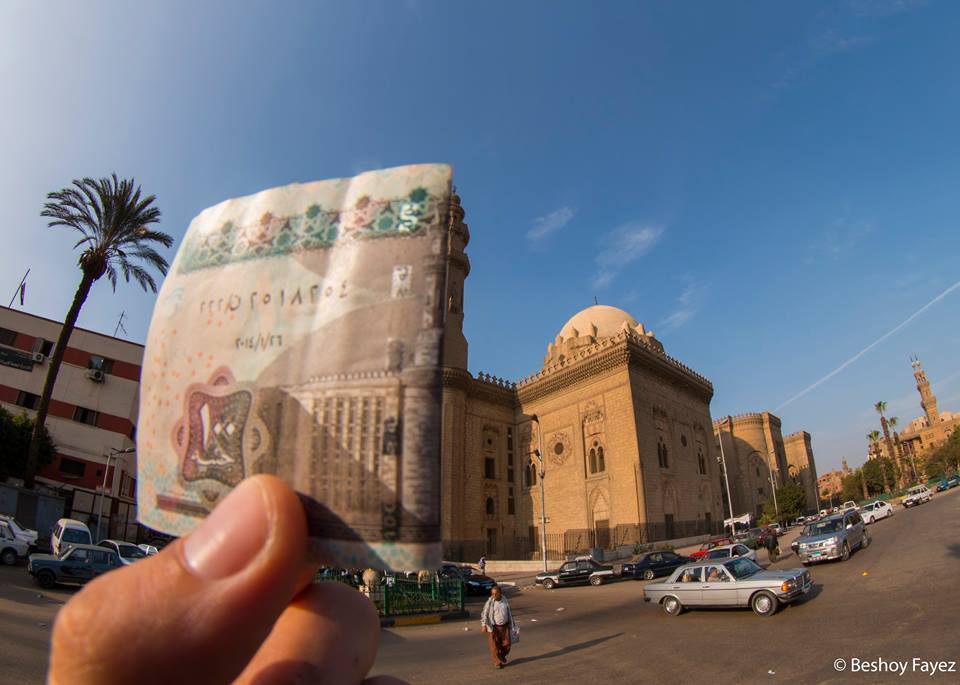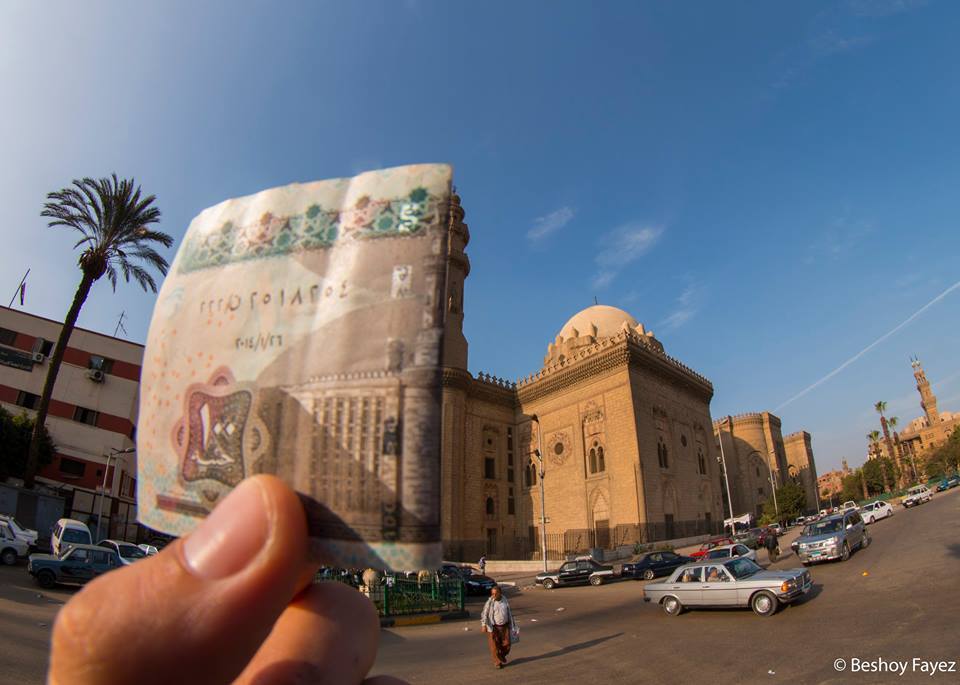 Fayez moreover faced a fair share of other obstacles. In addition to facing trouble in financially supporting his project, which is entirely self-funded, Fayez finds it difficult to convince people of his vision, which has cost him much of his income.
"Even though I travelled throughout almost the entirety of Egypt to take pictures of my project and this has cost me lots of money over the past three years, I don't care. I don't do this for money; I do it for the passion I have for both photography and Egypt," he explained.
In the worst cases, Fayez often faces teasing and accusations of "insanity".
"I covered almost 80% of Egypt through my project from Sinai to Luxor and Aswan, going through Alexandria, Marsa Alam, and the Western Desert, and I still hear people dismissively asking me 'what are you trying to prove?'" he added.
Yet, within two days, the photo shoot went viral over social media, prompting widespread praise.
"When I'm done with my project, I aim to collect the pictures of the project in a book that depicts the beauty of all of the historical, touristic places in Egypt in a creative and attractive way," he concluded.
Follow Fayez' work by clicking here.
---
Subscribe to our newsletter
---