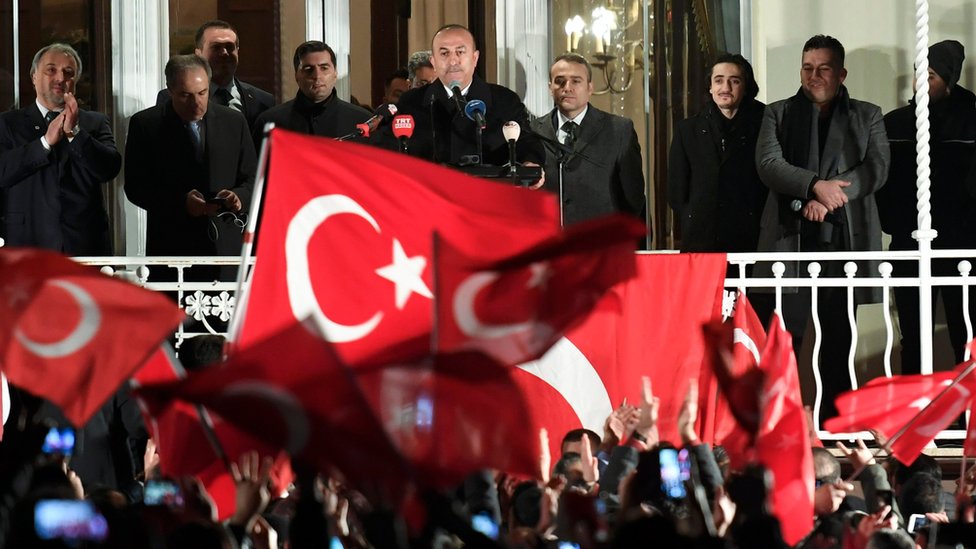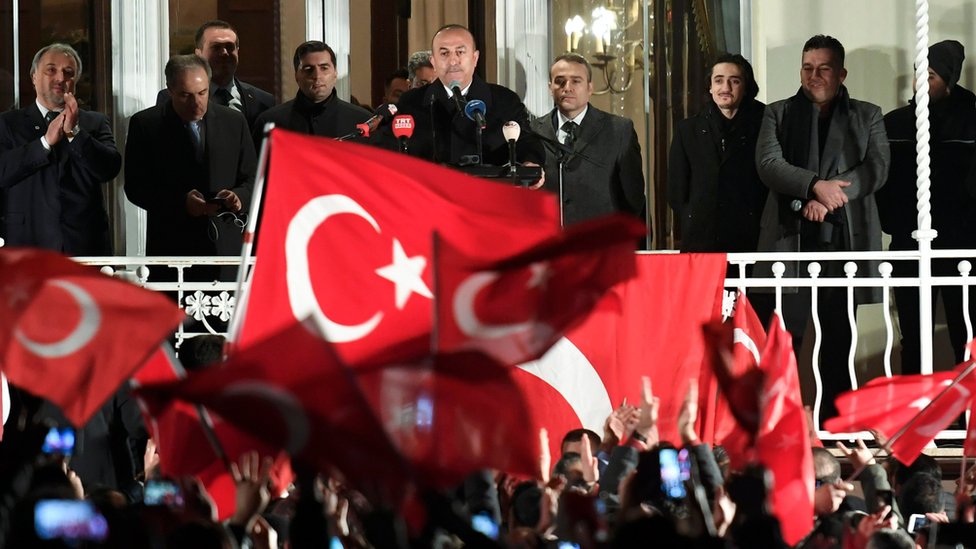 Tension erupts in many European countries as Turkish politicians rally to gather support for the Turkish constitutional referendum to be held on April 16.
Politicians aim to address the Turkish diaspora in European countries and harness more votes in support for the Turkish constitutional referendum. 
In the meantime, European countries, including the Netherlands, Austria, Switzerland and Germany, are strictly rejecting bringing Turkish campaigns to their countries for security reasons.
The Dutch government says such rallies would spark tensions days before the Netherlands' general election, to be held on March 15.
In the Netherlands,Turkish Foreign Minister Mevlut Cavusoglu had planned to address a rally to advance support for the Turkish referendum, but the event was cancelled.
While Cavusoglu has insisted to challenge the event cancellation and proceed with his traveling plans, the Dutch government has withdrawn permission for Cavusoglu's plane to land to the city of Rotterdam.
In response, Cavusoglu said that Turkey would respond by imposing sanctions.
Erdogan has described the Dutch government as "Nazi remnants and fascists" in response to preventing his foreign minister from entering the country.
Hours later, the Dutch police deported the Turkish Minister Fatma Betul Sayan Kaya from entering the Turkish consulate to address the Turkish rally in Rotterdam on Saturday March 11.
Clashes between the Dutch police and protestors have erupted in Rotterdam amid escorting the Turkish minister outside the country.
According to BBC "Water cannon and police on horseback were used to disperse about 1,000 people outside the Turkish consulate."
The Austrian Foreign Minister Sebastian Kurz has objected to holding rallies and brining the Turkish campaign to Austria as this could "increase friction and hinder integration."
Similar events have taken place in Germany and Switzerland; Pro-government rallies and gatherings have been banned where Turkish politicians were due to speak.
These events highlight the tension between the Turkish government and major powers in Western Europe, despite their Nato alliance.
The Turkish constitutional referendum comes as Erdogan is seeking higher presidential powers through a constitutional referendum to be held in Turkey on Sunday, 16 April 2017.
The new powers granted by the constitutional referendum, if successful, includes allowing the president to appoint ministers, senior judges among other legislative powers.
---
Subscribe to our newsletter
---