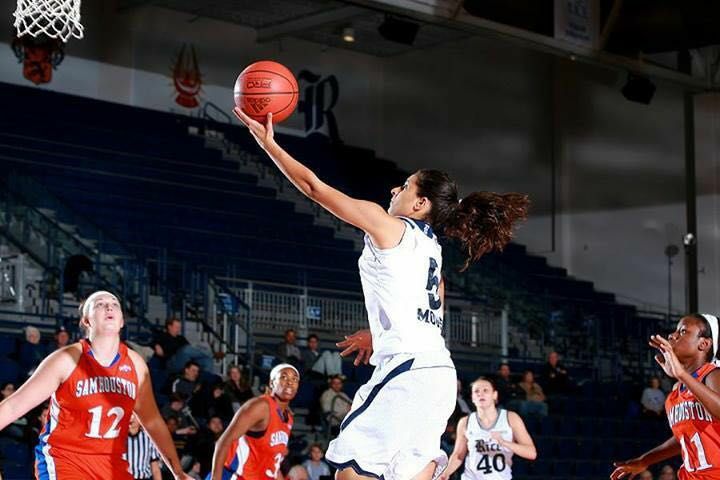 Reem Moussa is an impressive Egyptian young woman who happens to play some pretty good basketball. One year after she had started her professional career as a Basketball player, she managed to win a European Championship along with her team from the Czech Republic. In her interview with Egyptian Streets, Moussa reflects on her journey with Basketball and her achievements.
How and when did your journey as a basketball player start?
I started my professional career in 2016. Right now, I am playing with KP Brno team in the Czech Republic. During summer 2016, I was playing in the US in the Women's Blue Chip Basketball League (WBCBL), and before that, I was with Al-Ahly for three months (from February to April 2016). Prior to all of that, I was playing for Rice University (NCAA Division 1) for four years (2011-2015) after achieving a full athletic scholarship to play there.
Tell me more about your team and the championship
My team was a part of the Central Europe Women's League (CEWL) and we started off really well by being the first-place seed in our group which helped us to qualify for the final Four. Then, we won both games (semifinal and final) to win the whole championship and this was the club's first championship in 57 years.
Who encouraged you to join basketball?
My dad was the reason why I started playing basketball. He is a coach of the game and a former player as well. At the beginning, I didn't like the idea of a team sport, but slowly he helped me fall in love with it.
Given that now you won a European tournament, how do you view your journey in basketball?
It is still a long way from where I want to be. I have so much more in mind and I believe I could become even better later on in my professional career. But I am very grateful for that achievement. I hope to reach a high level in Europe and even the US by playing in a EuroLeague or a WNBA team. I also would like to play for the Egyptian National Team and help the team qualify for the World's Championship in the future.
Have you ever felt extremely challenged that you considered giving up?
I personally cannot think of the last time I thought about giving up. Sports have been my life since I could remember. When I was young, I wasn't a basketball player, but I was a gymnast and I have the highest goals for myself. I was getting ready to play for Egypt in the Olympics as I trained in Ukraine and Romania, but I was still too young, then when I switched to basketball, it was the same mindset. A lot of goals and a lot of steps to reach the top and I am determined to do my best to try to reach those goals. If I do not take any and everything that comes my way as a challenge, then I won't get better and be where I would like to be.
Tell me more about your routine as a professional Basketball player
We have about four hours of team practices a day. I usually get in another three to four hours by myself whether on the court or in the weight room. I spend most of my time off talking with my family and close friends. I like staying healthy; eating well, meditating and praying. I also have a geeky side that enjoys reading and doing research. That is pretty much it.
How did basketball change you, in terms of your stamina, having something consistent to pursue and your commitment overall?
Basketball is my life. How did my life change me? It made me who I am. Not just basketball, but sports in general. I cannot say that sports changed my personality in any way because, without it, I would not be the same person.