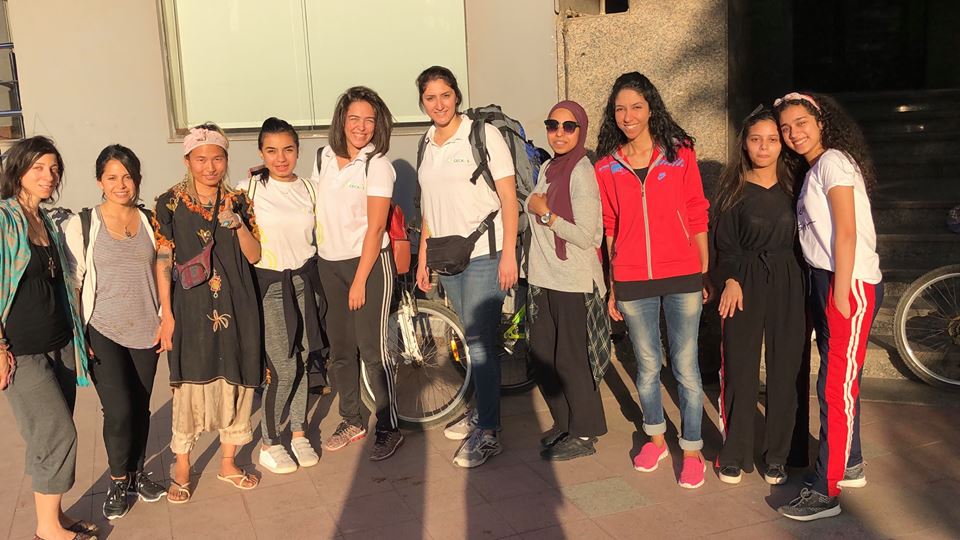 In recent years, it has become quite common to come across females riding bikes in Cairo streets, after it was a practice that the majority of females had shied away from due to unfathomable cultural barriers.
However, Cairo Cycling Geckos (CCG) decided not only to let females ride bicycles, but to do it with a benevolent cause to help underprivileged people and refugees in Cairo. A group of girls who ride bicycles are now recognized for who they are and for what they ride their bicycles for.
Founder of the initiative CCG Nouran Salah speaks to Egyptian Streets about her initiative that kicked off about two years ago.
"What triggered me to start was that I used to ride a bike, and people would whistle and cheer as if I was in a circus," Salah says. "Instead of being motivated for riding a bike, I was provoked because I didn't want girls to feel that they are spotlighted for riding a bike."
Ramadan was approaching at the time, and Salah decided to distribute meals for the underprivileged by her bike and thought of involving other girls to help her out. She started the initiative of "Your Sohour tonight is someone's Iftar tomorrow".
Sohour: [a meal Muslims eat before fasting]. Iftar: [A meal Muslims eat to break their fast].
Salah got in touch with the founder of "Bescletta" –a showroom for bikes– who grew fond of the idea and provided her with 25 bikes for her initiative.
"That's how it all started, I had to collect donations at the beginning by myself," Salah adds, elaborating, "I would prepare Sohour and sell sandwiches in [Luxurious] neighborhoods for EGP 10. Some people were very excited about the idea that they paid EGP100-200 for the sandwiches."
During the holy month of Ramadan, CCG has a generous campaign in which they distribute Sohour meals to collect money, and then this money goes to refugees who cook and package this food – Sudanese and Eritrean refugees cook meals this year– then this food is distributed in slums and underprivileged areas for those who cannot afford Iftar meals. It's a loop that benefits everyone.
CCG is not an initiative that is only limited to Ramadan, but they also operate throughout the year and on occasions including Mother's days.
"Usually, we have two rides each month, and it also depends on occasions. In Eid, we have two rides and in winter as well to distribute blankets and heavy clothes," Salah concludes.
The culture of cycling has been recently growing in Egypt, with neighborhoods including Heliopolis and Sheikh Zayed customizing special routes for bicycles.
---
Subscribe to our newsletter
---