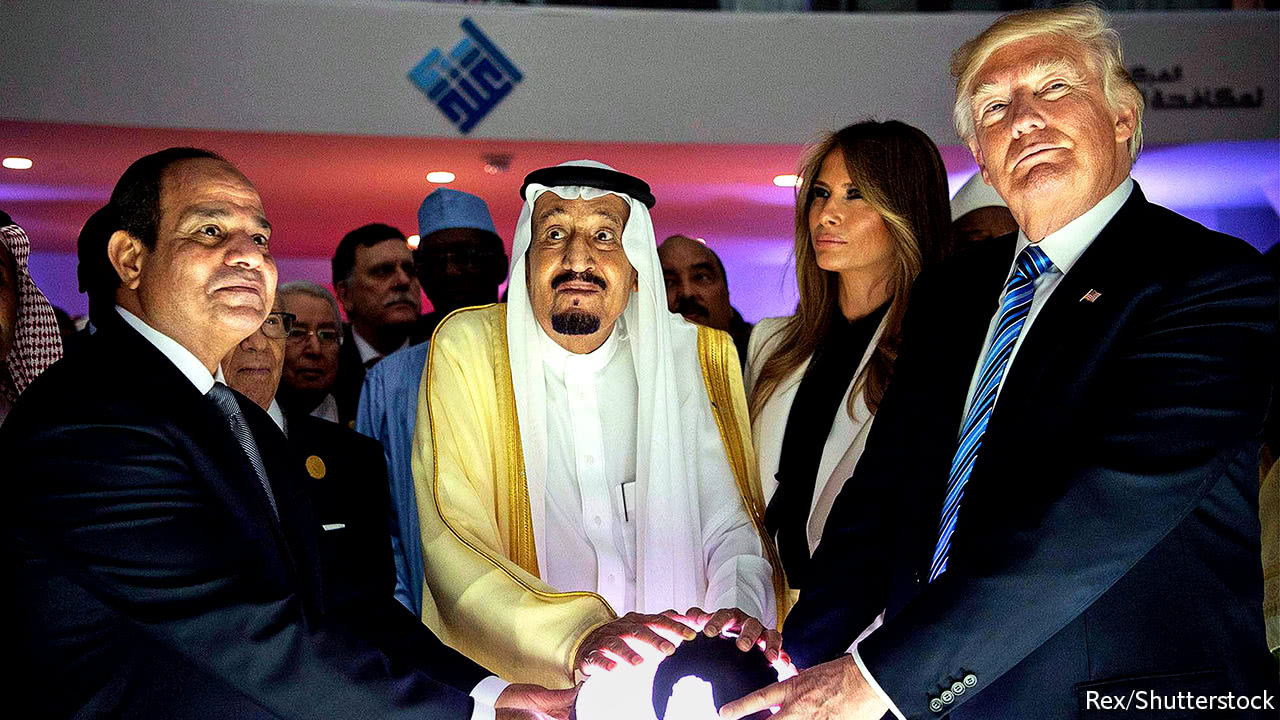 By: Abdelrahman Amr and Michael Matthiesen
In the fifth part in an Egyptian Streets article series under the name of East-West Chitchat that aims to spark increased dialogue between Americans and Egyptians, Abdelrahman Amr and Michael Matthiesen explore U.S President Trump's relationship with Middle Eastern nations.
America's Western and European allies are not getting what they want out of Trump. They wanted America to stay in the Paris Climate Agreement, Trump pulled out. They wanted America to stay in the Iran Deal, Trump pulled out. They advised Trump against moving the U.S Embassy to Jerusalem, he did it anyway. Trump has threatened to pull out of NATO and NAFTA. He has ripped up the Trans-Pacific Partnership (TPP) and the Transatlantic Trade and Investment Partnership (TTIP). He has also threatened to defund the U.N, he has presented the German Chancellor with a bill for NATO, he has had verbal altercations with the Prime Minister of Australia, and he wants to build a wall on the Mexican border.
This is not the America they are accustomed to or the America they want. What's changed?
While Europe is scared that fifty years of Western dominance, which was supposed to sustain itself after the Cold War, may be unravelling, three countries in the Middle East are getting exactly what they want out of Trump: Saudi Arabia, the United Arab Emirates (UAE), and Israel. All three countries wanted the U.S to pull out of the Iran Deal, all three wanted Trump to put pressure on Qatar to stop being so underhanded, and each have separate individual goals which Trump has helped them to achieve.
For Israel, it was moving the U.S Embassy to Jerusalem, check. For Saudi Arabia it is the repealing of a law that was passed allowing American families to sue the Saudi government over terrorist activities. Finally, for the UAE, it is about moving one of the largest U.S military bases in the world out of Qatar and into their borders.
So, what are these three countries doing that Europe is not? Well, for starters, they don't expect Trump to maintain the precedent set by his predecessors. Trump looks down on Obama, Bush, and Clinton, so he has no interest in maintaining any of their legacies.
Second, Trump can't tell the difference between domestic politics and foreign policy. It's one reason why he couldn't understand the Palestinian protests and bloodshed that occurred as he opened the U.S Embassy in Jerusalem. He thought only about how moving the embassy was a public relations win for his voting base.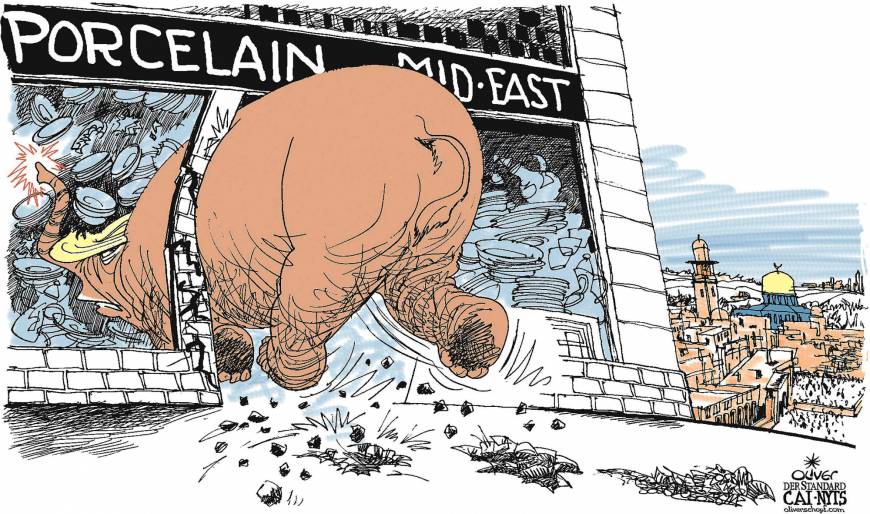 While most American presidents are willing to compromise on campaign promises in the interest of national security, Trump sees compromise as a weakness and has every intent on fulfilling his campaign promises, even the bad ones. Leaving the Iran Deal, moving the embassy, and pulling out of the Paris Agreement were all campaign promises.
Saudi Arabia, Israel, and the UAE are doing what they can to make it easier for Trump to keep these promises – in any way they can.
As a result, Europe's mistake is that it continues to think that Trump is going to honor America's previous policies, when in his era, everything is up for negotiation. But how do you negotiate with Trump?
Probably the best way is to appeal to Trump's base. When the President tweets, speaks on TV, or thinks that something is a good idea, he always has his hardcore voter base in mind. This is because he's already thinking about getting re-elected in 2020. Israeli Prime Minister Netanyahu understood this which is why he appeared on Fox News when he knows Trump and his base are watching to pitch their ideas. One of the best at this is French President Emmanuel Macron. The bromance that has evolved between Trump and Macron was fostered because Macron understands that Trump loves media opportunities that make him look good. The razzle dazzle of handshakes, public praise, and parades have been Macron's recipe for getting Trump's support. Macron has done so well, that he was the first world leader that Trump invited to a state dinner.
However, not every country has the public appeal with the American people that Israel enjoys. Then, is there another way to negotiate?
Bahrain thinks those negotiations are through the Trump Organization, which Trump still owns, operates, and profits off of while living in the White House. While only alleged at this point, some Gulf State diplomats go to the Trump Hotel in Washington to pay tribute to the President. The Trump International Washington has received $270,000 from Saudi Arabia, Bahrain now holds multiple events in Trump's ballrooms, Kuwait moved their annual Gala to Trump Washington, and Azerbaijan is now hosting their Annual Hanukkah Party in Trump's hotels as well.
Again, though only alleged at this point, Qatari diplomats seem to find buying properties and services from the Trump Organization effective, but to a point. Qatar's Mission to the U.N even bought a $6.5 million New York City apartment from Trump to stay in good favor with the President. However, when negotiations to buy Jared Kushner's 666 Building in Manhattan went south, Kushner turned around and supported the blockade on Qatar. Things seemed at an impasse until it was announced that Qatar had damaging information on Jared Kushner, and flirted with the idea of giving it to the Mueller investigation. Whether, that was a threat to Kushner or not, negotiations between Qatar and Kushner have restarted, and Qatar said it would not cooperate with the Mueller investigation.
So, what does all this mean for Egypt? Egypt's President El-Sisi, the leader of the Arab world's most populous country, is taking a different approach to dealing with Trump's actions. The country that previously led the whole region is now more concerned with its internal affairs, specifically economic and security matters, leaving the Middle East's current direction in the hands of Mohammad bin Salman and the UAE. Though Egypt seems to have joined the anti-Iran coalition of countries with Saudi Arabia and Israel, it's remained a silent force in this coalition.
Egypt is playing its tactical role well given its current situation. The country's leader is presenting his soft support to White House decision in various ways, like permitting the Israeli embassy celebrations for its 70th anniversary in Cairo despite an expected backlash from Arab nations, and he's sustaining the country's position against Iran and its representatives as a threat to the region without being dragged to risky positions. A good example for this was supporting MbS against Houthi militias in Yemen but not sending ground troops to fight alongside Saudi Arabia.
Leaving out blocked Qatar, unstable Libya and battle-damaged Syria and Yemen, Middle East leaders seem to be concurring with the current new structure Trump is exercising in the region as long as it assists the Gulf states' fight against Iran and Egypt's way of dealing with its opposition and political and economic reforms. Either way, it's safe to say that diplomacy between the U.S and the Middle East has changed significantly. Whether this is good or bad is yet to be seen.
---
Subscribe to our newsletter
---