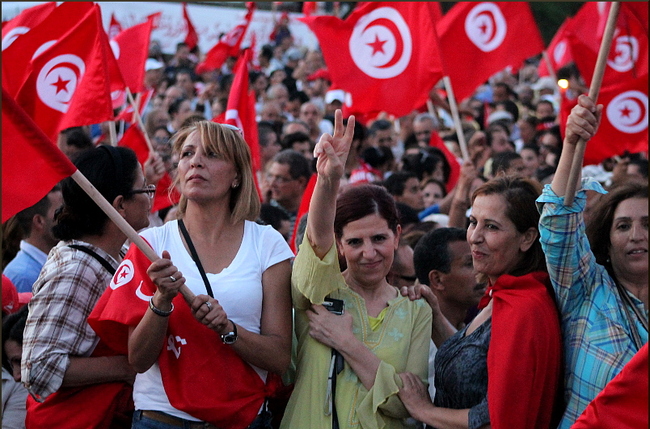 Complying with last year's calls for more equality between men and women, Tunisia's president Essebsi proposed giving women equal inheritance rights.
According to Reuters, despite protests in front of Parliament from thousands of Muslim adherents who feel that the call is a direct challenge to Islamic law,  the proposal by the secular politician and head of state was made on Monday.
It has been passed on to Parliament to prepare the bill.
It answers the wishes of previous women rallies who have demanded equal inheritance rights in the past, but it also grants families wishing to  pass on inheritance based on Islamic law the freedom to do so.
Tunisia is one of the few Arab countries of the MENA region in which experts claim that women are granted more rights; along with Lebanon, Tunisia is often hailed as having a 'liberal/secular' society.
Similar to Egyptian law, which is based on Islamic jurisprudence, Tunisia's inheritance laws are as following: brothers inherit twice that of sisters, sons inherit twice that of daughters, and husbands twice that of wives.  As for mothers and fathers who are alive at the time of a deceased offspring, each receives 1/6th of the possessions equally.
In the case of Christians in Egypt, which make up to 10% of the total population officially, inheritance can be passed on according to the Egyptian law although families can opt out of the arrangement. Many choose to allocate the inheritance equally among offspring or parents explicitly state the share of the inheritance in a will.
Few public figures in Egypt have also called for a reviewing for the inheritance laws in Egypt.
According to Egypt Today, TV presenter Mohamed el-Baz stated equality between both sexes can be seen as not contradictory to Islam as women today contribute to societies and work. As such, the conditions of today's community are no longer comparable to the community at the time in which the inheritance laws first originated.
Last year, Egypt's Al-Azhar criticized similar calls for equality between men and women in inheritances as soon as they appeared.
Al-Azhar made the announcement on the basis that it goes against Islamic teaching. While the announcement of Al-Azhar didn't directly address Essebsi, it was made a few days after his suggestion to form a committee to study the matter.
Egypt's Al-Azhar also criticized the calls of Essebsi suggesting that Muslim women can marry non-Muslim men. Last year, Tunisia also allowed Muslim women to marry Non-Muslim men.
The Sunni institution spokesman claimed that the marriage will not be stable, adding that a non-Muslim husband will not allow his Muslim wife to freely exercise religious rituals.
---
Subscribe to our newsletter
---