To help tackle the air pollution in Egypt, Slyd is introducing an environmentally-cautious solution targeted at helping people commute the last-mile through their application.
The last mile is considered the distance between your transportation vehicle stop and your desired destination. This phenomenon gave birth to Slyd. Co-founder Alaa Shalabi shares how the idea came to life.
"From my pervious experience working at Careem, we always had this hypothesis that mass transportation is a big gap in the region that needs to be fulfilled," he said, "As I was working on 'Careem Bus' project (Careem bus) I found a gap: if people wanted to leave their cars at home and use mass transportation private or public, they are extremely hindered because there are no first and last stop solutions."
According to Shalabi, this causes major inconvenience for riders who are unable to find means of commuting to or from their desired destination. While the scooters are often a vehicle that people use for fun rather than a mode of transport, countries in Europe and Asia have popularized the vehicle for commuting purposes. To learn more how these countries were able to achieve this, Shalabi visited Singapore and China where scooters are ubiquitous transportation vehicles.
Currently, Slyd is operating in Cairo. The service is available in the American University in Cairo (AUC), where its catered for those who park and need to walk 10 to 15 minute to reach the gate. However, it will soon be available in Greater Cairo.
The application gives the user access to find, unlock and ride a scooter. The scooters are parked in designated stations where the user is expected route him or herself to the pick up spot. Each scooter has a QR Code that must be scan to unlock the vehicle. Once the code is scanned, the trip starts. The user must then return the scooter at the station that is closest to their destination. The mobile app also supports payments, so the experience is fully automated.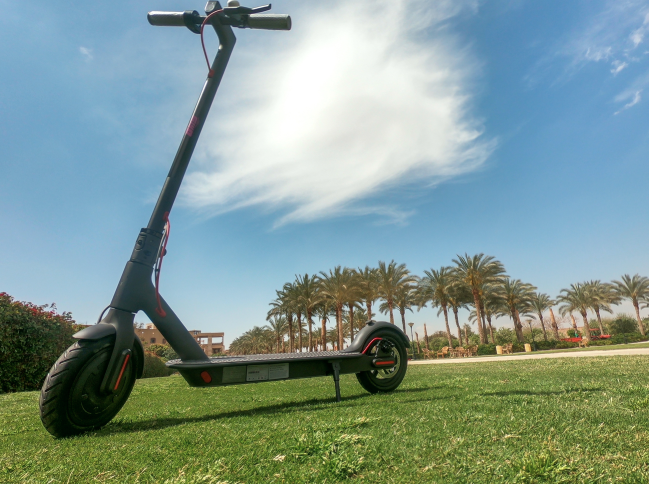 Introducing this new concept to the market came with several challenges. "The fundamental challenge we are facing is finding an ecosystem that will allow us to operate and localize the manufacturing for different vehicles including the electric scooters," Shalabi highlights, "Pre-curing vehicles is often done internationally and in Egypt we do not have manufacturing experience as opposed to other countries who have far more experience in this."
Soon, the scooters will also be equipped with an anti-theft system to ensure that the scooters are collected and dropped off at the right places and avoid losing vehicles. Slyd will also introduce a sophisticated payment system from cash to credit. Credit card penetration is very low in the country and this business is predominantly based on credit card payment, thus having a very seamless cash payment experience through toping up a wallet or paying at a point of payment system vender in necessary.
"For the ride-hailing companies allows you to pay the driver in cash, but in this case, you are the driver yourself. What we are working on right now is that to tackle this in a way to empower the driver, as in you," Mohamed Hamza co-founder elaborates when asked about cash payment.
It is important to note that this is an environmental friendly solution for transportation. While solving the last-mile problem, Slyd simultaneously leading the proliferation of electric vehicles. The adoption of electric vehicles is relatively slow in the country, because it is not part of the local culture. However, personal mobility electric vehicles are less costly while becoming more accessible through the sharing system.
Marketing director, Haidy Zakaria  believes the idea of micro transportation would work in Egypt, because "we are going to introduce a new culture into a market that is currently adopting new things. Not just the last-mile ride but also using electricity to travel around. The idea of gearing away from petrol-fueled vehicles."
Ultimately, Slyd hopes to expand to all the cities in the region especially in cities where people are walking for a long period.
---
Subscribe to our newsletter
---