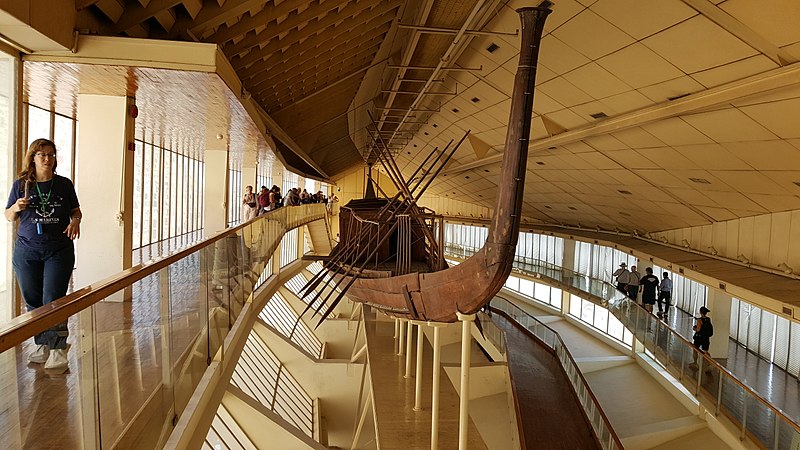 Marking exactly 65 years since its discovery, Google Doodle is celebrating the unearthing of Khufu ship, found inside the funeral temple of the ancient Egyptian pharaoh from the Old kingdom.
"On this day [26 May] in 1954, one of the oldest and largest boats on earth was found buried near Egypt's biggest pyramid. Today's Doodle celebrates the discovery of the Khufu Ship, which has survived more than 4,600 years, although its true purpose remains a mystery," describes Google in the description of the doodle.
The 4,600 year-old ship was was originally found in 1954 on the southern side of the Great Pyramid of Giza.
The wooden vessel is of great quality, marked by stellar craftsmanship and design although scholars are still debating its exact use and the reasoning behind its placing inside the pyramid.
Known as a 'solar boat', the ship most likely had a religious function – it was strategically placed inside Khufu's burial chamber to allow him, as a deceased king, to sail across the heavens with Ra, the sun god according to ancient Egyptian mythology. It is alternatively believed that the boat could have been used to transport the king's body to his eternal dwelling place once deceased.
Khufu, commonly also known as 'Cheops' was the second pharaoh of the Fourth dynasty in ancient Egypt. Although his own reign was poorly documented, as are many of this particular time period, he left commissioned the Great Pyramid of Giza, one the Seven Wonders of the Ancient World.
The Google Doodle was shared on Egyptian Minister of Tourism, Rania Al Mashat's official Twitter page.
Previously, Google Doodle, a special and momentary alteration of the logo on Google's home pages intended to celebrate noteworthy figures, achievements and events, has celebrate numerous Egyptian figures such as Omar Sharif, Faten Hamama, Dalida and Fouad El-Mohandes.
---
Subscribe to our newsletter
---