Photo credit: Daily News Egypt
Despite the high inflation rate and the global economic crisis, the Egyptian export industry has been flourishing in multiple fields. Between fruits, vegetables, petroleum products, crude oil, liquified natural gas, and fertilizers, Egyptian exports make up almost a quarter of the country's Gross Domestic Product (GDP). In March 2023, Egypt's total exports totaled USD 3.7 billion (EGP 115 billion).
Although exports tend to fall short against imports in Egypt, several countries continue to depend on Egyptian commodities. Some of Egypt's main trading partners are China, Spain, Turkey, Italy, India, the United States, and the United Arab Emirates.
Here are Egypt's top five exports, according to Trading Economics.
Oil and Mineral Products
In 2021, Egypt was the 25th largest exporter of crude petroleum in the world. Between crude and refined petroleum, these products make up 32 percent of Egypt's total exports.
Egypt's exports for mineral fuels, oils, and distillation products, totalled USD 17.97 billion in 2022, according to ​​the United Nations Comtrade database. Additionally, the Organization of Arab Petroleum Exporting Countries (OAPEC) recently revealed that Egypt's liquified natural gas (LNG) exports reached 1.9 million tons in the first quarter of 2023.
Chemical Products
The chemical and fertilizer industries are the second biggest export industry in Egypt. As a result, chemical products amount to 12 percent of Egypt's total exports.
The industry consists of organic chemicals, inorganic chemicals, diversified chemicals, and fertilizers. While organic chemicals are carbon-based, inorganic chemicals are mineral-based.
Last year, Egypt's Chemical and Fertilizers Export Council announced a 33 percent increase in the sector's exports during the first five months of the year, compared to the previous year.
Agricultural Products and Livestock
Egyptians living abroad can often tell the difference between Egyptian and non-Egyptian vegetables and fruits. Egypt's mild weather, fertile land, and Nile make it an important market for agricultural products. Rice, onions, garlic, and citrus fruits are some of the top agricultural products exported from Egypt, accounting for 11 percent of its total exports.
In 2022, Egypt's agricultural exports reached nearly 6.5 million tons for the first time ever — a 14 percent increase from 2021 — where 406 agricultural products were exported from Egypt to 160 markets worldwide.
Textiles — Mainly Cotton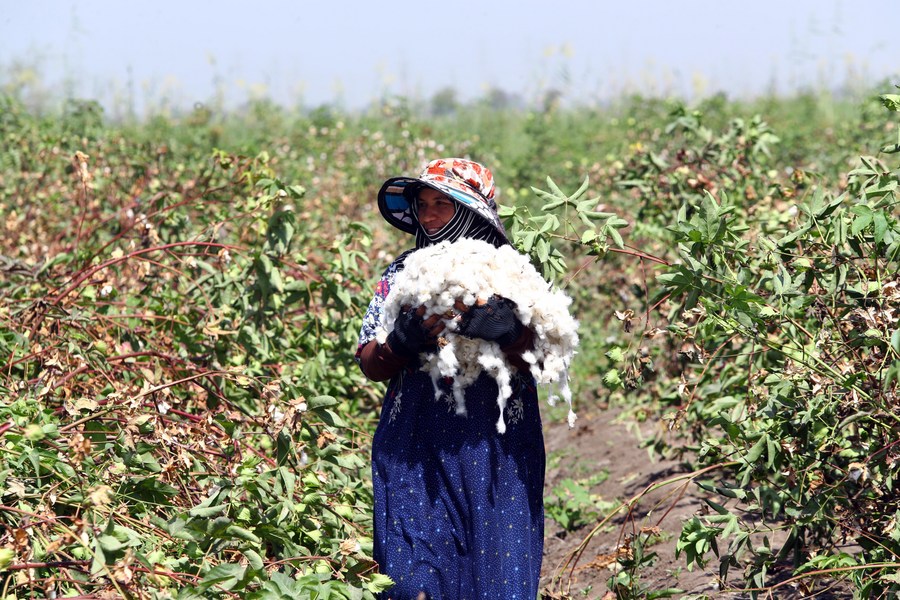 Historically, Egyptian cotton was once labeled the fourth pyramid of Egypt. Today, Egypt's main textile exports include fibers, cotton yarn, raw cotton, sewing threads, and knitted fabrics.
As more than 10 percent of the country's total exports is from the textile industry, Egypt is home to one of the largest textile industries in Africa.