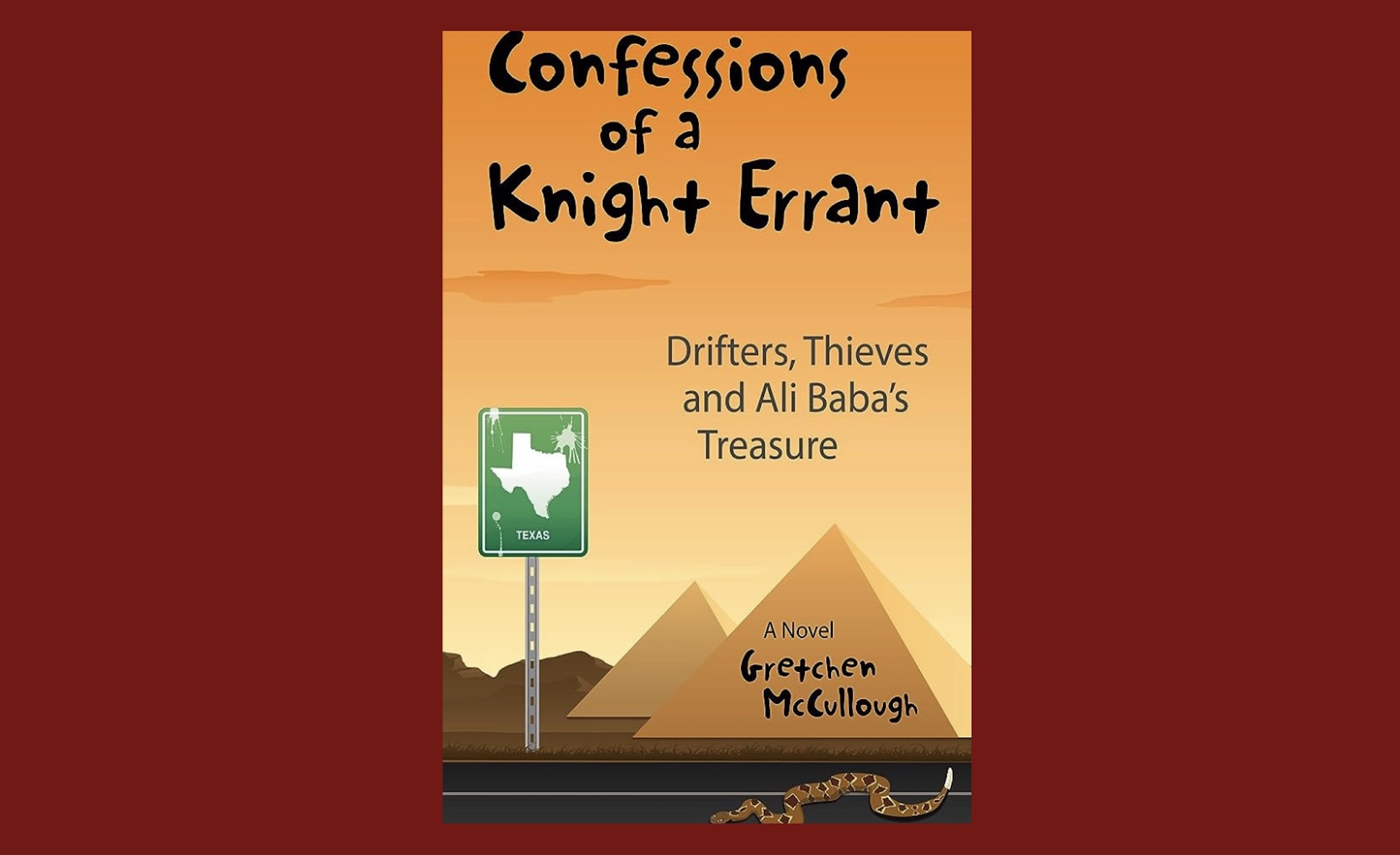 "I was always tempted by Cairo—the Mother of Stories."
In the novel 'Confessions of a Knight Errant: Drifters, Thieves, and Ali Baba's Treasure' (2023), author Gretchen Mcullough writes a rollicking and compelling — albeit confusing and chaotic at times — novel that promises to take readers on a whirlwind journey of adventure across Cairo and beyond.
Set in 2011, the story follows two men on the run, Dr. Gary Watson, an environmental activist and university professor accused of being a cyberterrorist, and Kharalombos, a Greek dancing instructor who is wanted by the secret police. Fleeing from one country to another, the two men find themselves in Cairo on Friday, 28 January, otherwise known as the Friday of Rage.
Clinging to every opportunity for self-preservation, the two men accept a job offer from Gudrun Grunwald, a German tourist they met in Cairo. They end up hiding out at a Christian girls' camp in Texas, where both men get embroiled in a series of incidents and events with a variety of characters.
The book, although it tells the story of affairs and entanglements, lends itself as a rollercoaster ride for the readers. It flows in an episodic format, where each chapter is an individual portion of the story, which can be challenging to many readers. By all means, this book is far from boring, however, its quickly changing settings and array of distinct characters made the book a confusing read at several points.
As an avid reader, I found 'Confessions of a Knight Errant' to be very different from my preferred genre of reads. Mcullough skillfully manages to draw in images of bigger pictures in between the lines. From addressing political turmoil, climate change, and social issues, Mcullough's book is entertaining, with a few serious touches.
A good old-fashioned tale of adventure
The first two pages of the book set the tone for the events to come. It starts off as chaotic – with two fugitives stranded in Cairo's airport on the Friday of Rage. On the one hand, Gary is running away from Interpol, and on the other, Kharalombos is running away from the secret police.
They disguise themselves and move swiftly with fake passports, but they are not criminals by nature. Gary is a university professor who has dedicated years of his life to writing about pollution in the Nile River, but was accused of masterminding a computer hack that wiped out the files of a major publishing company. His friend, Kharalombos, is wanted by the secret police for cavorting with the daughter of "the Big Man of Egypt" as the novel reads.
In the brief time they spent in Cairo, they met Gudrun Grunwald, a German-American tourist, Viscount Triksky, a Russian aristocrat, and an Egyptian archeologist known as Ramses El-Kibir — some of the many characters they run into on their whirlwind journey.
They seek refuge in a Christian girls' camp in Texas with the help of Gudrun; however, it is not the safe haven they thought it would be. Their time at the camp is far from just charming and bratty campers, because they stumble upon murder, stolen antiquities, international conspiracies, and many more puzzle pieces that are difficult to add together. From conspiracies about the Irish Republican Army (IRA) and the Gaddafi regime in Libya to dead bodies and stolen artifacts: there is nothing too wild for this story.
In Mccullough's novel, there is no break from surprising occurrences. It is perhaps one of the most important aspects to take into consideration while reading this novel, Mcullough spins many twists, characters, and important small details that all connect at the end. Only attentive readers will be able to connect Mcullough's various loose plots and dots.
A few shortcomings
How the story unraveled at the end was masterful to me, due to the fact that Mcullough introduced an array of characters, ties, places, and puzzles. However, by the time I tuned into the last chapter, I felt like I had run out of breath. Perhaps this is due to Mcullough's episodic writing format, which felt challenging to me.
The book is a mayhem of stirring twists and turns — and although they felt exciting in the first two or three chapters, I felt like I did not know what was going on due to the lack of a solid storyline. The goal at first was evading a life behind bars, but then there were too many plots that can make the reader easily fall off-track.
As an Egyptian, I respected the integration of witty Arabic one-liners, but did not find them incredibly funny. Although some were on point and relatable, others felt mo off from the daily Egyptian conversations. Humor is daringly subjective, so although some of it felt forced, Kharalombos to me was one of the lightest and most digestible characters.
Verdict
It seems that, while 'Confessions of a Knight Errant' is a rollicking, engaging, and suspenseful novel, it does not favor the readers who prefer the slow excitement of a normal pace. It fits the description of the old-fashioned adventure tales, but as a reader, I did not feel any emotional connection to the characters. Perhaps this might be of my own fault, but I could not find myself rooting for these characters. On the one hand, I found myself trying to make these characters feel as real as possible, although they are strictly fictional, and on the other, the characters lacked the depth needed to relate to them.
As someone who has lived through the events in 2011, it was interesting and nostalgic to relive it all over again in Mcullough's novel, which is something I thought the book wandered away from; the first chapter is titled 'Havoc in Cairo' so I had presumed that Cairo and the revolution would be highlighted much more than they were. She, however, still managed to draw on the political climate that was escalating in the world at the time through her colorful characters.
Overall, for those who crave a fun read and enjoy fast-paced novels, I would recommend reading 'Confessions of a Knight Errant: Drifters, Thieves, and Ali Baba's Treasure'. However, for those who get easily distracted and need a story that doesn't move along too quickly, this book might take a longer time to finish than usual.
Whatever you decide: get ready for a book of twists, turns, and adventures. Buckle up.