For the first time since the January 25th Revolution, Egyptians flocked to Tahrir Square in numbers which rivalled the 2011 protests. Children, professors, students, feminists, judges, journalists, farmers and all other walks of life have been chanting "Down with the Muslim Brotherhood," and "Egypt is too big for you, Mr. President!"
Egypt is indeed too big for you. 90 million people should not be experimented with. The Muslim Brotherhood should not make 90 million people suffer in order to further their interests. But Essam El-Erian (Vice Chairman of the Brotherhood's Freedom and Justice Party) and all other Islamists have supported you and argued on CNN "This is democracy!"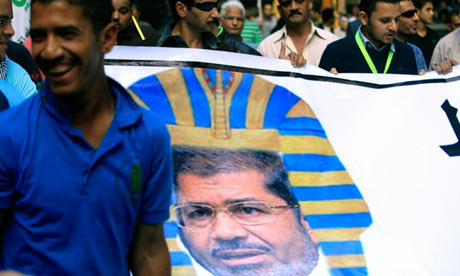 Yet does democracy involve ignoring the will of the people – the same people which stood by you when you won the elections in June? Does democracy involve surrounding yourself with solely members of the Muslim Brotherhood, while stating that the protesters in Tahrir are "thugs and cavities"? Were your statements that "God's will made me captain of this ship" or "God's will is above social justice and law" democratic?
Your democratic moves have led to a 10% decline in the stock market, a crash in tourism, the suspension of all courts and other judiciary work, and even worse: you have caused Egyptians to kill and injure one another.
Mr. President, yesterday night Tahrir Square's protesters proved that the phrase "There is no Tahrir without the Muslim Brotherhood" was wrong. More than 300,000 thousand protesters filled the square without any involvement of the Islamist parties, while in other cities protesters also chanted for the downfall of the Muslim Brotherhood.
Mr. President, you fail to understand that democracy does not only entail free and fair elections, but also listening and following the will of the people. Disregarding the hundreds of thousands of protesters around the country – and thus the will of the people – your chief of cabinet stated that you will not back down from your "democratically motivated moves."
Fortunately for the Egyptian people, whether you remain defiant and hold your ground is not in your hands, or in the hands of the Muslim Brotherhood. It is in the hands of the people. The Egyptian people managed to force Former President Hosni Mubarak who stayed in power for 30 years to resign in 18 days. You have been in power for less than six months – the will of the people will undoubtedly succeed.
So, you have two choices: back-down from the dictatorial decree and retain some of your dignity (but be left embarrassed and without any trust), or step down from the Presidency, maintain your dignity, and admit that Egypt is too big for yourself and your puppeteers.