As the Islamist-movement is on the defensive in Cairo, their peers in Upper-Egypt are waging an intensified hate campaign these days.
By Alice Tegle, correspondent, EgyptianStreets.com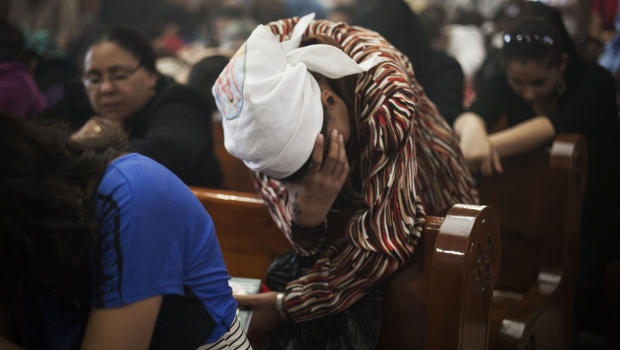 ASSIUT, EGYPT: "Islamic, Islamic, despite the Christians", shouted the 10.000 Islamists who were marching down a Christian dominated street in the Nile side city of Assiut last night, Associated Press (AP) reports.
Supervised by an adult, six children were spray painting «Boycott the Christians» and «Pope Tawadros is a dog» on the wall, according to the AP. Christian homes, stores and churches have been marked with red painted crosses.
At least 11 Copts have been killed since Morsi's toppling by the Military on June 30. Several others have been injured the last month during violent attacks on churches in Asyut, Luxor and al-Minya.
Pleading for protection
As a reaction a coalition of 16 Egyptian rights groups Wednesday expressed «grave concern regarding the increasing sectarian violence which has targeted Christians and their churches since the June 30 uprising», the Egyptian state-owned daily Al-Ahram reports.
The situation provokes Copts across the world, as the Bishop Angaelos of The Coptic Chruch in the UK stated on its official webpage the same day:
«Egypt cannot move forward while state apparatus does not hold people accountable for these unlawful hate crimes that stand to divide the country further, promoting increased polarization at every level».
According to the same Bishop, Pope Tawardros II has cancelled all weekly public meetings due to concerns over attacks on his congregation. During these events, Pope Tawadros often gives lectures and answers questions from the congregation.
Adding to Bishop Angaelos' statements, 16 Egyptian human rights organizations denounced recent violence and called for the government to take all necessary steps to ensure the protection of Copts. Human rights activists have said that the government is not doing enough to protect Copts, and has often failed to prosecute those involved in attacks.
Christian violence?
Muslim Brotherhood's Ikhwanweb on the other hand pointed in June to a Christian female preacher no better than Islamist hard-liners. Heating up masses at a special Church service she shouted «Drown Egypt in Blood of Christ», as shown in the movie clip below. This is one example of 'excuses' being used by the Muslim Brotherhood and Islamists as a means to blame Morsi's toppling on Christians and to further incite violence.
http://www.youtube.com/watch?v=oHCkZ23fHEs&feature=youtu.be
Still, sectarian violence has rarely been instigated by "radical Christians," and has more often been the result of family feuds, land rivalries, or radical Islamist groups.
With an impending dispersal of pro-Morsi sit-ins, Egyptians are starting to worry that Islamists may blame the Copts.
As for now the scent of generous Eid al-Fitr meals fill the streets of Egypt, but the smell of blood is never far away.