By Aya, contributor.
Visiting our relatives on Eid al-Fitr in Nasr city, Rabaa al-Adaweya, we couldn't miss the chance to have a look at the camp of anti government protesters and join them in Eid prayers.
Reaching Rabaa al-Adaweya is not a walk in the park: main streets tend to be sealed off by Military and police forces, or are heavily barricaded by demonstrators.
For those familiar with the area, entrances from Nasr Road – where recent clashes left 80 anti-coup protesters dead – and from Tayran Street are completely closed. The only way to safely reach Rabaa is through side-roads.
It was driving past Tayran Street, near Soensta Hotel, that I really felt a sense of fear: there are dozens of heavily armed police men and soldiers, backed with approximately 10 armoured vehicles.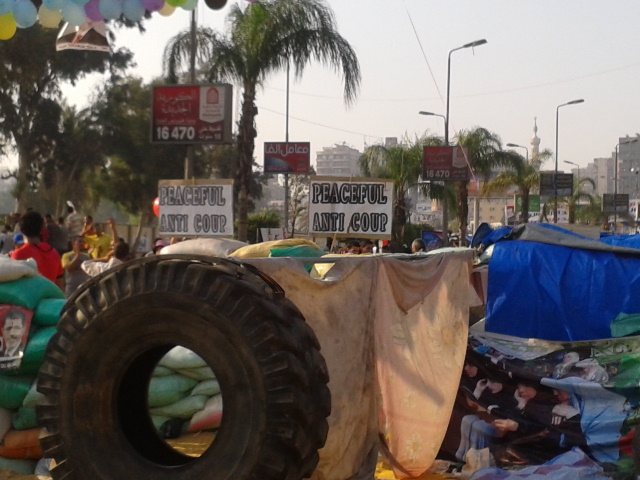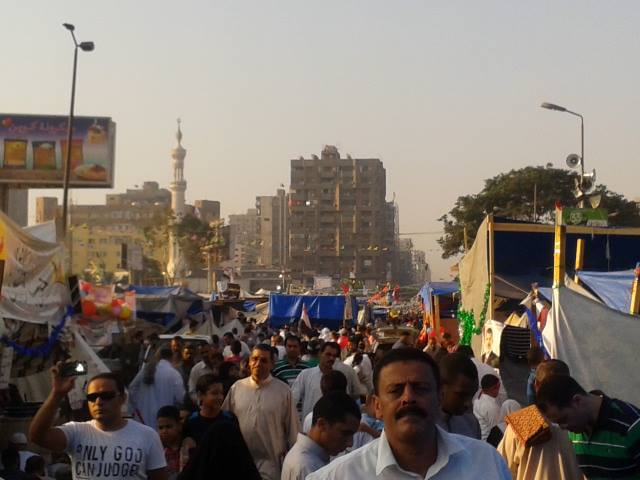 Today, Rabaa al-Adaweya has developed into a little city: tents densely pack the area, with demonstrators having near-full access to television, internet, and a variety of vendors.
Once I entered Rabaa I immediately felt like I was among family members. I have been to Tahrir before, just right after Mubarak left, and I had seen the same thing there as I see it now at Rabaa.
Many of the people  at Rabaa do not support the Muslim Brotherhood. Many did not even vote for their candidate in the first round of the Presidential elections held in 2012. It was after being among these demonstrators that I came to the conclusion that it is best to refer to these demonstrators as "anti-coup" protesters.
These protesters are there by day and night to oppose the return of the old regime, and because they truly believe that Military Chief Abdel Fattah Al-Sissi's actions were completely undemocratic and betrayed the vote that they cast just a year ago.
However, with many claiming that these people at Rabaa are terrorists, I feel the need to inform you that the complete opposite is true. People at Rabaa are kind, helpful, and passionate. They have organized areas for prayers, for children and women, and there are even people managing the roads and providing security in order to ensure everyone can travel without disruption.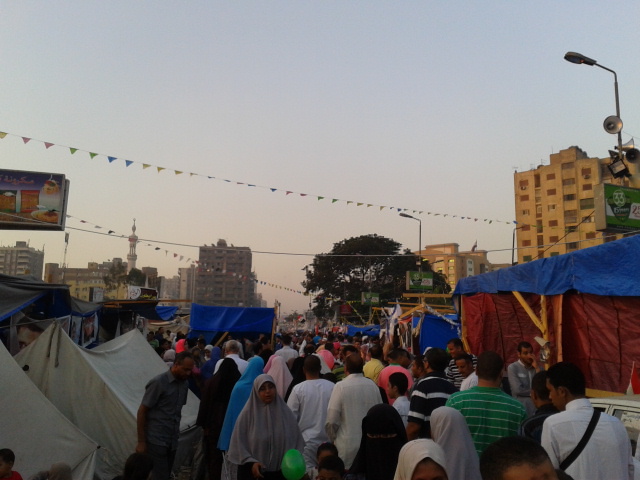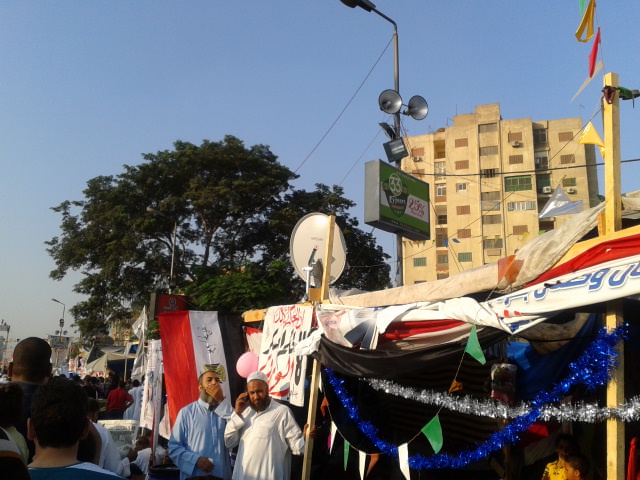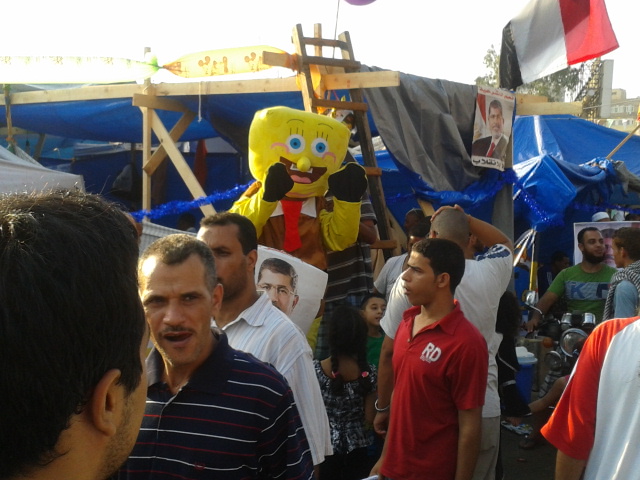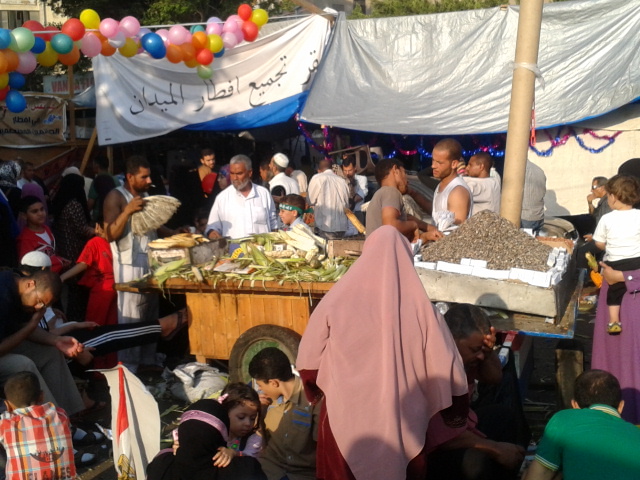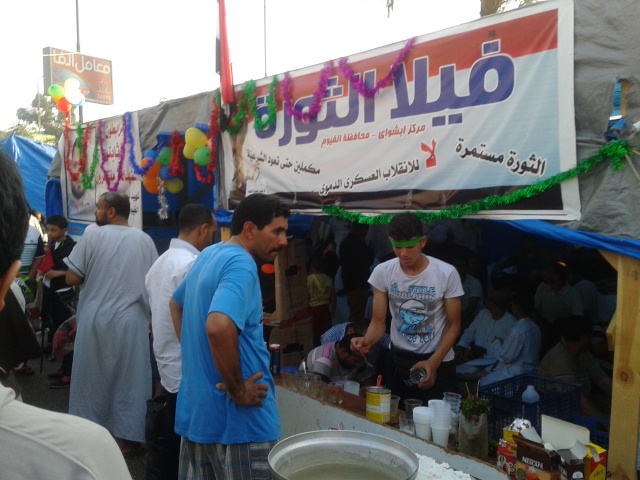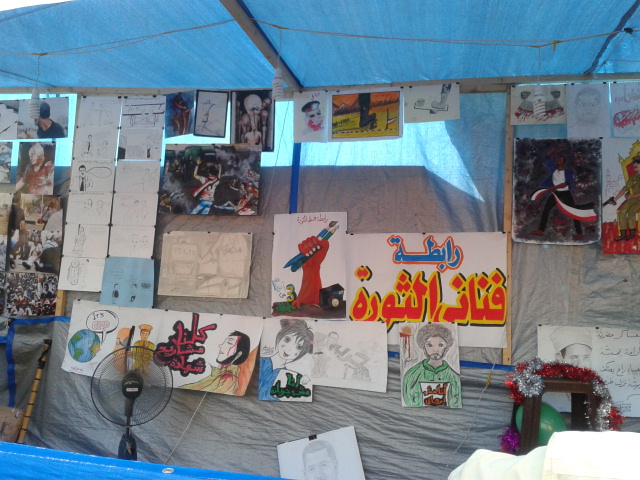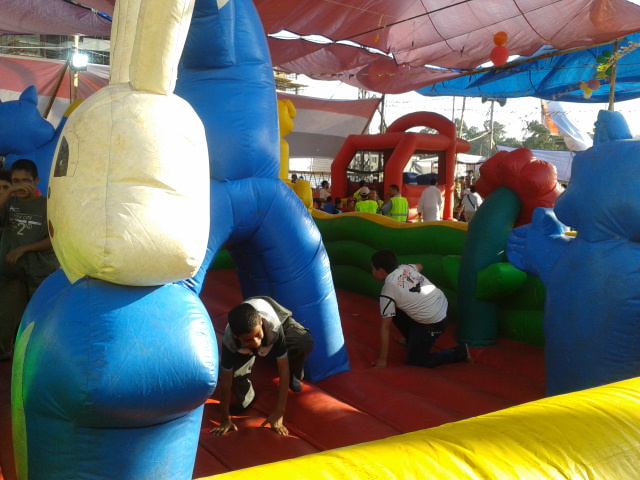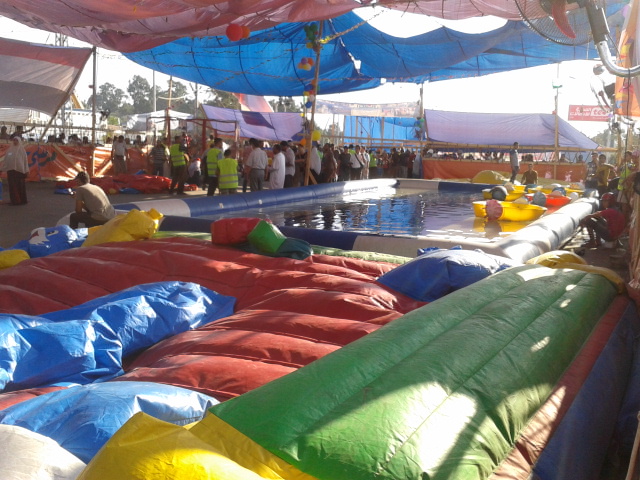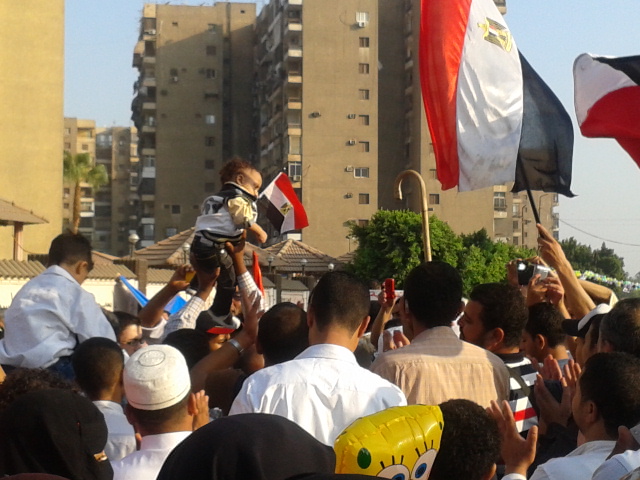 Overall, I encourage all those that think these people are "terrorists" to actually visit and meet the people of Rabaa. Learn more about them, understand what they want, and maybe you will no longer see them as terrorists.
As Euripides once stated "In case of dissension, never dare to judge till you've heard the other side." 
Opinions within this article are those of the writer and do not necessarily represent Egyptian Streets' editorial policy.  Do you have a different opinion? Share your views by commenting on this article or submitting an opinion piece to [email protected]