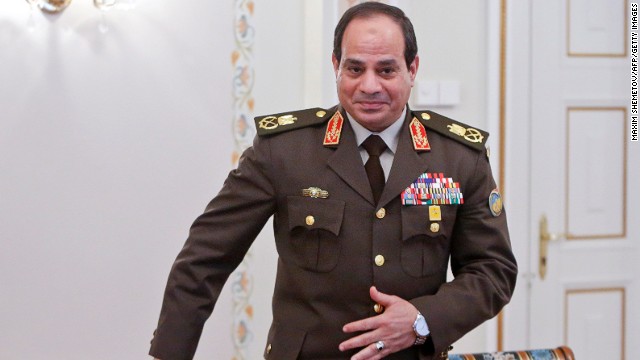 Presidential hopeful and former Military Chief revealed on Monday that two attempts were made on his life, confirming earlier reports of plots to kill the man largely responsible for the ouster of deposed President Mohamed Morsi.
In what was his first television interview, held jointly on CBC and ONTv, Sisi said there were "two attempts to assassinate me. I believe in fate and I am not afraid."
Sisi also vowed that if he is elected President, the Muslim Brotherhood would no longer exist.
"Egyptians reject reconciliation with the Muslim Brotherhood," declared Sisi when asked about the banned Islamist group, adding that the group is affiliated to violent extremists.
"It is not me that ended the Muslim Brotherhood. You, Egyptians, are the ones who ended it," added Sisi.
Sisi added that Khairat El-Shater, Deputy Supreme Guide of the Muslim Brotherhood, "threatened on June 23, 2013, that fighters from Libya, Syria and Afghanistan would enter Egypt if anything were to happen to [deposed President] Morsi."
While the former Military Chief is seen as the man who toppled Morsi and the Muslim Brotherhood, he said that it was not his intention to take power or run for President in July 2013.
"Whoever has the opportunity to come and protect this country, the people and their future, has to come forward," Sisi said, explaining that he decided to run for President because of the 'threats' facing Egypt.
The Military's candidate?
In regards to his status as a former Military Field Marshal, Sisi adamantly declared that he is not the military candidate.
"I am not the Military candidate…the army will not have a role in ruling Egypt," he said.
Apart from Morsi's one year-long Presidency, Egypt has faced a line of Presidents with military backgrounds, starting with Egypt's first President Mohammed Naguib in the 1950s.
Despite opposition by human rights groups and activists, Sisi indicated that the he would retain the anti-protest law as he believes it "protects the country."
The protest law has been responsible for the detention of thousands of detainees, including prominent activist and April 6 founder Ahmed Maher who was charged with protesting without a permit.
Fighting terrorism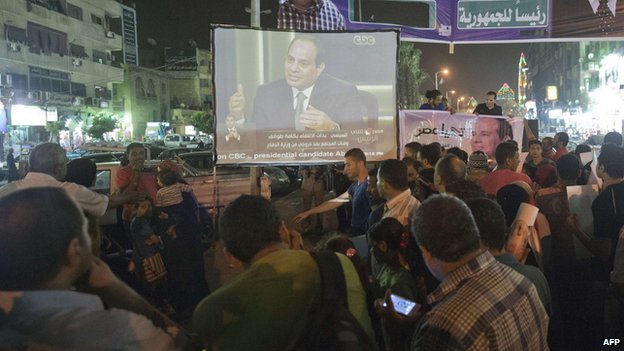 Since July 2013, Egypt's Military has been embroiled in a fight against militants largely based in the country's North Sinai region.
Sisi explained that it has been difficult to minimize the presence of militants due to the Military's attempts to avoid collateral damage and avoid harm to "women, children and the elderly."
The Presidential candidate hailed the Military's activities, which he said was an accomplishment compared to the  "American experience n Afghanistan."
"Our borders are our national security…there were 1,300 tunnels, 1,200 have been destroyed," Sisi revealed, adding that the Military will increase its presence to end terror in the Sinai if he becomes President.
The future Egypt
In his interview, Sisi described himself as an Egyptian Muslim who loves his country and will do all that it takes to serve it and protect it.
"We have 12 million people out of work," said Sisi in relation to unemployment and the economy, "We have to work…I and Egyptians will work days and nights."
The former Military general also added that he dreamt of a more tolerant Egypt, like one that existed several decades ago.
"The Jewish synagogue was beside us and I constantly heard church bells," explains Sisi.
"I never asked people about their religion," he said, adding that Egypt was known for its tolerant atmosphere.
Egypt's Presidential elections will be held on May 26-27. Sisi is expected to easily win the elections, with his only contender Hamdeen Sabahi struggling to find greater nationwide support.
The second part of Sisi's interview, expected to touch upon health, the economy, education and more, will be aired on May 6 at 9PM local time.