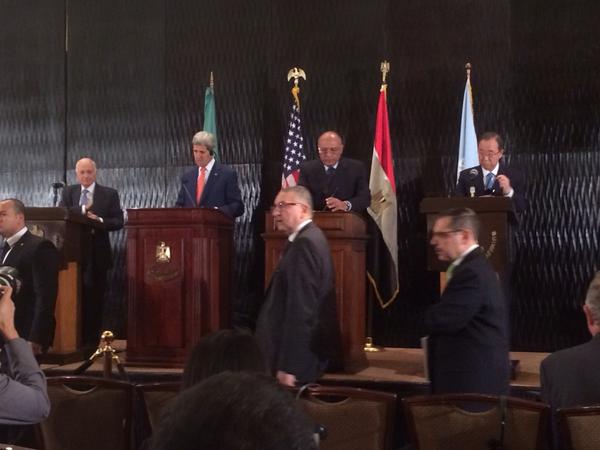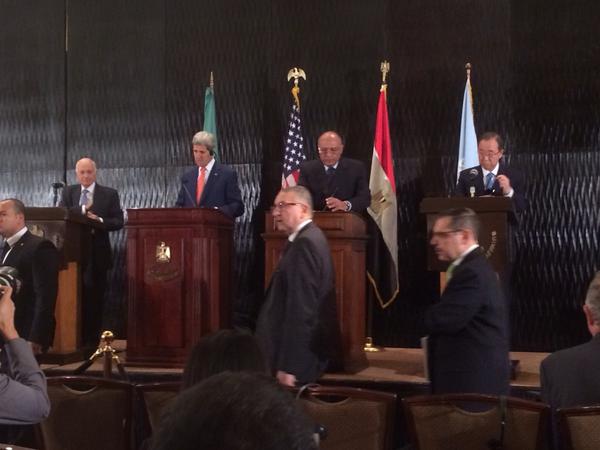 Israel and Hamas have commenced a 12-hour ceasefire, agreed upon hours after a press conference in Cairo.
In a press conference held in Cairo Friday night with Foreign Minister Sameh Shoukry, US Secretary of State John Kerry, UN Secretary General Ban Ki-moon and Arab League Secretariat Nabil el-Araby called for a seven day ceasefire in honour of Eid.
Foreign Minister Sameh Shoukry said Egypt is making efforts with the United States, the United Nations and the Arab League, in order to stop the violence in the Gaza Strip, and to preserve the lives of innocent Palestinians.
The Foreign Minister also added that the Rafah border has been opened permanently for travelers needing humanitarian aid.
Friday night's press conference called for a seven day humanitarian ceasefire between Palestine and Israel, after 18 days of fighting which oversaw the death of almost 850 Palestinians, the majority of which have been women and children.
"At this moment, we are working towards seven days of peace," said US Secretary of State John Kerry during a joint conference.
This seven-day ceasefire is designed to aid both parties to come to terms with an agreement and, "bring together a more sustainable ceasefire in the long run," Kerry added.
The Secretary of State also added there is some "terminology" on the truce to work through.
"It is time for everyone to recognize that violence breeds violence," Kerry said.
Secretary General Ban Ki-moon also spoke during the press conference, assuring that the mediators will continue to work on a sustainable ceasefire plan, which will start with a 12 hour ceasefire period.
"Surely now, the parties must realize that it is time for this to end, and solutions must be based on three important issues," the Secretary General explained, "Firstly, stop the fighting… Secondly, start talking… and [thirdly] tackle the root causes of the crisis."
The Secretary General continued to explain how important it is for an immediate ceasefire as, "tensions are spreading further."
"Let us all take inspiration from this season of peace," he said referring to the holy month of Ramadan.
All leaders thanked President Al-Sisi and Foreign Minister Sameh Shoukry for their efforts to broker a truce between Palestine and Israel.
 Israel rejects ceasefire proposal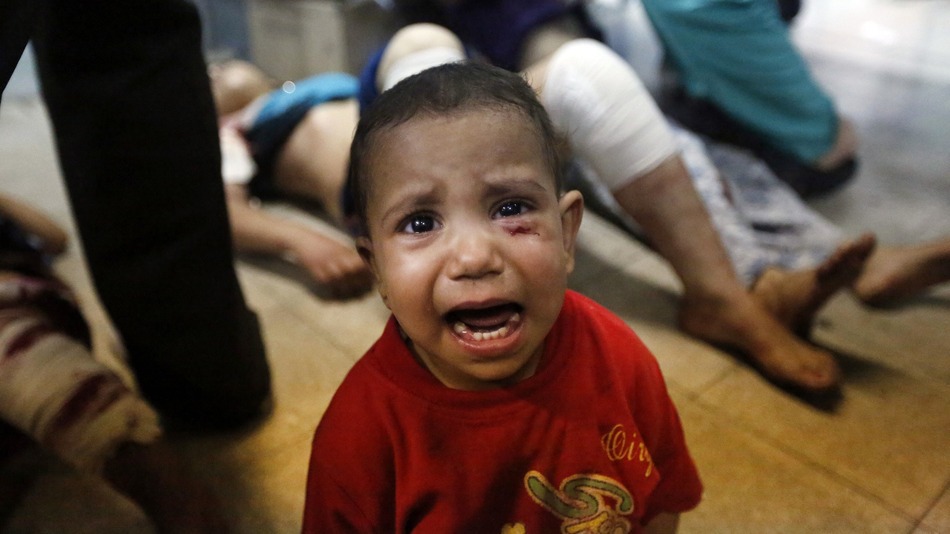 Israel's cabinet has unanimously rejected a ceasefire proposal sponsored by US Secretary of State John Kerry expressing concerns over the proposal's terms.
The rejection, reported in local Israeli media, came less than an hour before the US Secretary of State, the United Nations Secretary General Ban Ki-moon and Egypt's Foreign Minister Sameh Shoukry were due to hold a press conference. The press conference, which was scheduled to commence at 8:30PM local time in Cairo, had widely been reported to be the announcement of a ceasefire initiative.
Hamas is yet to respond to the proposed ceasefire initiative, but its leader had stated the Palestinians would reject any proposal that did not contain terms that would end Israel's blockade of the Gaza Strip.
Israel's military operations in Gaza, which commenced on July 8, have left at least 848 Palestinians dead, including 208 children, 82 women and 40 elderly people. More than 5,700 have been injured, including 1,779 children.
Meanwhile, more than 150,000 displaced Palestinians are now seeking shelter across 83 UNRWA shelters in Gaza.
---
Subscribe to our newsletter
---