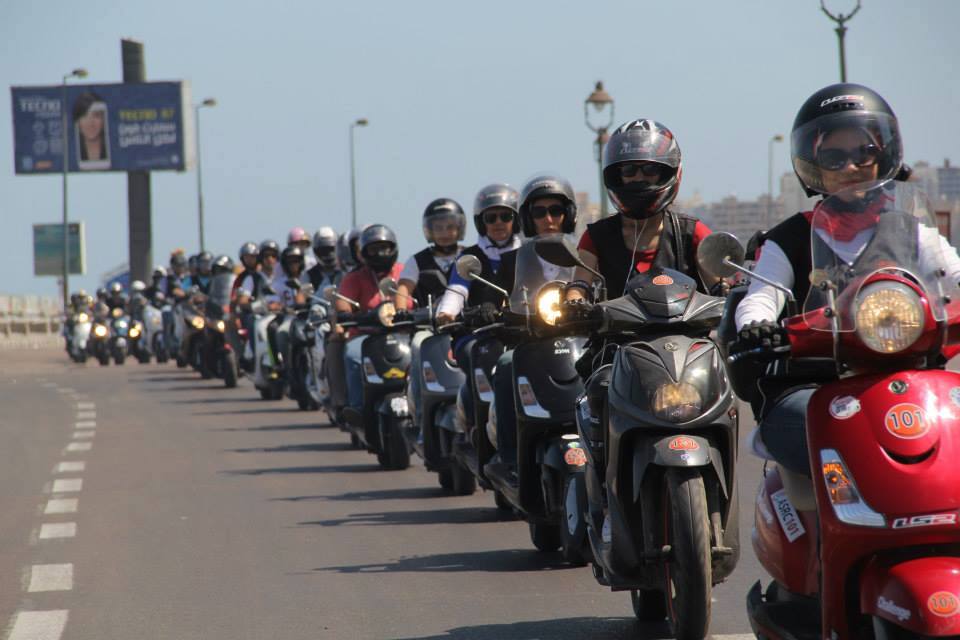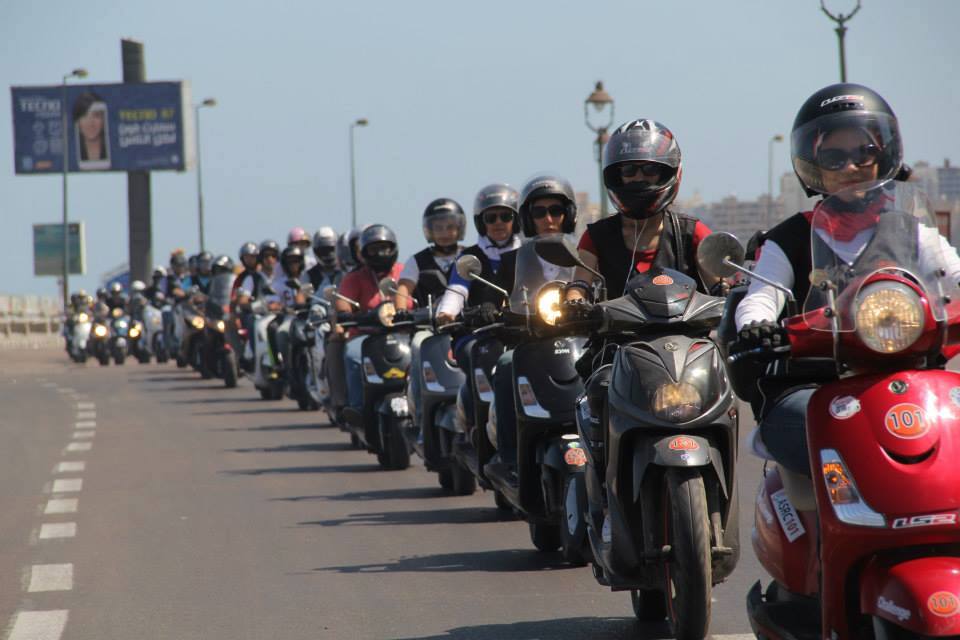 By Rana Khaled, Daily News Egypt
Women riding motorcycles is considered a taboo in Egyptian society, where traditions and customs still blame girls for sexual harassment and rape, but Basma El-Gabry thinks that's silly.
El-Gabry founded a campaign called "Girls Go Wheels", to encourage women to ride scooters as a means to overcome three main challenges they face on Egyptian streets.
"Riding motorcycles can help girls avoid sexual harassment they suffer from in public transport buses," she said. "It can also help them avoid traffic congestion and overcrowding, as well as overcome the fuel and gas shortage."
The whole thing started when she wanted to buy a scooter to go to university independently.
"Instead of waiting for my family members to give me a lift, I decided to learn how to ride a scooter," she said.
But her family did not approve.
Her mother agreed to let her buy a motorcycle only if she could find five other girls who rode one.
So El-Gabry searched online for a scooter club in Cairo, where she found a lot of people from different cultural backgrounds, ages, and professions who use motorcycles as their main means of transportation.
To make it easier for other women, she decided to launch a community to provide women with information about riding scooters.
"Our initiative challenges norms and customs and I hope it will eventually change society's impression about girls who ride bicycles and motorcycles," she said.
"Girls Go Wheels" also offers training sessions three days a week for beginners.
"I was surprised that many guys volunteered to teach girls how to ride motorcycles and scooters without asking for a penny," El-Gabry said.
Walaa Zohair, a member of "Girls Go Wheels", finished her training course a week before she got married. Although her fiancé was opposed to the idea at the beginning, she convinced him to buy her a scooter.
The "Girls Go Wheels" initiative helped her to get information about safety procedures and get in contact with other women who are interested in riding wheels, she said.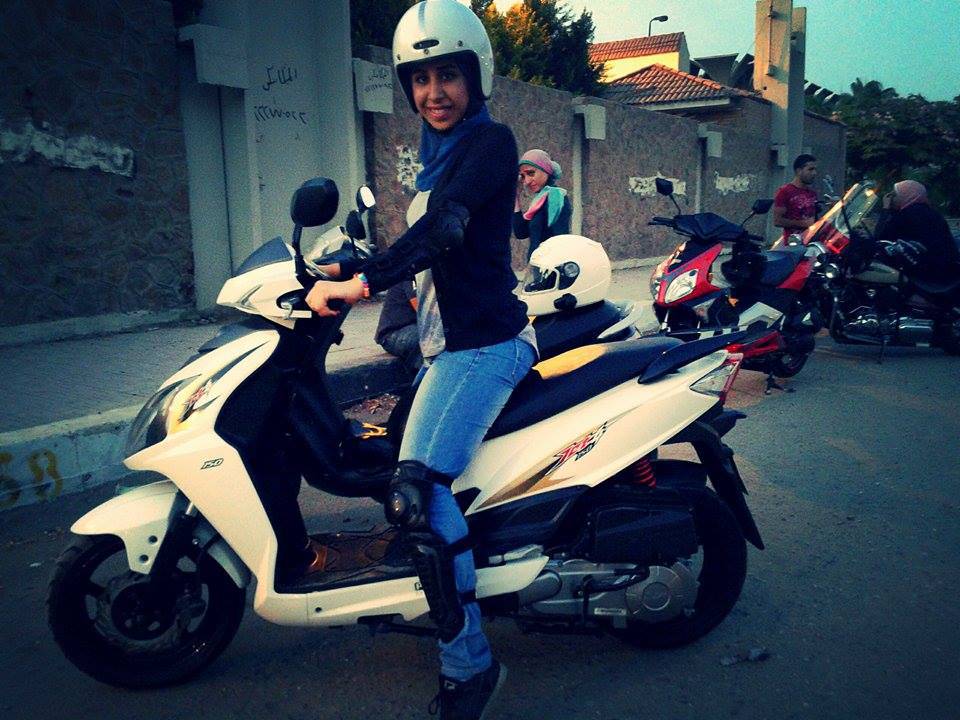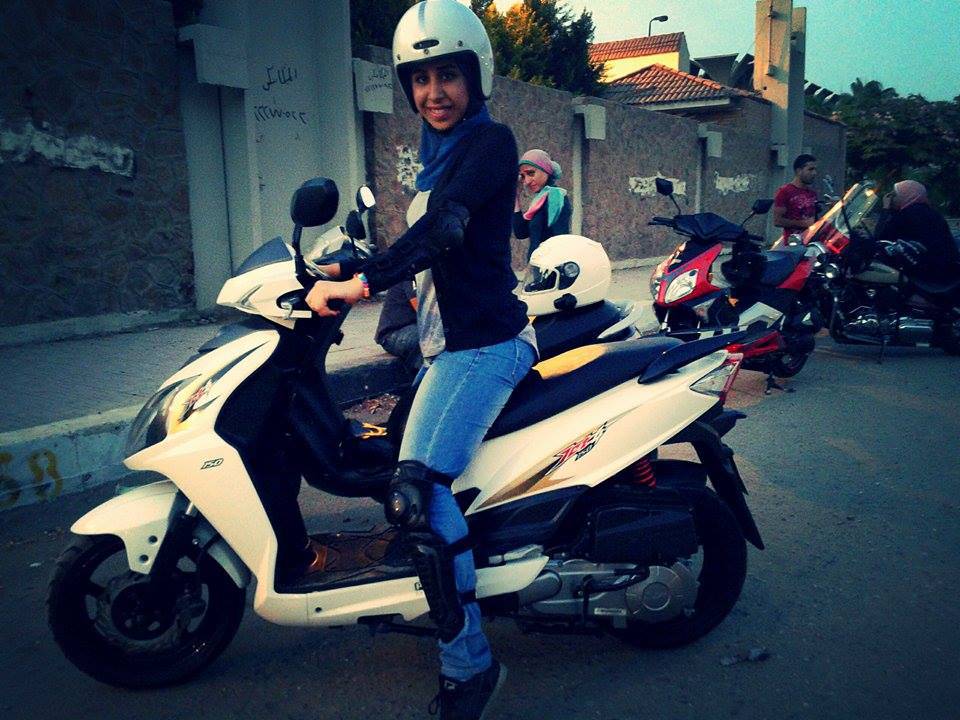 "On the page, I found photos of veiled girls riding scooters with modest clothing and I found others with dresses," she said. "I could also contact housewives who allow their children to ride in front of them."
After she learned to ride her scooter, she posted photos on Facebook. Women started contacting her to ask for advice about convincing their parents to allow them to ride.
"I'm so proud to be the reason why most of my friends became interested in riding scooters," she said.
In Alexandria, the situation isn't very different. Sally El-Gendy, the main admin of female Alexandria Scooter riders club (ASRC) said the group has more than 300 girls and about 15 of them have successfully obtained their official licences.
"We organise our weekly event every Friday where dozens of scooter riders gather in front of Library of Alexandria and move on the Cornish in groups," she said. "We take into consideration all the safety procedures and we always have an ambulance for any emergencies. This attracts the attention of many people who come and ask can we join you?"
The club has applied for a licence to become an official association and participates in a number of cultural and social events, including environment and orphan days.
To overcome the negative stereotypes parents have about women who ride motorcycles, the club founders hold meetings with families to familiarise them with the environment their women will be surrounded by. In addition, group organisers post videos online to show how putting on helmets, gloves, knee and elbow pads can protect women from the dangers associated with riding motorcycles.
"One day, I wish to witness the presence of Egyptian girls in national and international scooter rallies," El Gendy said.
---
Subscribe to our newsletter
---