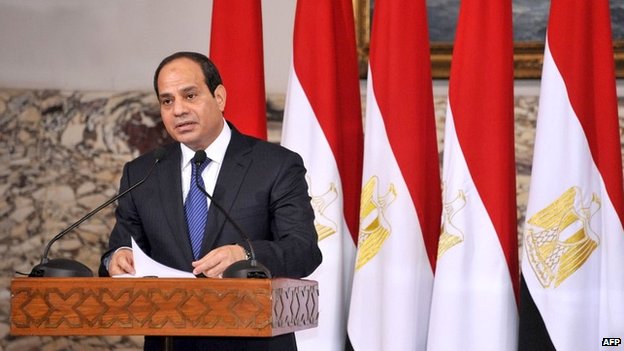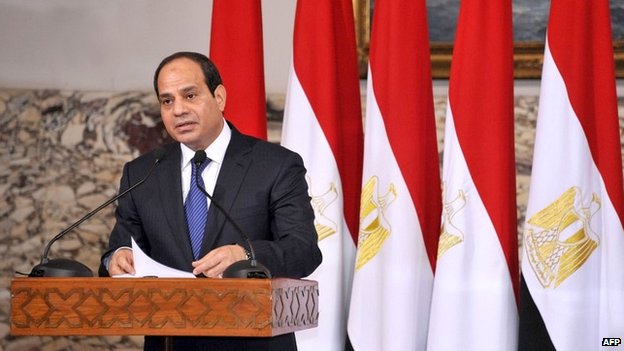 Egypt's President Abdel Fattah al-Sisi denied on Monday Israeli media reports that he agreed to offer parts of Egyptian lands to Palestinians, reported state-run news agency MENA.
Israel's Army Radio reported on Monday that during his meeting with Palestinian Authority President Mahmoud Abbas on Sunday, Sisi offered expanding the Gaza Strip to five times its current size by granting Palestinians 1600 square kilometers in Sinai.
"Nobody can afford to do that," Sisi reportedly said during an event celebrating Teachers' Day.
Abbas's aide Tayeb Abdel-Rahim also denied the news to the Palestinian news agency Ma'an on Monday.
"The Egyptian and Palestinian leaderships have one position [regarding this matter]: forming a Palestinian state on the occupied lands based on the 1967 borders and with Jerusalem as the capital," Ma'an quoted Abdel Rahim as saying. "We hope media outlets would be alert to such fabricated news broadcast by the Israeli side to distort the national position of Palestine and that of Egypt."
The new territory, which Israeli Army Radio alleged was proposed by Sisi, would be a demilitarised state under the Palestinian Authority's autonomous rule, alongside the West Bank. The territory would be granted to the Palestinians in exchange for their demand of a state within the 1967 borders.
Egypt's ministry of foreign affairs said in a statement on Monday that this proposal surfaced during the tenure of ousted Islamist President Mohamed Mursi, describing it as a "malicious plan of the Muslim Brotherhood's international organisation."
"Such a proposition is an explicit abandonment of the national territory's sanctity, especially in such a dear spot of the nation's lands which thousands of Egyptians have sacrificed their blood to reclaim," the ministry's statement read.
Abbas' meeting with Sisi was held amid the former's three-day visit to Cairo to address the situation in Gaza as well as the Palestinians' demand to end the Israeli occupation.
During the meeting, Sisi stressed the importance of the Palestinian cause for Egypt, according to a presidential statement. He said it is important to achieve the Palestinians' "legitimate" demand to announce an independent and sovereign Palestinian state with the 1967 borders and with East Jerusalem as the capital.
Egypt announced on August 26 reaching a ceasefire agreement within the Gaza strip, ending a war between Israel and Gaza's ruling body Hamas that has left 2139 Palestinians killed and over 11,100 injured. On the Israeli side sixty-four soldiers and six civilians were killed.
Indirect negotiations between Israel and Palestinian factions, sponsored by Cairo, are scheduled to resume within a month after the start of the new Gaza ceasefire, as per the agreement.
---
Subscribe to our newsletter
---