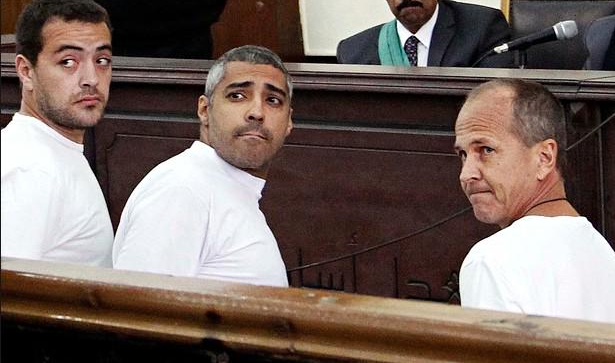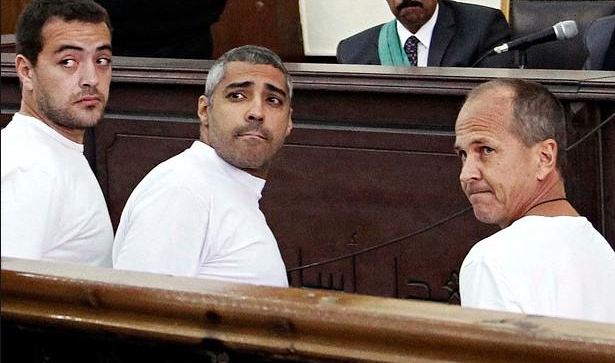 About seven months ago, I was waiting for an appointment in an empty cafè in The Hague, the Netherlands. My interviewee was delayed, so I started reading the newspaper and the cleaner asked me if I wanted a cup of coffee. When she came back, we started talking. 
She was a middle-aged woman who turned out to be an Egyptian that immigrated to the Netherlands about twenty years ago. Her husband was a journalist and I showed her the front page of that day. It was about Rena Netjes, a Dutch journalist who would hear her sentence by the Egyptian court that day for working at Al-Jazeera English. Which is the same as financing the Muslim Brotherhood. Which is the same as being a terrorist. At least, according to the Egyptian secret service logic. 
Rena was expected to get a ten-year prison sentence. Later that day I would interview Rena – who fled Egypt before she was arrested – over the phone, and I asked the Egyptian woman how she felt about this entire process and how it reflected upon press freedom in her homeland.
I told her there was no evidence at all presented in the trial, and she replied: "That doesn't matter. If an Egyptian judge says he has proof, he has proof. Even when we don't get to see it."
When EgyptianStreets published the interview with Netjes the next day, many of the reactions were similar to that one. I was astonished, but as I quoted Rena in the article: "Anyone would have faith in the justice system in this case if you are being told day and night how Western journalists are enemies of the state."
Rena is safe home in the Netherlands, but yesterday it had been exactly one year since Al-Jazeera English journalists Peter Greste (Australian), Mohamed Fahmy (Canadian-Egyptian) and Baher Mohamed (Egyptian) were arrested for doing their jobs.
A job that is crucial for a democracy or any other form of state which promotes welfare for all its citizens.
This is not just about Egypt and its unrighteous justice system, where a picture of sheep and a Gotye song are supposed to proof that someone is a terrorist. This is about the importance of free press in a developing and evolving Arab region. It doesn't matter what you think of Al-Jazeera and its English version: press freedom is also meant to protect them and those who work for it.
This is about the heritage of the Arab Spring. Yesterday there were protests in front of Egyptian embassies all over the world and the hashtags #FreeAJstaff and #JournalismIsNotACrime dominate Twitter. There is plenty of international fuss, but there are not enough Egyptians fighting for the right of press freedom that will eventually mostly impact their lives and the future of their children.
Citizens standing by their justice system with impeccable trust will never create a democracy. The justice system should back the people it is supposed to protect.
With all the politcal interest in this matter, it is easy to forget we are not just talking about journalists who observe the world around them. We are talking about human beings. Human beings who do not deserve to be treated like animals behind bars.
Mohamed Fahmy's fiance told BBC news recently that since he has not received medical treatment for his broken shoulder, it has become a permanent dissability. We are talking about human beings who have not touched their loved ones for 365 days and spent christmas in a cell, because they worked for an organisation that got in the middle of Egypt's and Qatar's political struggle.
On January 1, Egypt's court of cassation will analyse whether to allow the three imprisoned journalists an appeal. If an appeal is not allowed, then Egypt must review its laws. Journalism is not a crime. Throwing journalists in jail – without any credible evidence – to silence them should be.
---
Subscribe to our newsletter
---