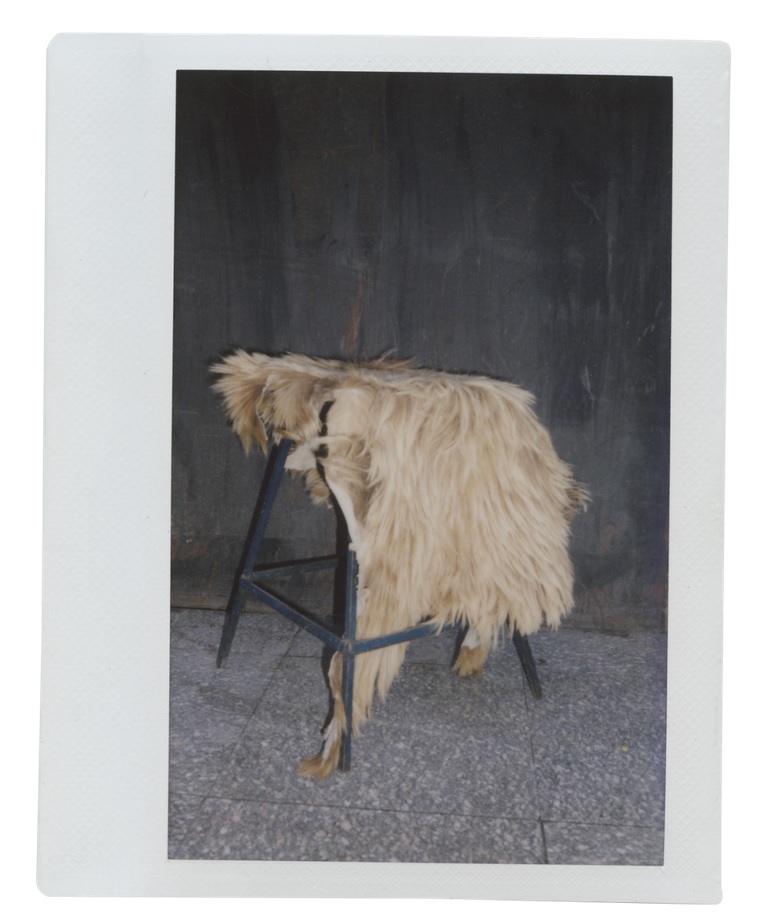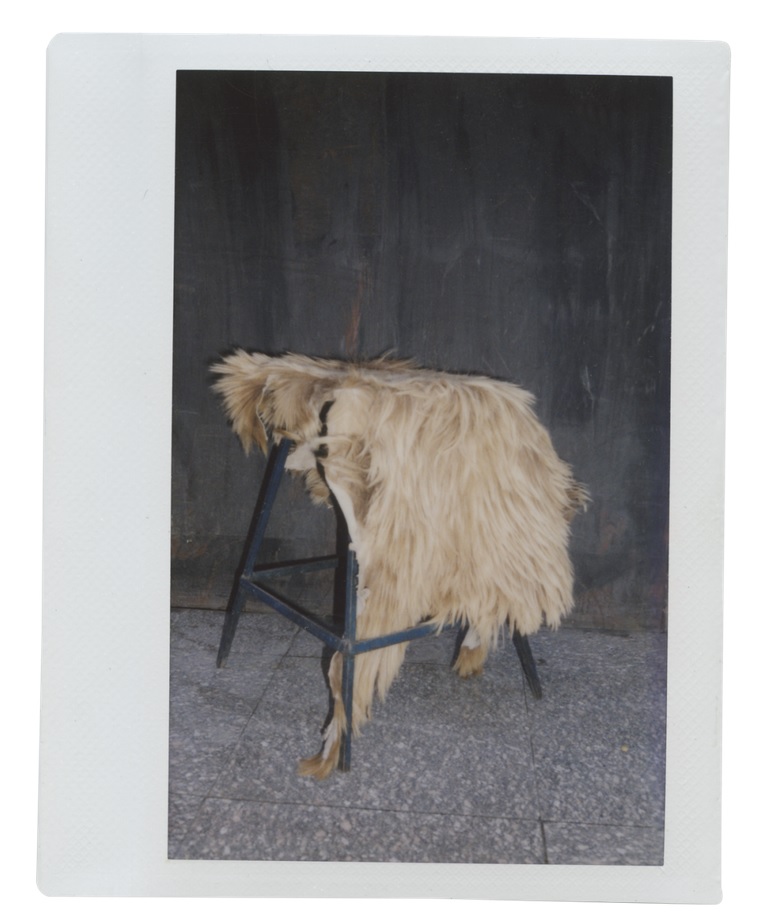 Originally published on al.arte.magazine
Many Cairenes probably agree that Friday mornings in the Egyptian capital are the best. Exhibit one: the many friends who have decided to take a weekly stroll through one of the city's districts before the first sounds of the Friday prayer's call even resound. Pigeons circling around their towers, countless buildings tickling the beige smog, and a mother airing blankets from her third floor balcony.This might catch the eye that decides to look up. Yet Manar Moursi and David Puig's attention was drawn to something more down-to-earth during one of their walks: Cairo's chairs. Sidewalk Salon: 1001 Street Chairs of Cairo, their photography project that has been going on for years and has the chairs in the leading role, is hopefully going to take the shape of a book later this year.
"During one of our long walks, in Port Said Avenue, we were taking pictures. We started to see those chairs and were intrigued," David Puig describes how the project started. "We were mostly attracted by the visual element at the time. The chairs were aesthetically striking objects and we were looking at them as sculptures without thinking that much about who is sitting on them and what we can learn about the city from them. They were old, but beautiful at the same time. We also started to see that people were redesigning them and decorating them in different ways, creating strange chairs out of pieces of two chairs. So we wanted to document them."
What started as taking pictures with an aesthetic purpose, focusing on the object, rapidly turned into something with a deeper meaning, looking at the broader picture of the city and its society. "We started to ask ourselves who was sitting on them, and what that told us about the city concerning inequality, poverty, and lack of opportunities. Because the people who sit on them often are not very wealthy or even poor. We also wondered about what those chairs could tell us about public space, the lack of public space, and how people create their public space," David goes on.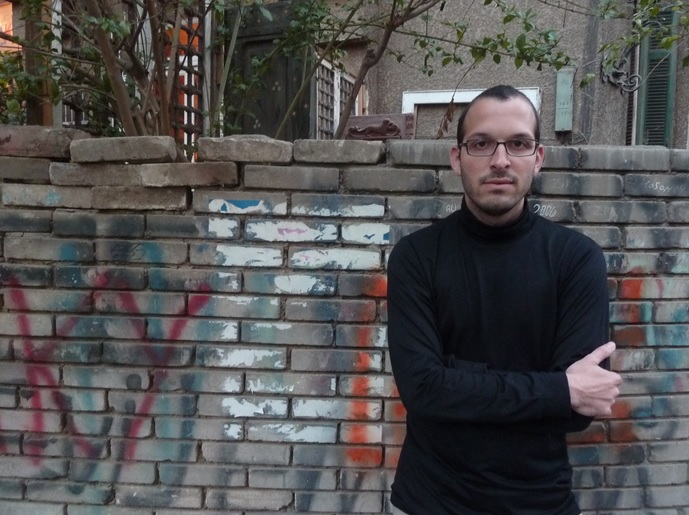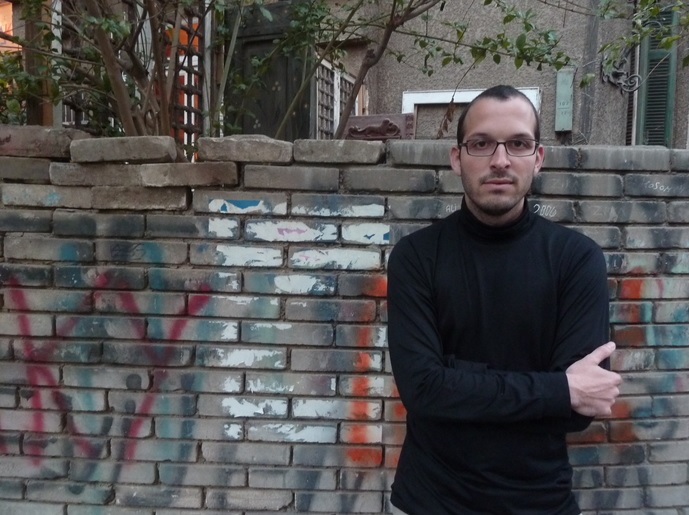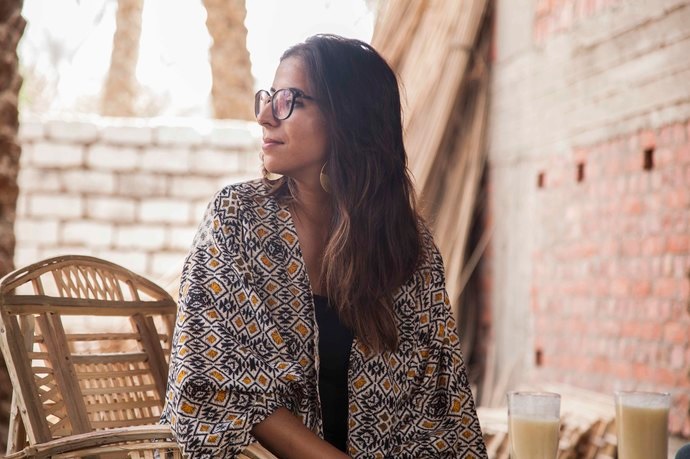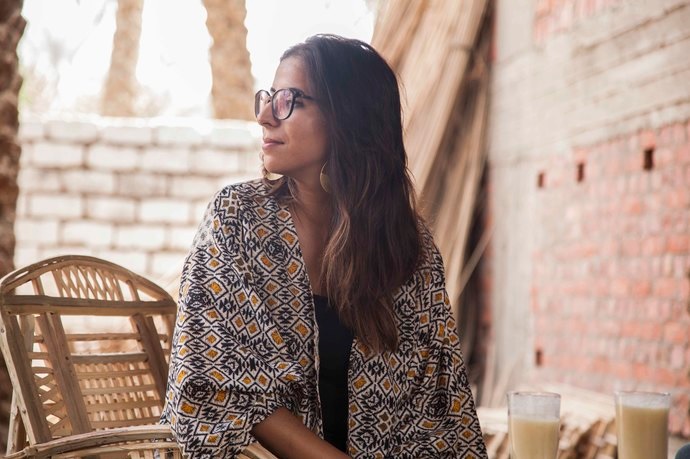 1001 something something
While Cairo is described as a city with a thousand and one minarets, the '1001 chairs' are an infinite element that is often overlooked. Thousand and one became a goal for the duo's project, which was to find a thousand chairs and pin them on a map. Having reached more than a thousand, the number is still increasing and pictures are still being uploaded to the project's Facebook page.
Tom Dale, a journalist/friend, came up with the name of the book: Sidewalk Salon: 1001 Street Chairs of Cairo. Manar Moursi explains why this title appealed to them. "It responded to what we were doing. We liked the salon aspect because in Arabic, it is a place like a forum. At the time when we were documenting this project, from 2011 to this day, there was a fluctuation in the way people talked about politics in the city and the streets," she says. "We did a lot of interviews with the chair owners and it was interesting to see the change over the past four years through their perspective. Plus, the furniture of a salon or a typical living room somehow ends up in the street. It has this intimacy. It's not like a sidewalk with a bench. It's a very intimate space where people sit and talk. They feel like it's their living room, an extension of their homes. Whether it's in an ahwa* or outside a workshop or a shop."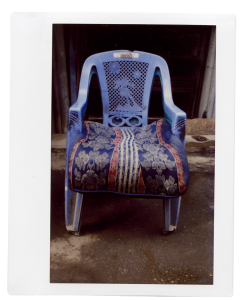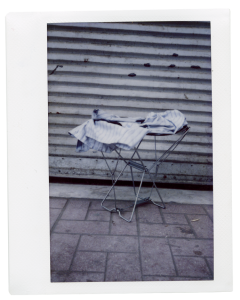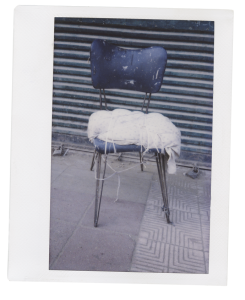 Public intimacy
The people sitting on chairs in the street have various backgrounds and stories. They might be shopkeepers, street vendors, parking attendants, men working in manufacturing workshops, electricians, fruit sellers, carpenters or doormen. Chairs are also put on the street for special occasions, whether is to break the fast during Ramadan together, during funerals, or at the time of weddings
Manar explains the public space aspect of the book. "These common white chairs are easy to create public space with where it's missing. I was keeping this in mind when I was looking at the chairs of Cairo. My bawwab** for instance knows everything about me and spreads rumours about me to the neighbors in the street. So it is interesting to see that these 'observation pedestals'…." ("watch towers," David interrupts) "…are also a symbol of watching over you. In some contexts."
"In other contexts they are literal extensions of living rooms where people can watch a movie together on a cellphone and have a nice time with friends and family to avoid the hot temperatures of stuffy interiors in the apartment buildings. The café culture was also part of our territory of looking at street chairs in Cairo. These cafés are spread over a certain part of the fabric of the city. We wanted to see if they are male-dominated, for example, or how they occupy the space of the sidewalk. In more rural neighborhoods we found that there are actually more women on the sidewalk than men. So it depends of the neighborhood, and the sense of security women have in their own neighborhood," Manar continues.
She explains why they describe the chairs as semi-public yet intimate spaces. "If you walk in any neighborhood in Cairo, people always want to know who you are and what you are doing, because they know who is from the neighborhood and who is not. It's curiosity, somehow. Taking ownership of neighborhoods is also very strong and prevalent. Some people find it abrasive, some people find it friendly. But it's very territorial. It's not like you walk around and nobody cares who you are. Even if it's a twenty million plus city, it's still very intimate in that sense or scale. We say it's intimate because we tried to penetrate some zones of semi-public spaces and talk to the people there, and let them reflect their perspective on the city."
"The activities people are engaging in while sitting on the chair are also very intimate. Drinking tea, talking to family, watching a movie… These are things people usually do inside their home. This idea of intimacy is in very strong opposition to an image of the city that is political and has been dominant for the past four years. We are focusing on something smaller. So the idea of intimacy was also coming from there: the small, the everyday, the personal issues," David adds.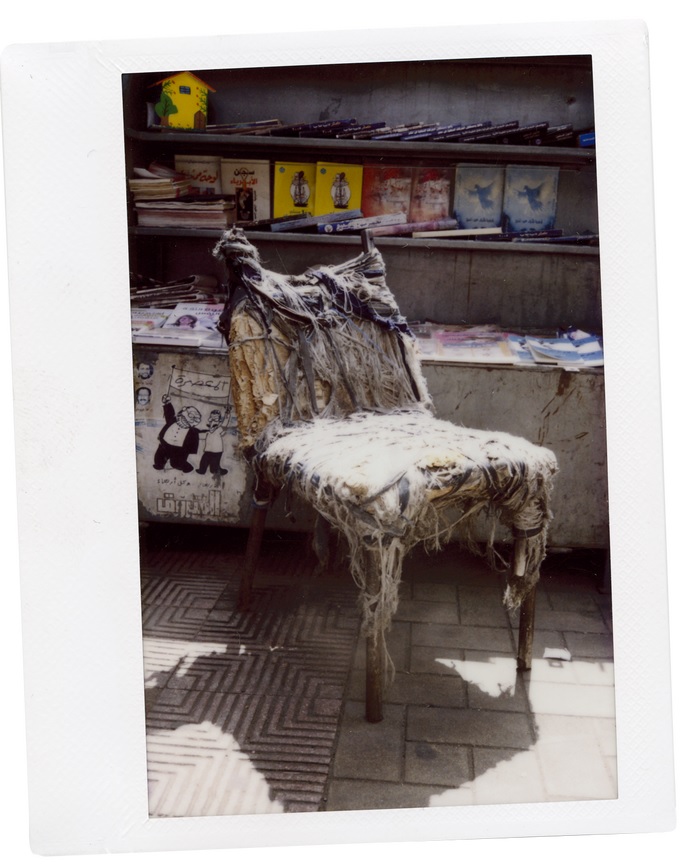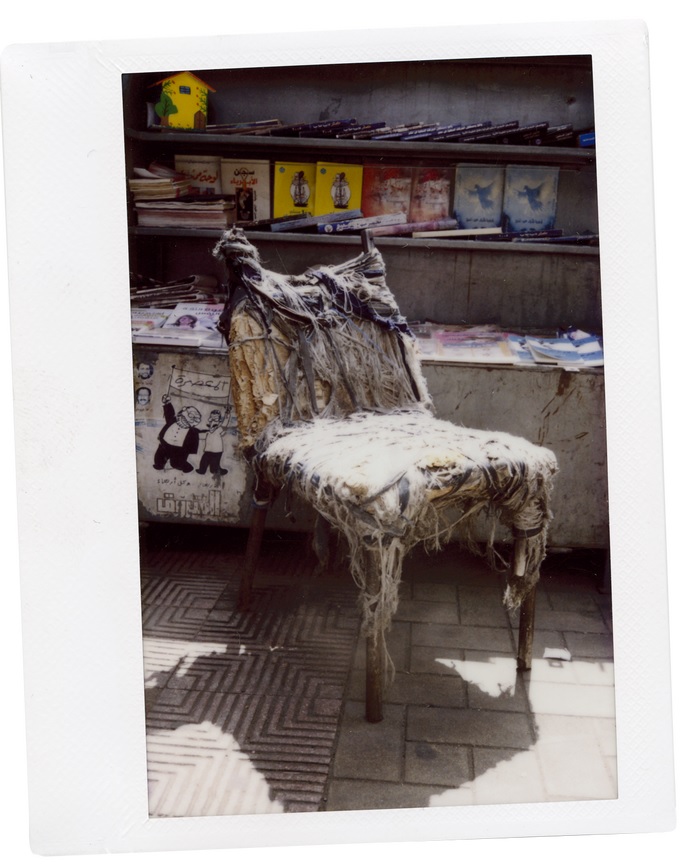 From the streets to the pages
"The first chair that caught our attention was actually my bawwab's chair. He puts different layers of cardboard on it and changes it every day. If someone had pizza, the pizza box might be the new skin of this chair the next day," Manar tells. David brings up two possible perspectives to look at the fact that this man uses someone's garbage to create a comfortable seat. "You can see it from the perspective of sadness and poverty, and lack of resources. But you could also say that he makes the best of what he has. This is what we see in general with this project. There's a way of seeing Cairo as a warm, lively city with many, many people in the street. Which is real. But at the same time you can say that they are there because they cannot be anywhere else, because their apartments are so small, because they don't have privacy, because… You can always look at it from both sides. It was important for us not lose that point: to celebrate it, but not too much."
"Sometimes we did two or three walks a week with an average of four hours per walk. New Cairo took about six to seven hours. We would select the chairs to take a picture of based on their originality, for instance if they would be assembled or repaired. One owner for example had found a creative way to provide some kind of prosthetic leg for a chair that had lost a leg. Others lost their back, or an arm," Manar says. "Certain categories of chairs emerged to us as we were working and that is how the book is organized somehow, thematically. Those caught our eye more and more over time. Typical for New Cairo for instance are the guards and their chairs. Even though the chairs itself weren't original, we wanted to document the condition of these chairs because they are typical for that area."
Sidewalk Salon: 1001 Chairs of Cairo consists of more than pictures. The book contains maps of three walks, with the chairs pinned to it, in the districts New Cairo, Old Cairo, and Shobra. In addition, it comprises a research and observations based essay, interviews with chair-sitters, and poetry and fiction by writers and poets such as Yasser Abdellatif, Taher El-Sharkawy, Amira Hanafi, and Maged Zaher.
David mentions that the essay he and Manar worked on took plenty of time to prepare. "We read a lot about the history of chairs, public space, and the history of Cairo. We did this to understand this culture of sitting in the streets, and to know when the chair as an object was introduced in Egypt. If you go to the Pharaonic Museum, you see that chairs were thrones, reserved for dignitaries. The chair as a popular thing was something that came recently, with colonialism. We also read a lot of literature to see how chairs were portrayed in literature and when they started to appear or were more present in books."
Although a lot of chairs are disappearing from the cityscape, some are there to stay. And many memories are attached to the pictures in the book. "We found a really interesting one near the Islamic Museum which is completely built by its owner. It is a solid one made of wood, and it has a safe in between the front legs with a lock and everything. We photographed it in 2012. One day we were passing by again and we were curious since this one really is a piece – it should actually beinside the Islamic Museum – and it was still there. We tried to lift it after taking a picture but it was really heavy, almost as if it had gold in its safe," David laughs.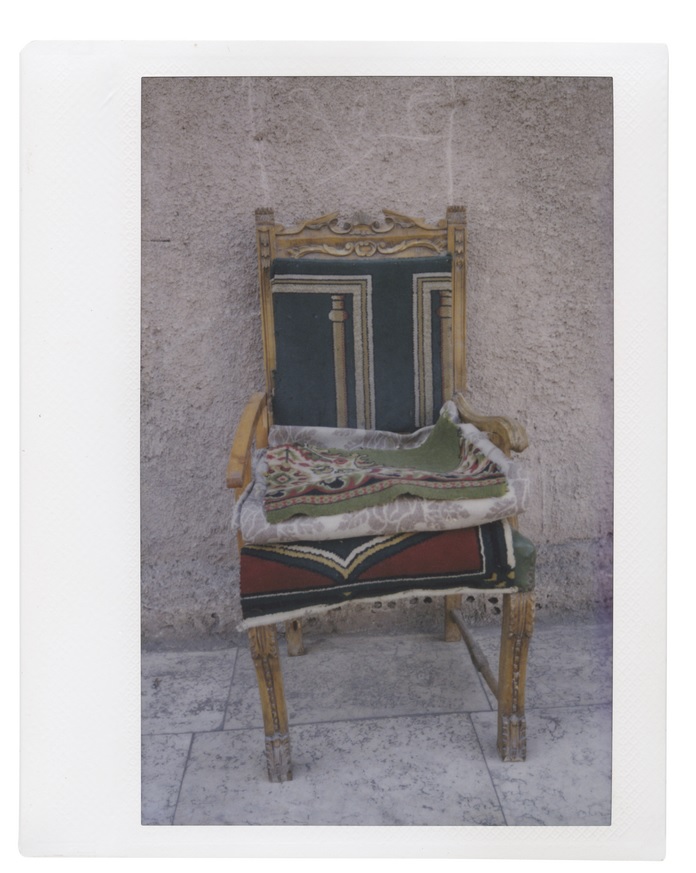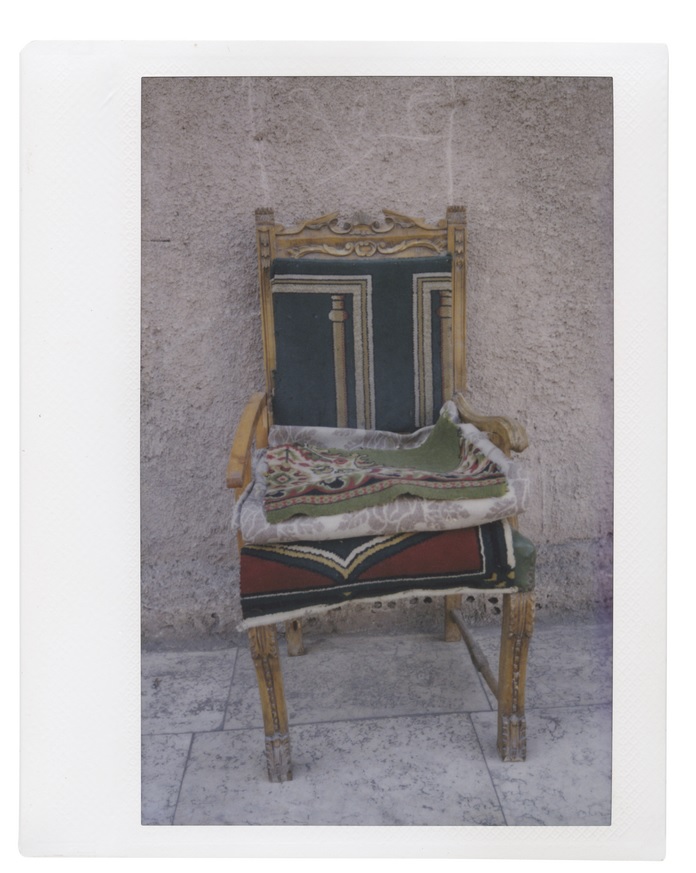 Sidewalk Salon: 1001 Street Chairs of Cairo is an art book for those interested in Cairo or in urbanism, and for those questioning how we walk in the city and how it defines us. It aims at presenting an alternative perspective of Cairo that differs from the usual image of a monolithic city, it makes sure one will never look at the Egyptian capital in the same way again. You can pre-order the book and contribute to its publication on Indiegogo.
* ahwa (plural: ahawi) = the name given to local cafés in Egypt, characterized by their outdoor sitting area on the sidewalk
** bawwab = doorman/concierge who usually sits right outside or inside the building's entrance
---
Subscribe to our newsletter
---