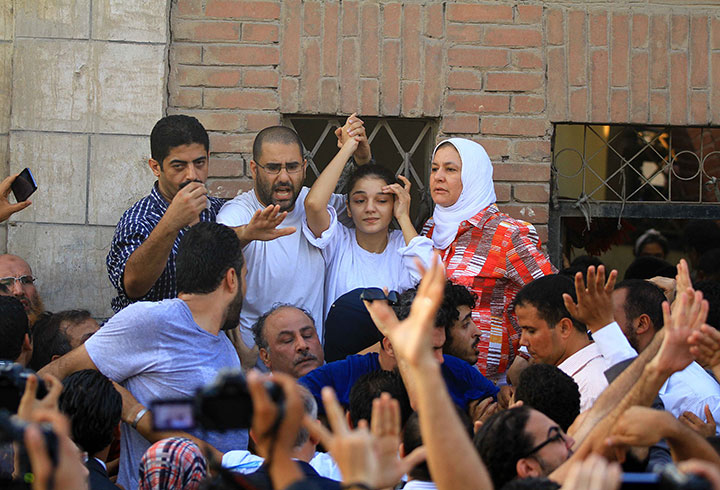 A group of female activists held a protest outside Ittihadiya Presidential Palace on Sunday to call for the release of the hundreds of prisoners detained under Egypt's controversial anti-protest law.
Several well-known activists, including Yara Sallam, Sanaa Seif and Mona Seif, attended the demonstration. Alaa Abdel Fattah – the brother of Mona and Sanaa Seif – was sentenced to five years in prison under the law earlier this year.
The protest marks exactly one year since a similar demonstration took place, after which more than 20 people were charged with defying the anti-protest law – two of those arrested were Yara Sallam and Sanaa Seif, who were both sentenced to two years in prison.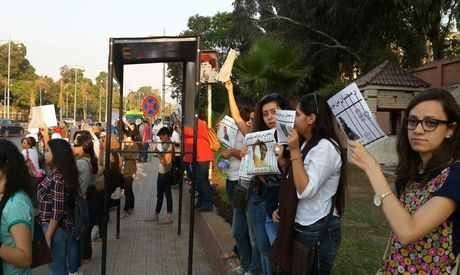 The controversial legislation was signed in by interim President Adly Mansour in November 2013. It requires protestors seek seven separate permissions to hold street demonstrations, and bans overnight sit-ins as exemplified by the 2011 Tahrir Square protests.
Public gatherings of more than 10 people without prior government approval are also prohibited under the law, and the police have the final say on whether a protest can take place.
The legislation also gives the interior ministry authority to prohibit, postpone or relocate a protest.
The law attracted wide criticism from human rights organisations worldwide. Joe Stork, deputy Middle East director at Human Rights Watch said at the time that the legislative act "clearly shows that its goal is to sharply restrict peaceful assembly" and that it will "reverse the freedom to demonstration that Egyptians seized in January 2011, and risks putting their freedom….into reverse."
---
Subscribe to our newsletter
---