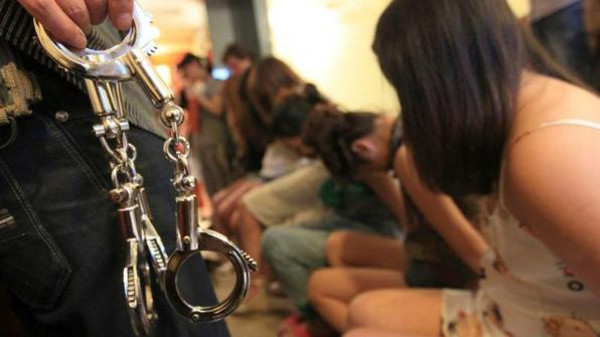 The US' State Department's annual report on human trafficking has ranked Egypt as among the worst in regards to the incidence of human trafficking.
This year's report saw Egypt drop to the 'Watch List' of countries, but avoided being listed with countries that are 'blacklisted' due to their failure to combat human trafficking. Belarus, Belize, Burundi, Comoros, Marshall Islands and South Sudan were all downgraded to the 'blacklist', while Iran, Russia, Eritrea and Algeria have been on the list for many years.
According to the 2015 Trafficking in Persons Report, "Egypt is a source, transit, and destination country for men, women, and children subjected to forced labor and sex trafficking."
The report added that individuals from the Gulf, including Saudi Arabia, the United Arab Emirates, and Kuwait, "purchase Egyptian women and girls for 'temporary' or 'summer' marriages for the purpose of prostitution or forced labor; these arrangements are often facilitated by the victims' parents and marriage brokers, who profit from the transaction." The majority of such 'child sex tourism' primarily occurs in Cairo, Alexandria and Luxor.
In particular, the Egyptian government has failed to address human trafficking, and primarily sex exploitation, of foreigners. According to the report, foreign migrants remain vulnerable to forced labor and sex trafficking, particularly along the border with Libya.
Are improvements being made?
Despite the drop in ranking, the report acknowledged the government had taken measures to tackle the issue, but that the steps taken had not demonstrated an "overall increasing" of "anti-trafficking efforts."
Among the developments cited was Egypt's introduction of a "nationwide data call to district courts to gather information on trafficking cases within the last five years to properly allocate training and prioritize trafficking efforts." Egypt has also introduced a national anti-trafficking hotline call center and President Sisi has allocated $US 14 million to address the vulnerability of Egyptian street children to trafficking and other abuses.
The Egyptian government states that the hotline allows victims to seek counseling and legal assistance. However, the report concluded that police were often reluctant to refer victims to shelter services and authorities often failed to utilize established counseling services.
Additionally, in 2014, the government provided anti-trafficking training to more than 1,000 judicial and law enforcement officials. This was done to address officials' lack of understanding of anti-trafficking laws and investigation techniques.
Law and order
Nevertheless, the report found that Egypt routinely treats some victims as criminals, punishing them for unlawful acts that were committed as a result of being subject to human trafficking.
Citing an Egyptian government study that found 40 percent of women charged with crimes of prostitution had been forced or coerced into prostitution, the report stressed the importance to systematically identify and assist trafficking victims among vulnerable groups, including those arrested for prostitution.
Moreover, the report highlighted that many trafficking cases have recently been settled out of court, meaning that offenders have not been adequately punished and thus a deterrent was not established.
No more trafficking in the Sinai
Between 2009 and 2013, it had been suggested that between 25,000 to 30,000 victims had been trafficked in the Sinai. However, the 2015 report found that due to heavy military activity, flow of victims into the Sinai has nearly ceased. In 2015, the government reported that it was not holding any African migrants in Egyptian detention centers in the Sinai.
Still, despite the decline in human trafficking in the Sinai, the report suggests human traffickers had relocated to the border with Libya and other areas of Egypt.
While Egypt was downgrade to the 'Watch List', the report cites that the government continues to implement its anti-trafficking agenda, but at a narrow scope.
---
Subscribe to our newsletter
---