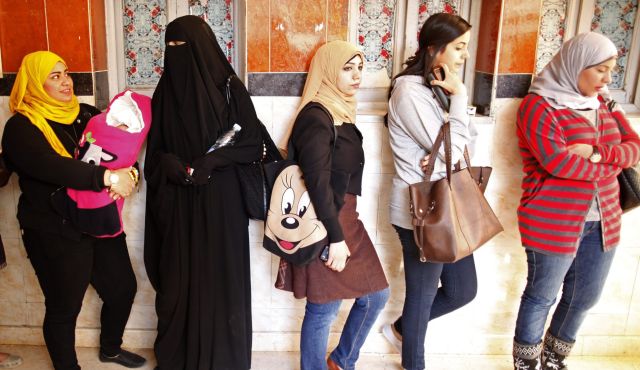 Egypt's Minister of Tourism Khaled Abbas Rami has declared that any restaurants or tourism facilities found to be banning women dressed in the hijab (headscarf) from service will be shut down.
In an interview with El-Watan, the Minister said that no decision or order had been pushed by the Ministry regulating veiled women from entering restaurants or tourism establishments.
"Given that 90 percent of women in Egypt wear the hijab, we haven't, and we won't, take such a decision," said the Minister.
"We refuse discrimination in all its forms, whether its based on dress, skin color or religion," continued the Minister, adding that the government will take "immediate steps" to "shut down any restaurant or tourism facility" that discriminates on these bases.
Citing an earlier decision, the Minister said that he had apologized personally to a Saudi tourist that had been denied entry at a restaurant in Sheikh Zayed (Greater Cairo). The restaurant was also reportedly shut down for a month over the incident that was captured on camera and released on YouTube.
Outrage grows on social media
The Minister's latest statements come as many Egyptian women have taken to social media to complain they have been facing discrimination at restaurants and high-end resorts.
On one Facebook group called 'Respect My Veil,' women have been sharing their experiences of discrimination across various locations in Egypt.
A list compiled by one of the group's members shows various restaurants, coffee shops, hotels, and even residential compounds banning veiled women from various facilities. For example, according to Mai Hashem, full-body swimsuits are not allowed at the swimming pools of Fairmont in Cairo, Stella Di Mare in Ain El Sokhna, Dream Beach in Hurghada and more.
The list also points to several restaurants and bars that ban women wearing a headscarf from entering. As reported earlier by Egyptian Streets, the headscarf is not allowed at Lemon Tree after 6PM and Riverside at night. Social media users on 'Respect My Veil' have added that Left Bank in Zamalek, Hayda Lebanese Restaurant, Wadi Degla Sporting Club and others do not permit the 'abaya'.
Despite the growing outrage, and Egypt's Tourism Ministry promising to do more, Mervat Tellawy, head of Egypt's National Council of Women, recently told Al-Arabiya that such acts by establishments are not discriminatory.
"An establishment that prevents hijab-wearing women is just like any other that would ban a man for not wearing a suit. There are resorts that provide women-only beaches. We cannot tell them why you are not allowing men to come in," said Tellawy in statements to Al-Arabiya, adding that some establishments implement such rules to ensure a certain "image" is maintained.
Yet, critics have argued that this ignores blanket discrimination against Egyptian women purely based on the headscarf. In a testimonial in December 2014, Dr. Heba Hamed Arnaout, a professor of microbiology, wrote how she was initially prevented from entering a restaurant-bar with her husband and two foreign friends because of her headscarf.
Dr. Arnaout wrote that this is not standard practice in Europe and that it is religious discrimination that results in veiled women being considered as 'second class citizens'. Dr. Arnaout also questioned whether someone wearing the headscarf for any other non-religious reason, such as a cancer patient, would also be banned.
"My choice to wear the hijab should be respected,"posted one user on 'Respect My Veil'.
"It is not a pair of jeans. It's part of who I am."
---
Subscribe to our newsletter
---