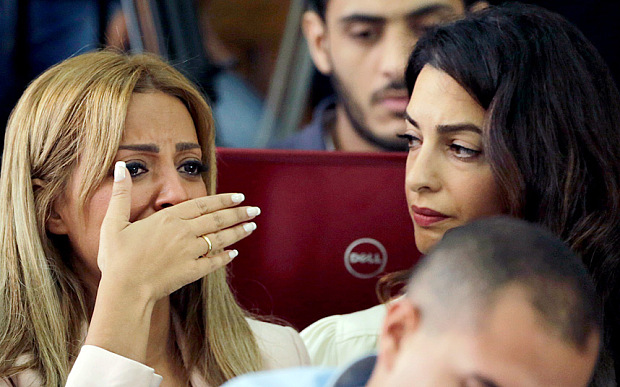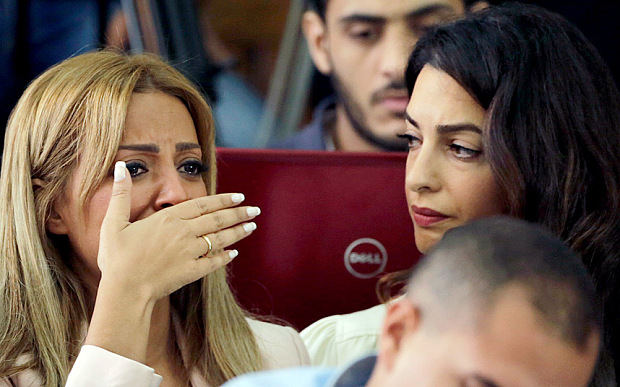 Prominent international lawyer Amal Clooney has criticized Egypt following the sentencing of three Al-Jazeera journalists to prison on Saturday.
Clooney, who attended the trial in Cairo as one of Mohamed Fadel Fahmy's lawyers, said that the verdict "sends a very dangerous message in Egypt."
"Every single third party that has looked at the case from the beginning – from the UN, to the EU, the US, the UK – everyone has said there is no evidence to sustain any of the charges," said Clooney.
"Egypt's own Supreme court when they looked at this case said there wasn't sufficient evidence," added Clooney as she was surrounded by throngs of journalists outside the court in Cairo.
"The verdict today sends a very dangerous message. It sends a message that journalists can be locked up for simply doing their job, for telling the truth and reporting the news. It sends a dangerous message that there are judges in Egypt who will allow their courts to become instruments of political oppression and propaganda," continued Clooney.
"But there is a solution, your President, President Sisi, has said from the beginning of this case that he wishes the prosecution had never been brought and that he would intervene at the end of the judicial process to grant a pardon if the journalists were re-convicted. That's exactly what has happened."
Earlier on Saturday, Al-Jazeera journalists Mohamed Fadel Fahmy, Baher Mohamed and Peter Greste had been sentenced to three years in prison. Baher Mohamed received an additional six month sentence.
Marwa's final look at her husband @MFFahmy11 as he is being taken away to prison again. #ajtrial #aljazeeratrial pic.twitter.com/Az0BSWNm38

— Heba Farouk Mahfouz (@HebaFarooq) August 29, 2015
The Judge said the defendants had spread false news and were not registered as journalists in Egypt. The judge added that the defendants "are not journalists and are not registered with Egypt's press syndicate or the State Information Service," before stating that the defendants possessed unlicensed devices that were used to broadcast false news which harmed the country.
Australian journalist Peter Greste had been released in February and deported under an order by Egyptian President Abdel Fattah Al-Sisi.
Condemnations
"Shocked. Outraged. Angry. Upset. None of them convey how I feel right now," tweeted Peter Greste from Australia, adding that the three year sentences were "so wrong."
Al-Jazeera's Acting Director General Moustefa Souag also condemned the sentence as one which defies logic.
"Today's verdict is yet another deliberate attack on press freedom. It is a dark day for the Egyptian judiciary," said Souag in a statement.
Meanwhile, the Committee to Protect Journalists said that the journalists were sentenced to prison despite a lack of evidence and called on Egypt's government to end the prosecution.
Amnesty International joined the CPJ in its condemnation, adding that the verdict must be overturned immediately.
The court session was attended by diplomatic officials from the UK, the Netherlands, Canada and Australia. The Canadian, British and Dutch Ambassadors attended the session in person.
In his personal capacity, Dutch Ambassador Gerard Steeghs said that the result was "no good news."
Judicial sources have confirmed that Fahmy, Greste and Mohamed can appeal Saturday's sentencing.
Watch Amal Clooney outside the Court in Cairo
---
Subscribe to our newsletter
---