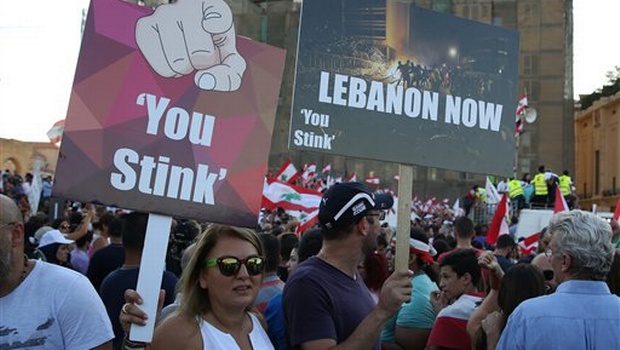 Organizers for Lebanon's "#YouStink" movement will be hoping for a much better turnout to demonstrations planned for Wednesday after low numbers were witnessed at nationwide protests on Saturday.
YouStink, the environmental movement that sprung up in the wake of Lebanon's garbage crisis, has been conducting regular public demonstrations of increasing size over the last month to call out corruption within Lebanese political authorities.
The group called for protests and demonstrations to take place on Saturday, September 5, in Tyre and Zrariyeh cities in Southern Lebanon. However, only around 300 people showed up, reported AFP.
YouStink also called for demonstrations to take place in Chtaura city located in the East, and the cities of Nabatiyeh and Marajayoun in the South. A little over a dozen people showed up to demonstrate.
These numbers are a fraction compared to the tens of thousands that gathered in Beirut's Martyrs' Square on August 29, where the group called for Environment Minister Mohammed Machnouk to resign within 72 hours, greater accountability from the Interior Minister after protesters clashed with security forces and parliamentary elections.
However, the group grappled with the aftermath of August 29's events last week and subsequently the protests of the weekend were not as strongly promoted as this Wednesday's demonstrations.
YouStink conducted a sit-in at Lebanon's Environment Ministry on Tuesday in an attempt to force the minister to meet their demand from the weekend and resign.
The sit-in concluded with dozens of demonstrators being forcibly removed by security personnel. One of YouStink's main leaders, Julien Bourjeily, only emerged from hospital from Saturday.
Mr Bourjeily wore a neck brace during a press conference held near the Environment Ministry, where a separate group of protesters are staging a hunger strike that is now on its fifth day.
Unlike many other political activists or movements, YouStink neither favors a religious party nor is affiliated with any political group. They are, however, shedding light on all responsible parties that they perceive as corrupt or inept.
Organizers have repeatedly stated that they will not call off any protests or demonstrations "until they obtain their rights."
---
Subscribe to our newsletter
---