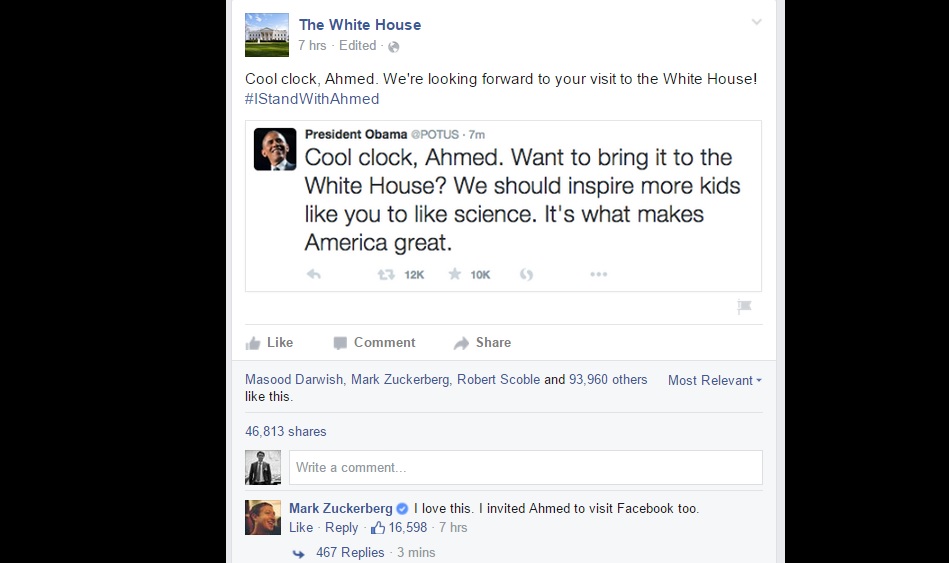 Just hours after the #IStandWithAhmed social media campaign went viral, 14-year-old Ahmed Mohamed found himself quickly becoming a hero in the fight against Islamophobia.
"Cool clock, Ahmed. Want to bring it to the White House? We should inspire more kids like you to like science. It's what makes America great," tweeted Barack Obama, President of the United States of America.
Yesterday, the story of the 14-year-old Muslim, whose parents are originally from Sudan, revealed how he had ended up in handcuffs after building a homemade clock and taking it to school to impress his teachers. The young man, who had been dressed in a grey NASA t-shirt, was marched off to juvenile detention after being accused of building a 'hoax bomb' by police.
As an uproar brewed on social media, police in Irving, Texas, decided not to press charges.
Thank you for your support! I really didn't think people would care about a muslim boy. #Thankyouforstandingwithme #IStandWithAhmed

— Ahmed Mohamed (@IStandWithAhmed) September 16, 2015
"So I guess everyone knows I'm the person who built a clock and got into a lot of trouble for it," said Ahmed during a press conference held to address his supporters. "I built a clock to impress my teacher but when I show[ed] it to her, she thought it was a threat to her. So, it was really sad that she took the wrong impression of it.
"Since the charges have already been dropped, all I have to say is that I really want to go to MIT…I'm thinking of transferring schools…to any different schools," said Ahmed who thanked his supporters for standing with him.
Among Ahmed's supporters were Facebook CEO Mark Zuckerberg, presidential candidate Hilary Clinton and Google. Twitter even offered Ahmed an internship.
Hi @IStandWithAhmed, we 💙 building things at @twitter too. Would you consider interning with us? We'd love it — DM us! #IStandWithAhmed — Twitter (@twitter) September 16, 2015
Hey Ahmed- we're saving a seat for you at this weekend's Google Science Fair…want to come? Bring your clock! #IStandwithAhmed

— Google Science Fair (@googlescifair) September 16, 2015
"Having the skill and ambition to build something cool should lead to applause, not arrest. The future belongs to people like Ahmed," said Zuckerberg in a post on Facebook.
"Ahmed, if you ever want to come by Facebook, I'd love to meet you. Keep building."
While Ahmed has certainly found a plethora of support, the young inventor vowed to support other young people who find themselves in similar situations.
"Don't let people change who you are," he said at the press conference while addressing questions from supporters. "Even if you get consequences for it."
---
Subscribe to our newsletter
---