Originally published on al.arte.magazine
It is springtime. The year is 950. You are in Córdoba, the capital of Al-Andalus, Islamic Spain. You saunter towards the Great Mosque, strolling down the narrow paved streets. The city is bustling with activity. It is a bees nest, as people go in and out in pursuit of knowledge, and to read, search for cures, buy from the city's skilled artisans, or trade herbs, spices, cotton, or silk. A light breeze tickles your nose thrills with the smell of a citrus tree standing on the patio of a nearby villa. All of a sudden you hear poetry, recited in a place far away. Yet you open your eyes, and realise it was just a daydream. The last song on Souad Massi's newest album, El Mutakallimûn (Masters of the Word), floats out of the radio.
On the 18th of October, Cairo Jazz Festival will invite singer/songwriter/guitarist Souad Massi to Downtown Cairo. Born in Algiers in 1972, this world-renowned artist brings music that carries global influences within, ranging from Portuguese fado to rock and folk rock, Middle Eastern arrangements, and African melodies. Eclectic as this may sound, Souad Massi even adds lyrics in Arabic, Kabyle, French, or English to this musical potpourri. "I like listening to jazz, African music, Latin American music… I'm actually listening to a lot of opera these days," the Algerian nightingale says. "But it is hard to tell what inspires me exactly. Making music and performing is a spontaneous process to me."
Souad Massi's solo career officially kicked off when she was signed to Island Records in 1999, after her contribution to the Femmes d'Algerie festival in France. The singer has over twenty years of experience now, but still can not explain her success. "It's not something I think about. To me, it's about the content and doing what I love," she explains. "When I am on stage, I feel happy and free." In both acoustic and electronic compositions, the topics she sings about go from love to political matters. Five years after the almost prophetic O, Huriya (Liberty) album, which was launched right before the uprisings in the Middle East, she brought out her latest album El Mutakallimûn (Masters of the Word) in the beginning of this year.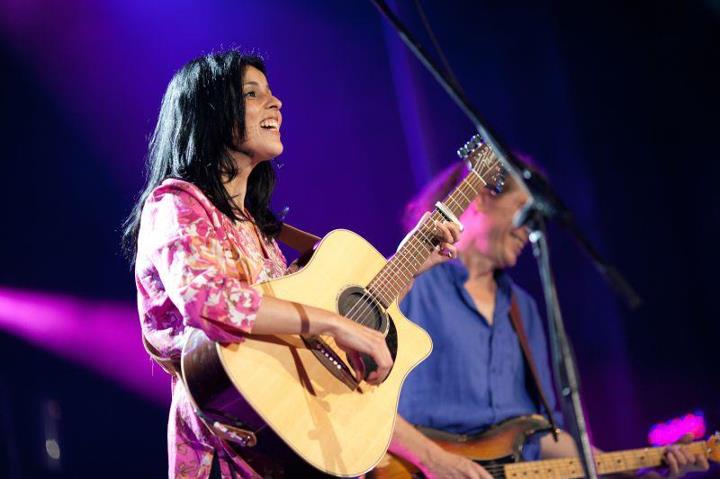 Prior to the launch of El Mutakallimûn the Algerian singer spent two and a half years on research. The roots of the idea behind this latest album lie in Córdoba. This Andalusian city, which shines on the banks of the Guadalquivir, breaths out a rich Islamic-Christian-Judeo history and heritage. Medieval Spain, as Amsterdam university professor Maaike van Berkel describes, definitely had its share of large mutual violence, but it is also commonly dubbed "as an example of a functioning multicultural society."
During her time in Córdoba, Souad Massi got inspired by the history of the area and its scholars ofʿilm al-kalām, literally the science of discourse, often described as Islamic scholastic theology. "The Arab world has so many great writers, doctors, scientists, philosophers, professors," she says in admiration. "This album reflects the creativity and innovation of that time. I want it to be a reminder of that."
Yet El Mutakallimûn is more than pure nostalgia. It is a collection of ten classic and younger poems interpreted by the Algerian artist herself. "It was so difficult to make a selection," she sighs. The biggest part of the poetry chosen is of political and philosophical content, although Souad Massi slipped in one love story. "This was a must considering the importance of love in Arabic songs," the artist smiles.
She is talking about Majnūn Laylā, to which the artist gave a bossa nova twist in Faya Layla, the seventh song on the album. Originating as a poem in ancient Arabia, it tells the story of Qays, whose unconditional love for Layla earned him the name 'Majnun'. Layla's father however considers him mentally unbalanced and refuses when Qays asks for his daughter's hand. More examples of classic poets whose words can be found on the album are the 6th century Zuhayr ibn Abi Sulma, 10th century al-Mutanabbi, and 8th century Al-Asmaʿi.
Another song that can be found on El Mutakallimûn is Hadari, which is an adaptation of Ilā Ṭuġāt al-'Ālam (To the Tyrants of the World). This poem, originally written by the Tunisian poet Abou el Kacem Chebbi during the French conquest of Tunisia, became popular again during the Second Intifada and more recently during the Tunisian Jasmine Revolution. A third example is Lastou Adri, an afrobeat rendition of a poem by the Lebanese 20th century poet Iliya Abu Madi.
The variety Souad Massi is able bring to the table vocally suits the diversity of content that characterises these songs. Although the album opens with just her words and guitar accords rippling like a river stream, a drum and an electric piano are introduced in the second song. Later on, Spanish rhythms, a banjo, oud, jazz tunes, and even a reggae tune pass by as the other songs follow.
El Mutakallimûn's CD case not only includes the Arabic lyrics with their translation, but also enwraps stunning calligraphy art by the Algerian father-and-son duo Mohamed and Aymen Bourafai. As calligraphy and the copying of manuscripts was deemed of high esteem in medieval Andalusia, this is another celebration of the past Souad Massi wants to share with her fans.
In times of alarming reports on ISIS dominating the media, Souad Massi's goal with this album is twofold. First of all she wants to tackle the ignorance of non-Arabs and the stigmatising stereotypes that exist about Arabs and muslims – by showing the richness of Arabic philosophical and lyrical heritage. "I'm not at all tired of defending this," she claims. "Because it's something so important." With El Mutakallimûn, she shows how the poems of these contemporary and classical writers can be an inspiration for living our lives today. "I direct myself especially towards Arab youth in the West, who feel lost at times," she says. "They need to know about this heritage, that we share and we should be proud of. I consider it my personal responsibility to remind them of this and make music that ignites hope."
"Every concert is different," Souad Massi answers when asked about what we can expect from her Cairo Jazz concert. "Audiences in the Arab world are usually very enthusiastic. There is this culture and identity that we share." She reminisces about how after concerts, professors have come up to her to correct some words in a certain poem. "A concert is indeed about the interaction between the audience and the artist. We generally play the same program, but if asked we'll do extra songs. If the audience gives off a good vibe, it just pumps up our energy to play so much."
Souad Massi will perform at the seventh edition of the Cairo Jazz Festival on the 18th of October, 2015. The concert starts at 7:30 pm and will take place at the Greek Campus in Downtown Cairo. For more info and tickets, go to Ticketsmarche.