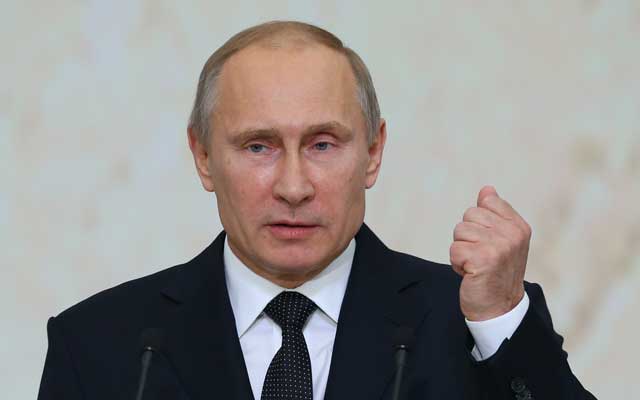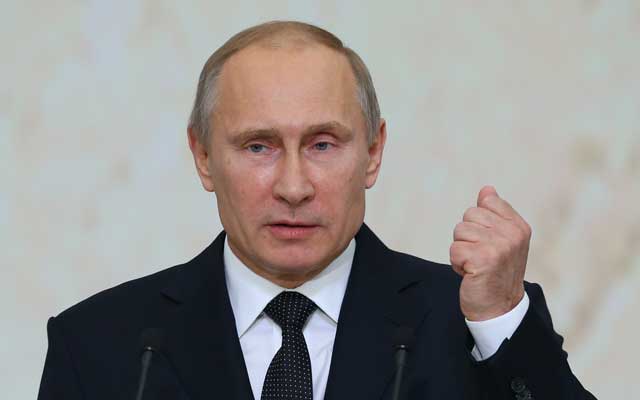 Russian President Vladimir Putin said Turkey stabbed Russia in the back and acted as an accomplice of terrorists by shooting down a Russian warplane flying over the Turkish-Syrian border.
"This incident stands out against the usual fight against terrorism," Putin said at a press conference on Tuesday. "Today's tragic event will have significant consequences, including for Russian-Turkish relations."
Putin also slammed Turkey's decision to call a NATO meeting instead of contacting Russia in the wake of the incident, saying the move seemed like Turkey wants to put the alliance at the service of terrorist group ISIS.
The Turkish military said the jet, an SU-24, violated Turkey's airspace and was warned 10 times over a period of five minutes to leave its airspace. When the pilots failed to comply, Turkey's military shot it down.
Turkish President Recep Erdogan called an emergency security meeting with top officials, including Prime Minister Ahmet Davutoglu and heads of intelligence, CNN Turk reported.
"We want the international community to know that we are ready for any kind of sacrifice when the security and life of our citizens and our border security are concerned," Davutoglu said. "The world needs to know that it is our international right and our national duty to take measures against anybody who violates our borders on the land and in the air, in spite of our many warnings."
However, Putin stressed that the jet posed no threat to Turkey's national security and remained in Syrian airspace throughout its flight. He added that Russia had previously signed a deal with the US to prevent "air incidents" and that, as a member of the US-led coalition mandated with fighting ISIS in Syria, Turkey should not be clashing with Russia on the matter.
"Neither our pilots nor our jet threatened the territory of Turkey. This is obvious. They are fighting terrorists in the northern areas around Latakia, where militants are located, mainly people who originated in Russia and they were pursuing their direct duty to make sure these people do not return to Russia," Putin said.
The Russian leader also said that ISIS receives much of its funding by moving oil and petroleum products from the territories it controls in Syria to Turkey.
Russia's Foreign Minister Sergei Lavrov also cancelled his visit to Turkey, which was due to take place on Wednesday, following news of the jet downing.
Speaking to reporters in Sochi, he advised Russians to refrain from traveling to Turkey, saying that the threat of terrorism there is no less severe than in Egypt, where a Russian plane crashed last month due to an alleged bomb attack.
---
Subscribe to our newsletter
---