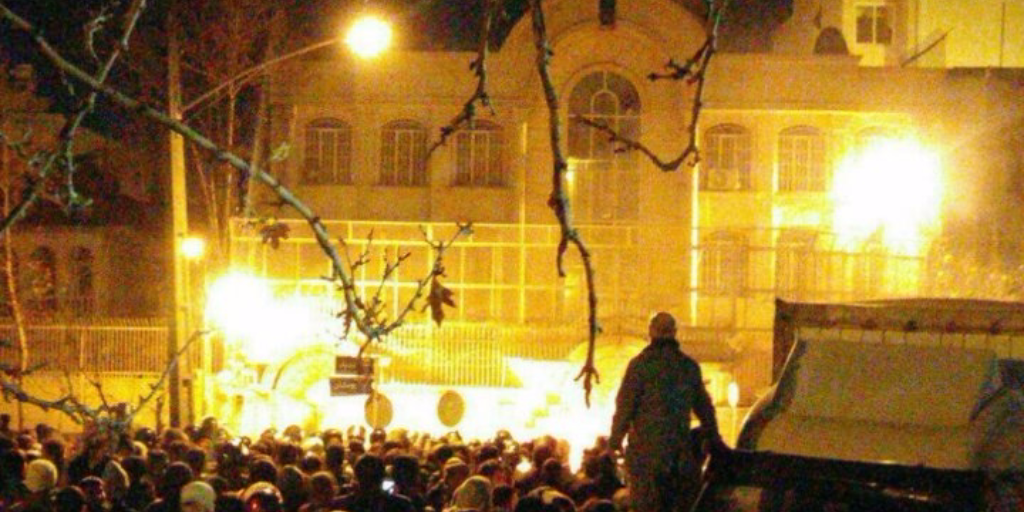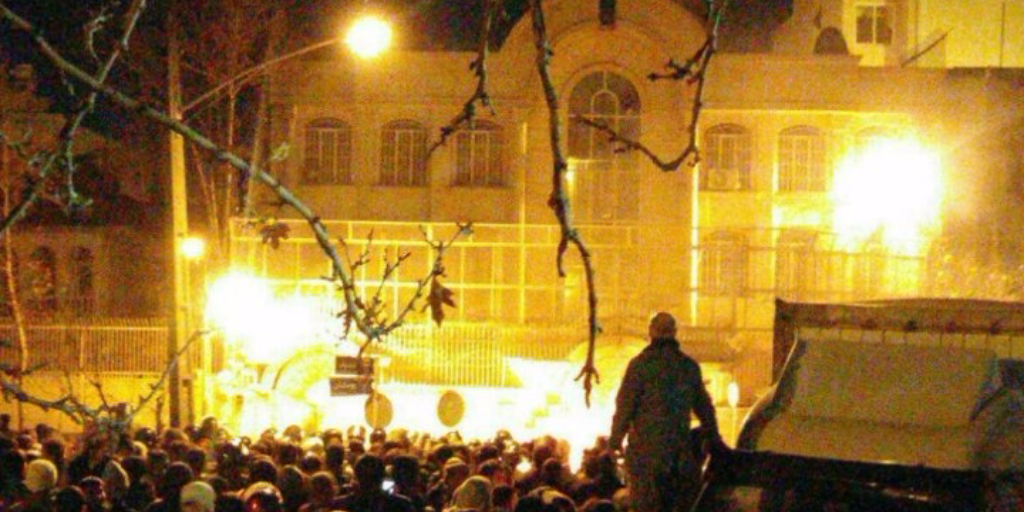 The Saudi Arabian Embassy in Tehran, Iran was been broken into in the early hours of Sunday morning and parts of it set on fire by demonstrators.
Large groups of protesters had gathered outside the Saudi Embassy to demonstrate against the execution of Shiite Sheikh Al-Nimr, who was among 47 people executed by Saudi Arabia on Saturday.
The demonstrators, who were not stopped by police, managed to break into a number of offices at the Embassy and set fire to parts of the building. Video showed people inside the building smashing objects and throwing Molotov cocktails.
RIGHT NOW: Saudi embassy in Tehran on fire after stormed by protesters over execution of Shiite leader al-Nimr pic.twitter.com/k92bTkh5hb

— Sobhan Hassanvand (@Hassanvand) January 2, 2016
Images also showed protesters taking down the Saudi Arabian flag before dragging it along the streets outside.
Several hours after the attack on the Embassy commenced, police moved to disperse the angry demonstrators. Iran's Foreign Ministry also issued a statement calling on protesters to respect diplomatic premises.
VIDEO: 12:08 AM, seems molotov cocktail thrown at Saudi embassy building in Tehran, protest over al-Nimr execution pic.twitter.com/d6vFKPcD6R

— Sobhan Hassanvand (@Hassanvand) January 2, 2016
Elsewhere in Iran, the Saudi Consulate in the the city of Mashhad was also attacked by a group connected to Iran's Elite Revolutionary Guards.
Unconfirmed reports say that Saudi Arabia has expelled a number of Iranian diplomats following the incidents in Tehran. Earlier, Saudi Arabia said that Iran was defending "terrorists".
Protesters break into Saudi embassy building in Tehran pic.twitter.com/7wtBGpZuco

— Sobhan Hassanvand (@Hassanvand) January 2, 2016
Saudi Arabia's execution of 47 people, and in particular Sheikh Al-Nimr, has sparked anger across the world. Protests against Saudi Arabia's actions erupted in Yemen, Pakistan, Bahrain, and Iraq. In Lebanon, Hezbollah said the execution of Sheikh Al-Nimr was an "assassination" and called the move a "grave mistake".
A protest in Saudi Arabian city of Qatif also saw protesters set fire to a number of vehicles and clashes with security personnel.
---
Subscribe to our newsletter
---