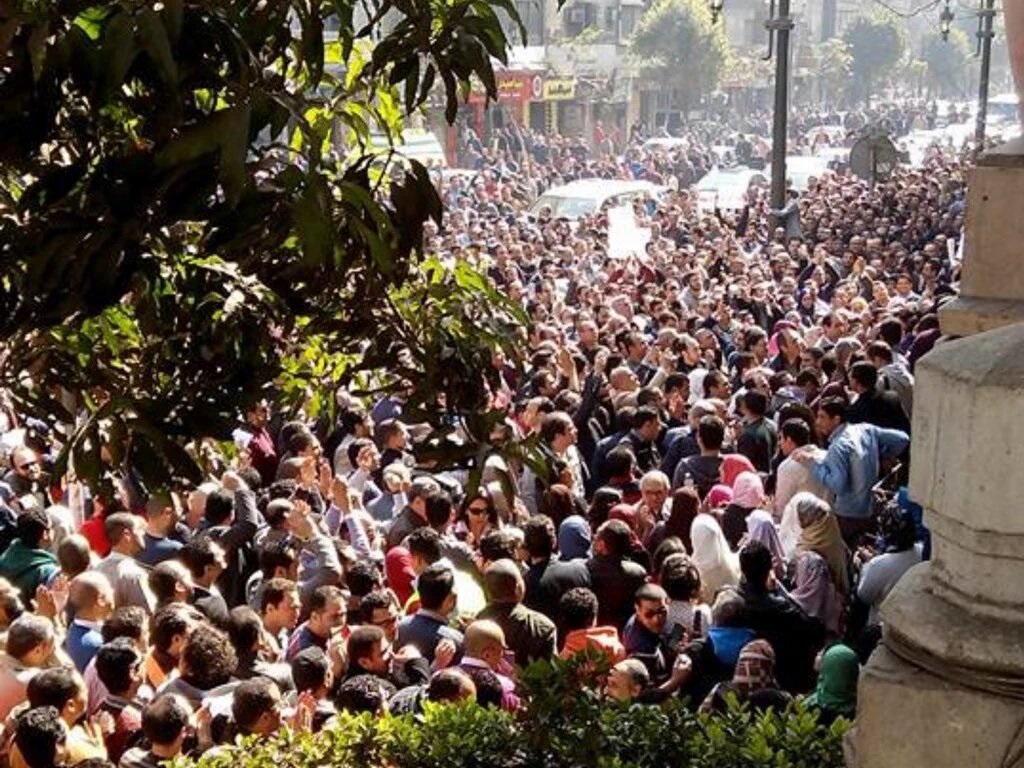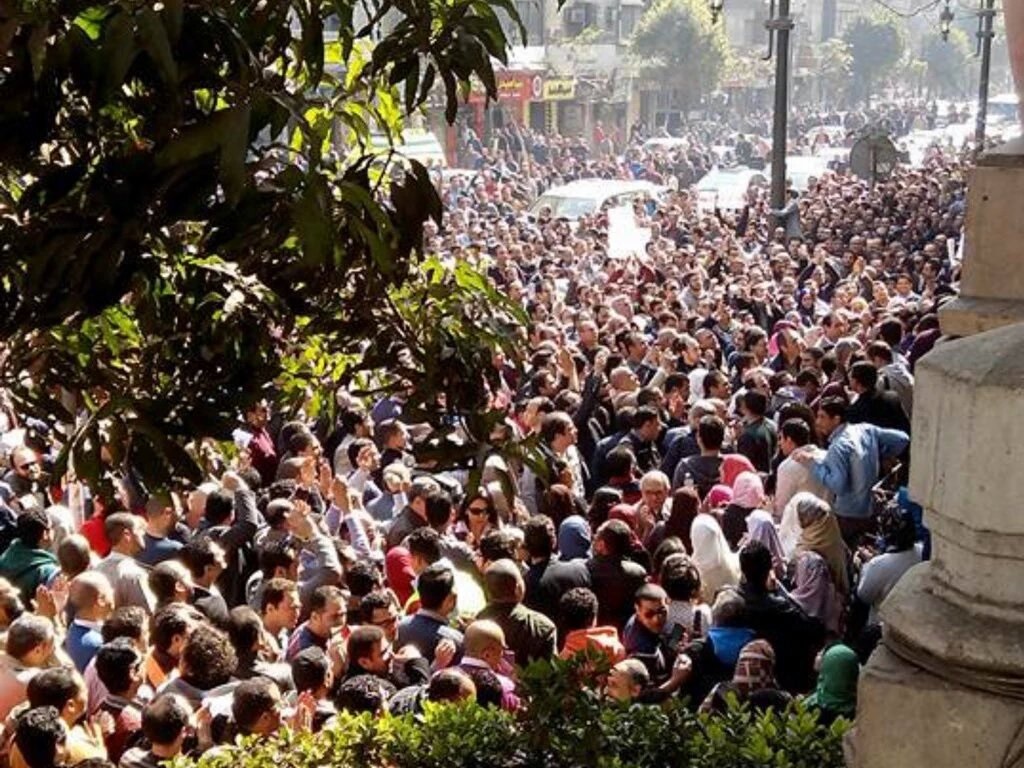 As many as 10,000 doctors attended an emergency meeting in Cairo by Egypt's Doctors' Syndicate to protest against police abuse.
The doctors, who carried signs condemning police violence and expressed solidarity with abused and jailed doctors, called for policemen responsible for assaulting two physicians, eight nurses and one security administrator at a hospital in Matariya to be held accountable.
According to state-owned Al-Ahram, minor chaos broke out as a result of the huge and unexpected turnout.
In statements, the Doctors' Syndicate Chairman Hussein Khairy called the turnout "historic" and "unprecedented".
لحظة دخول #نقيب_الأطباء لبداية الجمعية العمومية .. والأطباء يهتفون – خيري خيري pic.twitter.com/kheqs4cpSr

— اليوم السابع (@youm7) February 12, 2016
On social media, scenes of thousands of doctors attending the emergency meeting led to the hashtag #Support_The_Doctors_Syndicate (#ادعم_نقابه_الاطباء) to become the number one trending hashtag.
Why not restart a revolution with this? 😀#ادعم_نقابه_الاطباء

— Hiba (@HibaSalama) February 12, 2016
The brave doctors of #Egypt are fighting for dignity and standing against abuse. #Respectpic.twitter.com/Wg29cB1hYB

— Nervana Mahmoud (@Nervana_1) February 12, 2016
Following the demonstrations, the Doctors' Syndicate announced its rejection of the privatization of healthcare, in addition to new procedures that will see any hospital shut down immediately in the event of "assault from any thugs". The Syndicate announced that all doctors in the country will go on partial strike if their demands are not met within two weeks.
The Egyptian Doctors' Syndicate has expressed anger at the Ministry of Interior after a doctor accused policemen of assaulting him inside a hospital. Video footage later leaked to the media appeared to show plainclothes policemen grabbing the doctor while pushing and hitting other hospital employees.
According to the abused doctor, Ahmed Abdallah, an injured man came to the hospital accompanied by another man. Abdallah found that the injury was 'superficial' but the injured man felt the doctor had 'belittled' his injury.
"He started insulting and cursing," the doctor said, adding that the man who accompanied the injured individual walked in and started hitting and insulting him. When Abdallah asked the receptionist to call the police, the men responded "we are the police."
The policemen involved in the incident were also captured on video pushing the security administrator of the hospital out of the way. At one point, one policeman pulled out his gun on another doctor who had been attempting to defuse the situation.
Following the incident, the Doctors' Syndicate Chairman Hussein Khairy called for an emergency meeting to discuss "the latest assault by policemen on doctors in the Matariya Teaching Hospital in Cairo," according to one statement released by the Chairman.
Hours ahead of today's emergency meeting, which saw doctors loudly chanting Hussein Khairy's name in support, the East Cairo Prosecution ordered the release of nine policemen who had been accused of assaulting doctors and nurses at the hospital.
Article by Egyptian Streets, Background Reporting by Aswat Masriya
---
Subscribe to our newsletter
---