Boutros Boutros-Ghali, the first Egyptian, Arab and African UN Secretary General, passed away on Tuesday at the age of 93.
Following his death, governments and people across the world have been sending their condolences and sharing their memories of the former Egyptian diplomat who became the United Nation's sixth Secretary General.
Belgium's Foreign Ministry saluted 'the tireless work of Boutros Boutros-Ghali for peace and democracy and for the promotion of rights and liberties," while French President Francois Hollande and US Secretary of State John Kerry praised the former Secretary General for his "courage", "respect for diversity", and "defense of peace".
However, many on social media have also been sharing famous quotes by Boutros-Ghali, which have ranged from his personal experiences in Egypt to how he felt about various conflicts across the globe. Below are 10 of these quotes that were said by the former Secretary General.
"Only stupid people don't change their minds."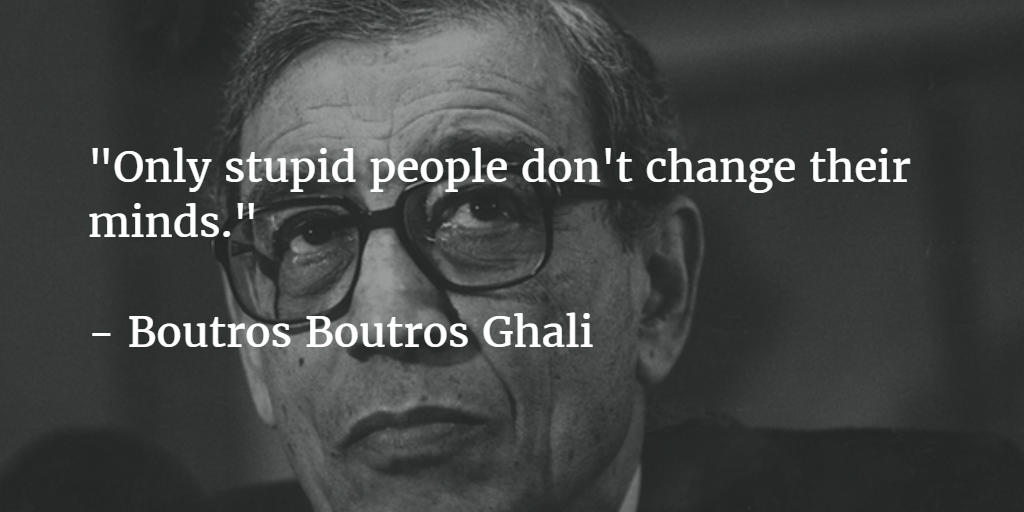 Boutros-Ghali said this famous quote after being asked to explain why he sought a second five year term as Secretary General despite having initially planned to serve just one. Much to his dismay, the United States vetoed Boutros Boutros Ghali's chance at a second term.
"[F]or over 10 years I survived the Egyptian bureaucracy. If you can do that you can run the United Nations."
"The lesson I learnt in Cairo still applies. The only way to deal with bureaucrats is with stealth and sudden violence," said the former Secretary General in 1993. Boutros-Ghali jokingly referred to Cairo's bureaucracy when talking about his relationship with the bureaucratic nature of the United Nations.
"We were not realizing that, with just a machete, you can do a genocide."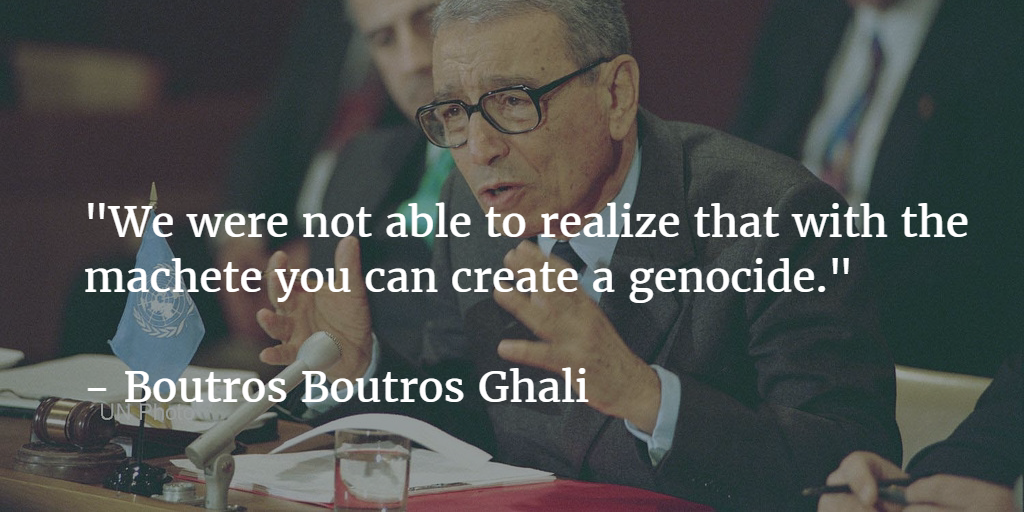 "This was our perception — which was the wrong perception — [that] you need to have a sophisticated European machinery to do a real genocide," explained Boutros-Ghali when asked by PBS about when he realized that what was happening in Rwanda was not just a civil war.
"We were not able to realize that with the machete you can create a genocide. Later, we understood this. But at the beginning, our definition of the genocide was what happened to Armenia in 1917 or 1919, it's happened to the Jew in Europe, and we were not realizing — In our point of view, they have not the tools to do a genocide."
"A genocide in Africa has not received the same attention that genocide in Europe or genocide in Turkey or genocide in other part of the world. There is still this kind of basic discrimination against the African people and the African problems."
When asked about why the world was still talking about Rwanda 10 years later, Boutros-Ghali explained that that it was important because of discrimination against the African continent.
"It matters more because it is in Africa, and there's still a kind of discrimination concerning the African continent, concerning their own disputes, concerning the assistance given to Africa, concerning the perception of the international community concerning Africa — that they are in a hopeless situation. It is the poorest continent, and [the perception is] they don't deserve the same attention like Latin America or like Asia or like European problems.
"So this is why I'm always say happy that somebody mentions Rwanda, because behind Rwanda, we have Africa."
"The Roman Empire had no need of diplomacy. Neither does the United States."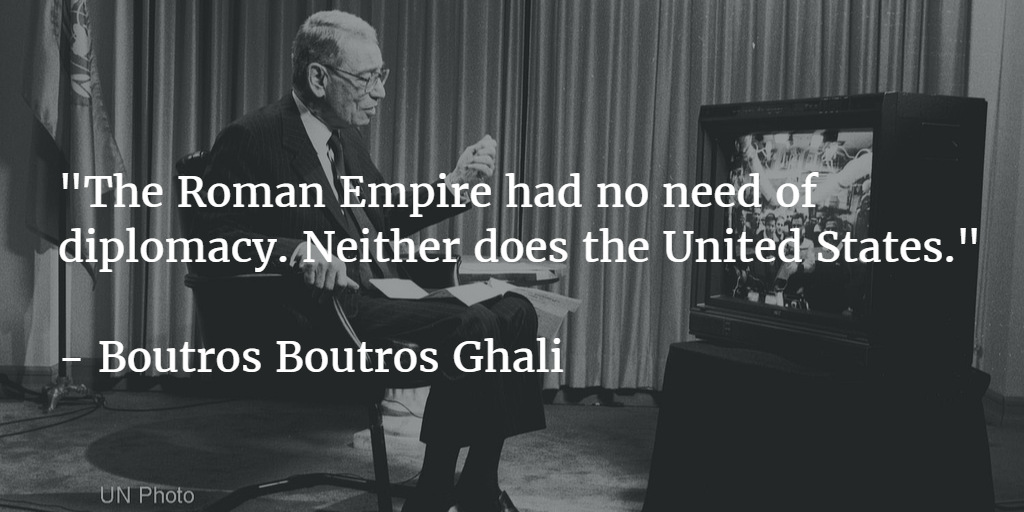 While Boutros-Ghali said that Rwanda had been one of his "greatest failures" as UN Secretary General, he also held particular scorn for the United States's 'unilateral policy', the fact it refused to pay its contributions to the United Nations (which at the time owed more than $US 1 billion in unpaid subscriptions), and their blocking of peacekeeping operations.
"The problem was that the United States was not paying their contribution, and this encouraged other countries not to pay their contribution. So what happened, we were not paying the country who sent blue helmets. In other words, we were borrowing money from those countries and the expense of the peacekeeping operation," said Boutros-Ghali to PBS.
However, after his tenure, he penned down even harsher words.
"Coming from a developing country, I was trained extensively in international law and diplomacy and mistakenly assumed that the great powers, especially the United States, also trained their representatives in diplomacy and accepted the value of it.
"But the Roman Empire had no need of diplomacy. Neither does the United States."
"The problem is when you are writing something in retrospective, it needs a lot of courage not to change, or you will forget a certain reality, and you will just take in consideration your view today."
Following his tenure as Secretary General, Boutros-Ghali was not afraid of admitting his failures and successes, particularly when it came to Rwanda.
"I am used to fundamentalists in Egypt arguing with me."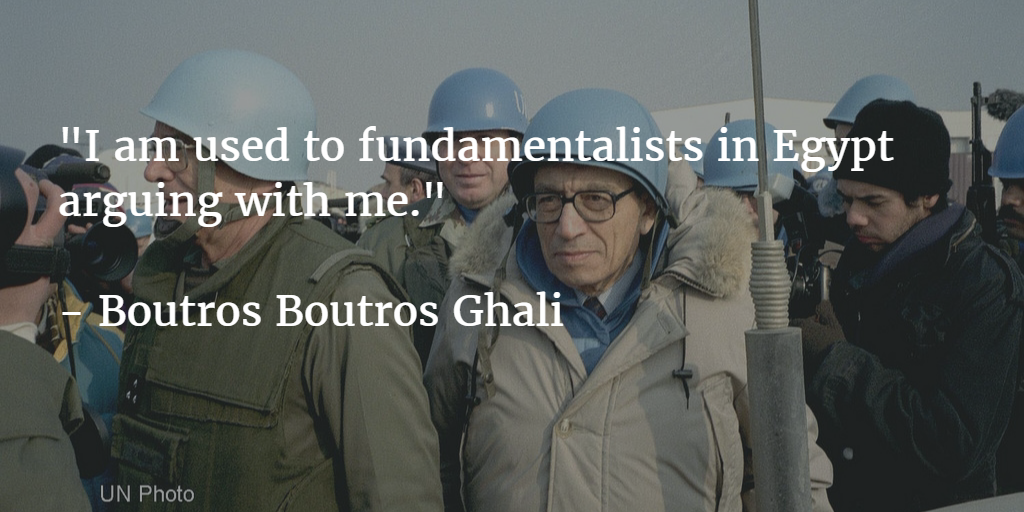 According to Reuters, Boutros-Ghali was known for wading into crowds to personally confront protesters whenever security guards would permit.
Despite him being jeered by protesters in Sarajevo, Mogadishu and Addis Ababa, he told Reuters that he was used to the confrontations.
"Nobody is interested in the poor countries in Africa or anywhere in the world. They can easily forget Somalia in 24 hours."
Boutros-Ghali was not scared of making shocking, yet soberly true, statements. During the 1990s conflict in Somalia, Boutros-Ghali told Somali warlords to stop accusing the UN of colonialism, adding that they should instead be concerned that former colonial powers would forget about their plight if they continued to fight, reported Reuters.
"The Cold War is finished. Nobody is interested in the poor countries in Africa or anywhere in the world. They can easily forget Somalia in 24 hours."
"I will continue to work for the advancement of freedoms in Egypt and the Arab world until I drop dead."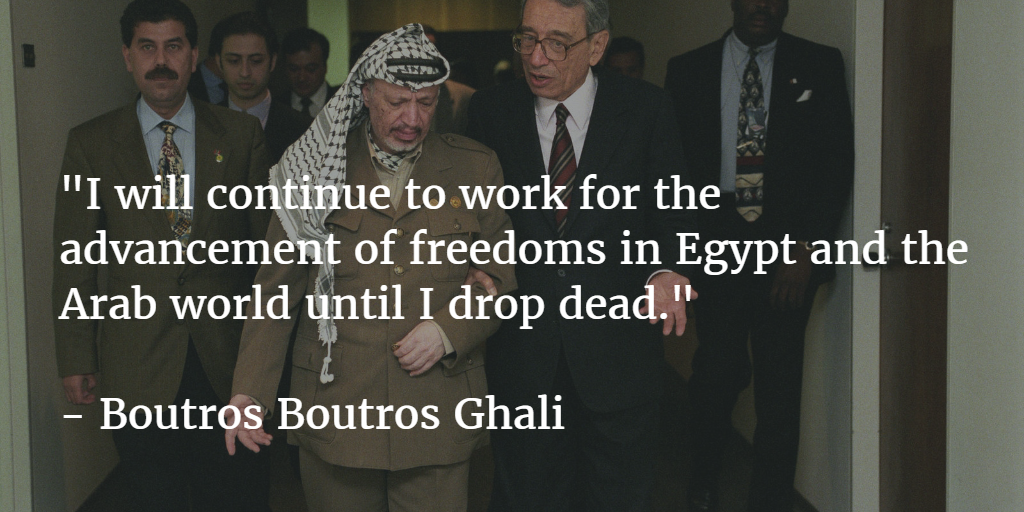 "Education itself — which can and should play an important role in the apprenticeship of tolerance and respect for other people — sometimes encourages identitarian closure, or even extremist behaviour," said Boutros-Ghali to Al-Ahram in 2006.
"It is therefore vital to ensure that education does not encourage rejection of other people or identitarian closure, but that on the contrary it encourages knowledge and respect for other cultures, other religions and other ways of being and living."
"Disneyland is not an independent state."

Hours after his death, social media users across the world shared a comedic interview at the United Nations by Ali G with Boutros-Ghali. Boutros-Ghali explains to Ali-G why Disneyland is not a member of the United Nations in a skit that continues to make people laugh and smile many years later.