Adele at the Pyramid stage at Glastonbury wearing a Siwa-inspired dress (via Chloe's Facebook page).
In a hype of entertainment news coverage that spurred from the 45th annual Glastonbury Festival of Contemporary Performing Arts in Somerset, England, English singer and songwriter Adele took the internet by storm for the gown she wore during her June 25th performance. After a series of social media reactions applauding the elegance of the artist's bespoke dress, Parisian fashion house Chloé announced that Adele's dress is in fact of their own designing.
However, as Chloé celebrated their handmade garment which took around 200 hours to complete, what the fashion house and the news entirely failed to mention – or deliberately left out – is the traditional Egyptian heritage this beautifully crafted garment mimics.
While misleading assumptions describe the gown as '70's-inspired', the truth is that it actually copies the traditional embroidered black wedding dress famous in the Egyptian oasis Siwa. Locally known as 'asherah hawak azdhaf', the embroidered silk dress is traditionally worn on the seventh day party of the week-long Siwan wedding celebrations, and is considered one of several items Siwan women usually wear during their wedding celebrations.
Embroidery in Siwa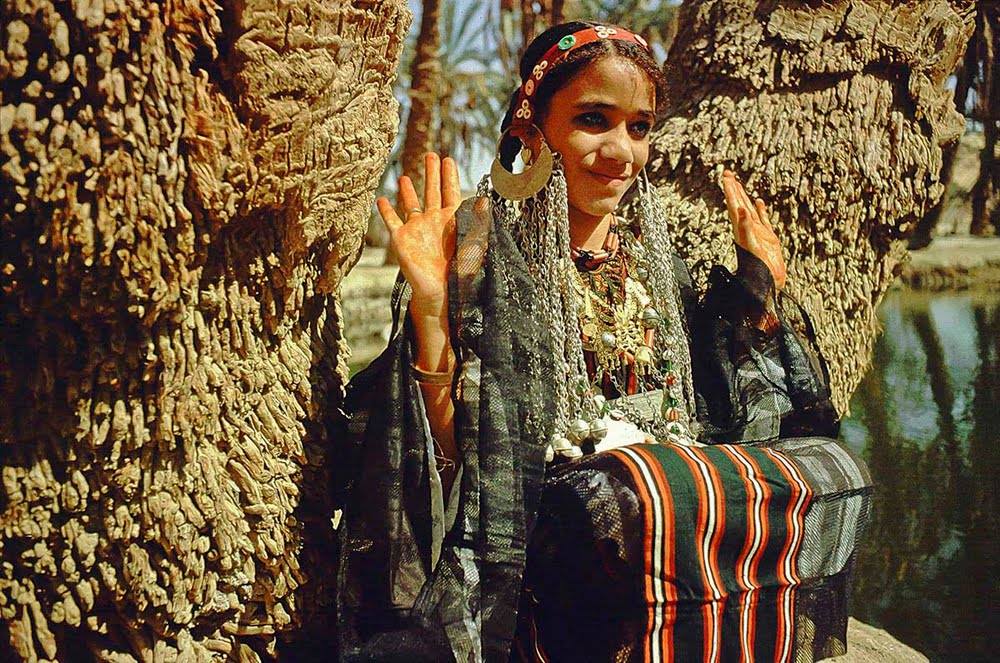 The oasis of Siwa – which lies in Egypt's western desert, only 50 kilometers away from the Libyan borders – is considered the easternmost extension to North Africa's Berber culture, also known as Amazigh. Besides the common motifs shared in the Tamazight embroidery, the oasis was also greatly influenced by its strategic position along several trade routes connecting Europe to North Africa and the Gulf, in addition to other routes which ran vertically through the continent. Thus, despite being preserved in the heart of the desert, Siwans were constantly exposed to the latest trends, most lavish fabrics and all that is considered exotic for a desert culture.
Spanning over 300 local dialects, Tamazight is today considered an official language in some countries such as Morocco, while it remains only a spoken language in other places such as Siwa. With little to no cultural documentation, tradition and culture have solely been preserved through practice and storytelling, jeopardizing that whatever gets left behind is forever forgotten.
Today, many Siwan women are uncertain of the true meanings their embroidery holds. Nonetheless, as various interpretations live on regarding the meaning of the Siwan embroidery motifs, all theories ascertain that such art serves as far more than mere decoration.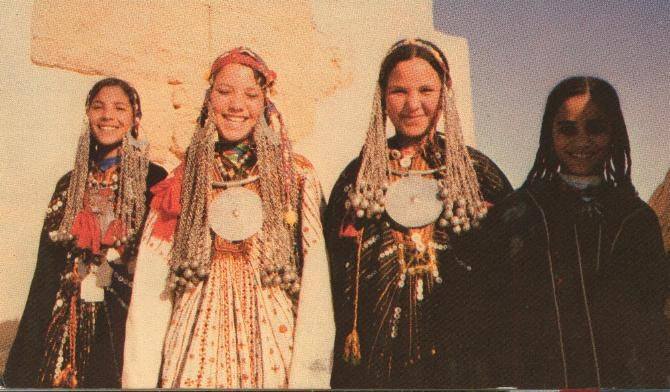 Being a largely superstitious culture, Siwans have always devised different amulets to protect themselves and their loved ones from harmful magic and evil spirits. Although modern Siwans are more certain of their ancestors' belief in the protective capacity of silver jewelry, some say that many famous motifs found in Siwan embroidery also bear protective powers. Some of the most popular protective motifs include the 'khamisa' (all motifs represented in fives, mimicking the five fingers of a hand) and its derivatives, as well as the eye. Other symbols which are stylized differently such as the comb, scissors or knife are said to entrap or cut the evil forces.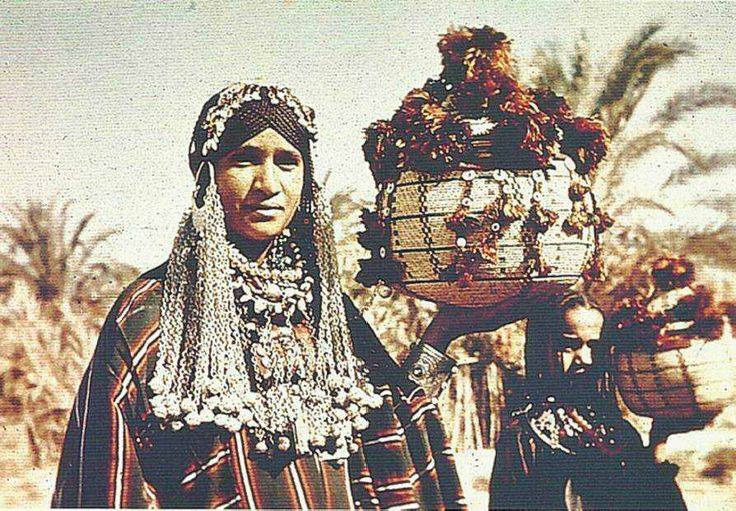 Besides the use of colorful embroidery, shining ornaments (referred to as 'twet wat' in Tamazight) such as mother of pearl buttons, silver, glass and shells are also commonly used in young brides' garments to defuse evil glares which are considered to be rather dangerous.
According to the believers of this protective interpretation, this explains why most of the embroidery is located around the openings of garments such as around the neck, ankles and wrists. Meanwhile, garments rich in embroidery around the torso are believed to often include symbols of fertility such as barley and seeds.
Other speculations suggest that such symbols were once a secret language used amongst women to pass on wisdom from one generation to the other. However, with little supporting proof, such theories are deemed unlikely to be true.
Modern Day Embroidery in Siwa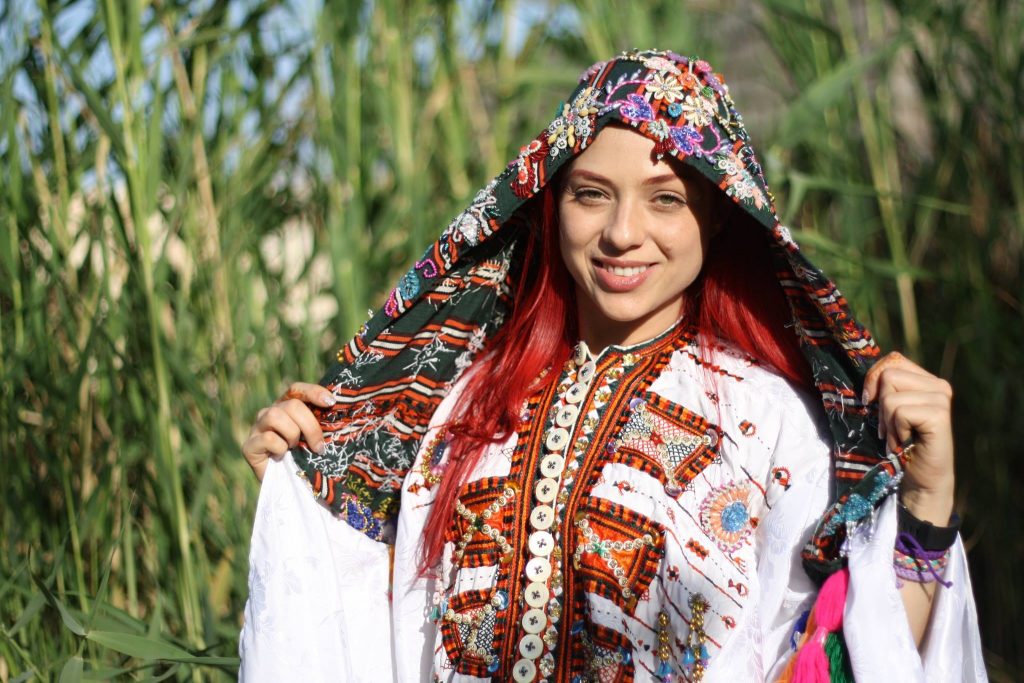 Like many aspects of the Siwan culture, embroidery is one of the remaining cultural facades that are still celebrated for their art and value, however, no longer commonly used.
With very little job opportunities available for Siwan women, many prefer to work with embroidery either independently from the comfort of their homes, or under the auspices of the state-run handicrafts workshop.
Due to the long hours of work needed to finish one traditional dress or shawl, many of the Siwan garments are rarely used today, with a general inclination to buy regular dresses which girls see as more fashionable and up-to-date.
Nonetheless, Siwan women are intent on keeping their art alive by creatively using their traditional motifs in custom-made designs to decorate shirts, trousers or even table cloths.
Aware of the dangers their culture is up against, many Siwan youths continue to work on cultural preservation projects which mainly target the elderly who are considered the most rich and reliable source of information. With the passing of one generation after the other, Egypt is feared to forever lose contact with one of its unmatched indigenous cultures that holds more secrets than any books can ever narrate.