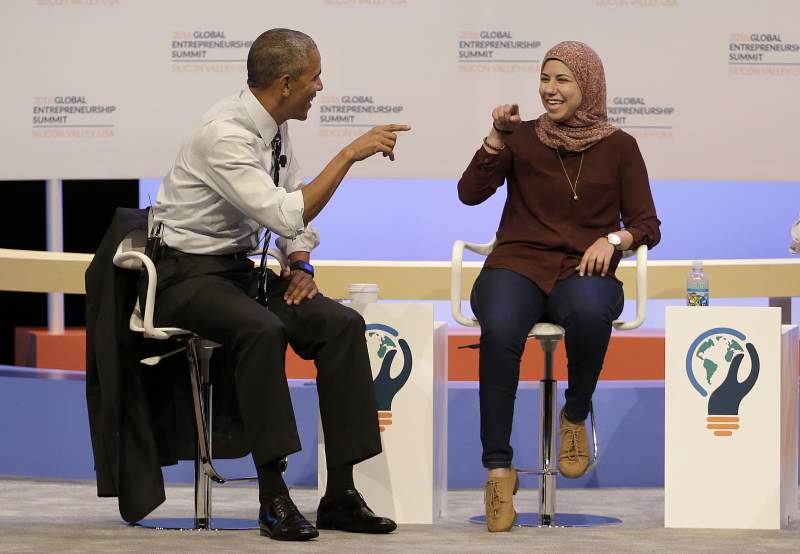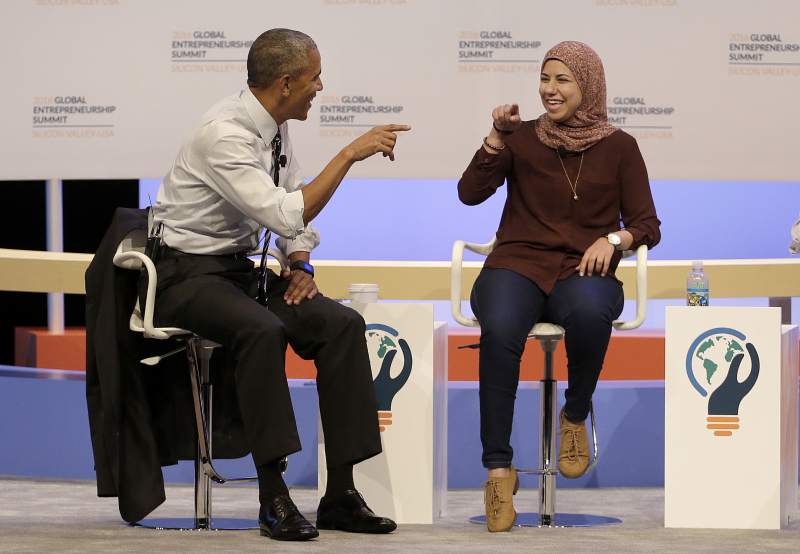 This article was originally published in Egyptian Mail
Why 27-year-old Egyptian Mai Medhat, founder of the Eventtus online platform, get to sit on stage with US President Obama and Facebook founder, Mark Zuckerberg, at the Global Entrepreneurship Summit (GES) held recently in Silicon Valley?
"I submitted my company's application like everyone else. And I had no idea that President Obama would be there," Medhat says. "Then I got accepted and, during the event, I was notified four hours before the panel was held that the organizers wanted me to go on stage."
The young woman's story went viral and she is now recognized as a role model for entrepreneurs in the Middle East and North African, and for bringing global attention to Egypt's growing technology and entrepreneurship ecosystem.
"I did not imagine that one day I would have a discussion with the US president, but from day one I dreamt big and that my company would become global," she said in an interview with the Egyptian Mail newspaper.
Not all Egyptians, however, are familiar with current successful tech ideas such as Eventtus, an online platform and mobile app for event planning, networking and ticketing.
Medhat, an information technology engineer, started Eventtus back in 2011 with Nihal Fares, Chief Product Officer and co-founder of Eventtus. They wanted to develop an instant social network platform for events, aiming to mobilize events and maximize networking opportunities for attendees.
"The idea came to my mind when I found that there was a gap between organizers of events and people attending the event. A lot of information, businesses and networking might be missed because there was no one platform that connected the two sides with each other," Eventtus' CEO said.
The events management sector is considered one of the key players in the business society.
Eventtus is a single app that keeps attendees informed of the agenda, speakers and live announcements for all events, while simultaneously increasing interactions and the social buzz around events, she added.
Egypt's youths like Medhat and others are taking a proactive role in advancing their future. Because the government and large companies have failed to generate the number of jobs required for the youth, many young people have decided to start their own businesses.
Mai told the Egyptian Mail that her company has grown in the four previous years and has succeeded in targeting big event organizers like those of the Harvard Arab Weekend in the USA, DMG events, the ArabNet and RiseUp Summit and was currently working with Dubai Expo 2020.
In no time after it launched in Egypt, Eventtus took the first steps towards expansion and opened its first office in Dubai. Since then, Eventtus has become a partner to entrepreneurship events in the Middle East. More than 800 organisers have used the application to manage more than 7,500 events.
The focus on entrepreneurship is not surprising, given the role that it can play in tackling unemployment. A well-directed entrepreneurship ecosystem can offer a sustainable solution to the country's most pressing socio-economic challenges — unemployment and inequality — while at the same time sparking a culture of innovation.
At the seventh Global Entrepreneurship Summit, President Barack Obama told an international audience that entrepreneurship is a bridge that connects the world for a more prosperous future.
Although she has faced her fair share of ups and downs, Mai says that a persistent and strong passion was responsible for her success.
"Egyptian entrepreneurs have their skills, tools and a better ecosystem that help them go global like many apps that we are using without knowing their origin.
"Starting a business is not that easy but selecting a well-qualified team and setting a sustainable vision and mission for your goal are the secrets of success."
---
Subscribe to our newsletter
---