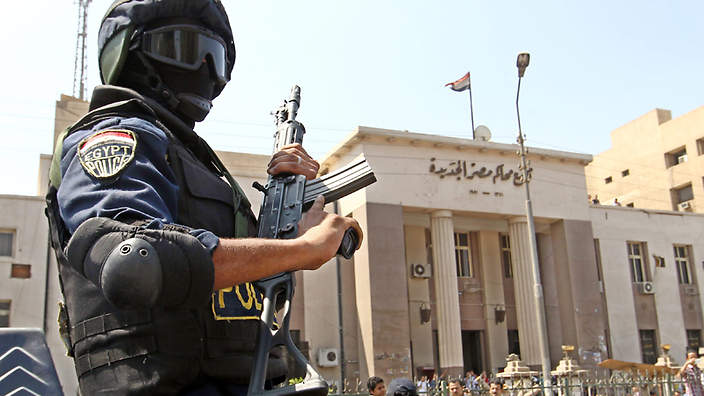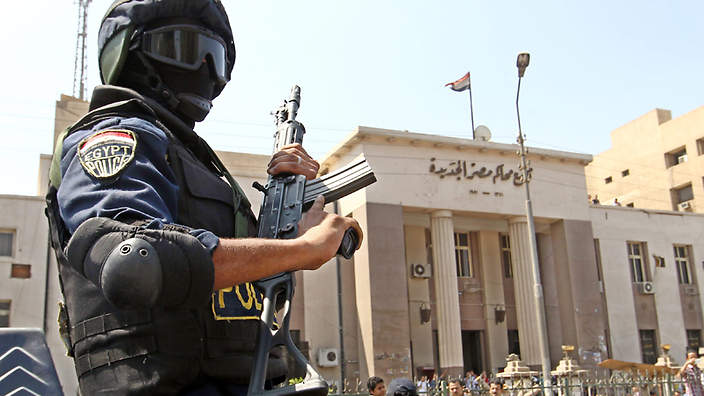 The Qena Criminal Court sentenced six police officers to between three years and seven years in prison over the torture of an Egyptian citizen to death in Luxor police station last November.
The low-ranking policemen are accused of "participating in the crime of beating which led to the death of the citizen Talaat Shabib while in custody by police officers from the investigation [unit], inside the Luxor police station."
Shabib, 47, was arrested on Nov. 24 at 11 pm at a cafe in the district of al-Awamya on suspicion of possessing Tramadol, a pain killer used ubiquitously as a recreational drug in Egypt. Within a few hours his family received information that he died as he was being transferred to Luxor International Hospital.
Police officer Samir Hany was given a seven-year prison sentence, while the other five officers were handed a three-year sentence each, according to the lawyer of Shabib's family, Khaled Ali.
Meanwhile, the court acquitted three police officers and four conscripts, who were also accused in the case.
The court also obliged the interior minister to pay EGP 1.5 million in compensation to Shabib's wife as the guardian of their children.
Shabib's death sparked public outrage in the Upper Egypt province of Luxor, and attracted the attention of media nationwide at the time.
Amid public grief over Shabib, friends and relatives of Shabib launched a Facebook page "We are all Talaat Shabib", in a case reminiscent of Khalid Saeed's, the 28-year-old, who was tortured to death on June 6, 2010 at Seedi Gaber police station in Alexandria and whose badly disfigured picture leaked out of the morgue went viral on social media.
Shabib's case is but one of a slew of cases of alleged police torture that have caught the public's attention in the last few months of 2015.
Over 600 torture cases have been documented throughout 2015 by Egypt's anti-torture El Nadeem Center for the Rehabilitation of Victims of Violence.
Human rights lawyers repeatedly warn of torture taking place inside police stations, however authorities reiterate that these are "individual cases" and that perpetrators are questioned in accordance with the law.
Police brutality was one of the triggers of the Jan. 25, 2011 uprising, sparked by protests on Egypt's national police day, aimed to draw attention to the police's use of excessive, at times fatal, force.
This content is by Aswat Masriya.
---
Subscribe to our newsletter
---