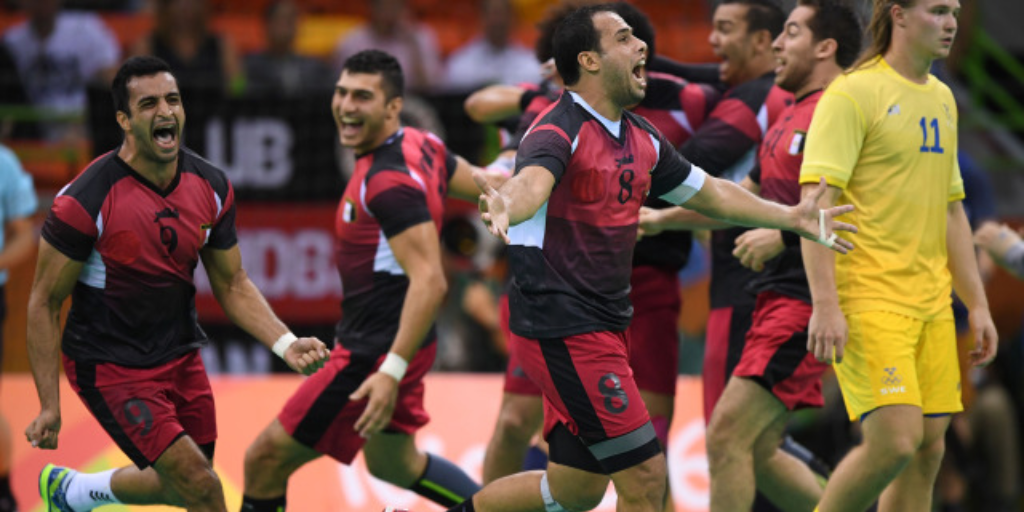 The Egyptians achieved their first victories in men's volleyball and handball at the Rio 2016 Olympics on Tuesday night.
In handball, the Pharaohs edged out Sweden, who finished in second at the London Olympics, 26-25 in a thrilling performance. Egypt, in Group B, is now third in the group with two points after its last-minute goal against Sweden. The victory marked Egypt's first at the Olympics since 2000.
"We came here to compete and not to just play good games. We played against Sweden in the last World Cup and we tied, so this is not a big surprise for us," said center-back Mohamed Hesham Elbassiouny after the game.
Slovenia, which beat Egypt in the first match by one point, and Germany are on top with four points each.
Egypt will face Poland on August 11 as it continues to hope to qualify for the quarter finals.
Volleyball, Fencing, Boxing, Rowing and Other Sports
In volleyball, Egypt comfortably defeated Cuba 3-0 after having lost to Poland 3-0 earlier in the preliminaries.
The Egyptians are now tied with Russia in fourth place with three points. Argentina and Poland are on top, with six and five points, respectively.
Meanwhile, Egyptian duo Doaa Elghobashy and Nada Meawad, who have already made history by becoming the first Egyptian women to play beach volleyball at the Olympics, succumbed to a strong Italian performance on Tuesday.
Egypt's beach volleyball team will now face Canada on Thursday in an attempt to achieve their first victory at the Rio Olympics.
In fencing, Ayman Fayez defeated London 2012 Olympics gold medalist Ruben Limardi 15-5 in the Men's Individual Épée Fencing event. While Fayez lost in the following round, his victory has been praised by many in Egypt and abroad.
Egypt's boxer Hosam Bakr Abdin had a better day, defeating Merven Clair from Mauritius in the Men's middle 75 kg boxing event 3-0. The Egyptian will face off against Dieudonne Wilfried Seyi Ntsengue from Cameroon in the round of 16 of the event on August 12.
In the women's 63 kg, Esraa Ahmed finished first in her group but seventh overall despite her strong performance.
In rowing, Egyptian Abdel Khalek Elbana surprised many with his strong performance in the men's single scull event that saw him finish in third place and qualify for the semi-finals.
Nadia Negm, who is competing in the women's single scull event, missed out on qualifying for the semi-finals but will appear again on August 10 in semi-final C/D, which is aimed at ranking all single scull rowers. Despite missing out, Negm, who turned 18 less than a month ago and was the youngest in her competition, was praised by many for her formidable performance.
Another young Olympian, Afaf Elhodhod, who became the first Egyptian to qualify for the finals in the 10m shooting event, missed out on the semi-finals of the women's 25m pistol event, but nevertheless won many hearts at home.
Egypt will continue its Olympics appearance on Wednesday, with its athletes competing in archery, fencing, shooting and swimming.
---
Subscribe to our newsletter
---