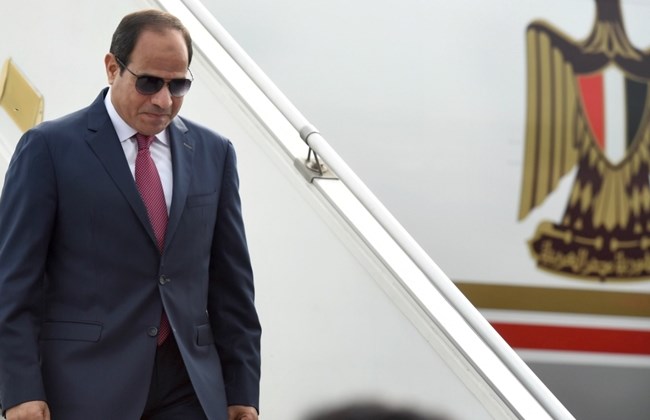 Egyptian President Abdel Fattah Al-Sisi arrived in India on Thursday in his second such visit to the country.
The three-day visit by the Egyptian President comes at the invitation of Indian President Pranab Mukherjee.
According to Egypt's State Information Service, Sisi will hold meetings with the Indian President, the Indian Vice President Mohammad Hamid Ansari, the Indian Prime Minister Narendra Modi, and other leading officials and businessmen.
Talks between the President and Indian officials will focus on boosting economic and political ties.
"Historically, Egypt and India have been bound by a strong and close friendship that extended to different realms through cultural exchange and trade," said President Sisi in an interview with The Hindu. "The struggle of our nations for freedom and independence in the 20th century has strengthened bilateral relations even further to realize common goals for our peoples."
#PresidentMukherjee received President Abdel Fattah El Sisi of Egypt at RB today & accorded him ceremonial welcome pic.twitter.com/ExEAiwQskN

— President of India (@RashtrapatiBhvn) September 2, 2016
According to the Indian Embassy in Egypt, India is considered to be Egypt's seventh largest trading partner and second largest market for Egyptian exports.
The volume of Indo-Egyptian bilateral trade has witnessed significant growth between the fiscal years 2002-2003 and 2011-2012, which started at $US 727.62 million and exponentially grew to $US 4.3 billion, records the Indian Embassy in Egypt's website.
According to The Economic Times, the size of Indian investment in Egypt has approached $US 3 billion, spanning over 50 Indian ventures.
On his first day in India, Sisi also met with outgoing US Secretary of State John Kerry to discuss US-Egyptian ties.
Following his visit to India, President Sisi will visit China where he is due to attend the G-20 Summit. The President was invited by China's President Xi Jinping to attend the 11th Summit of the G-20 as a guest of honor.
---
Subscribe to our newsletter
---