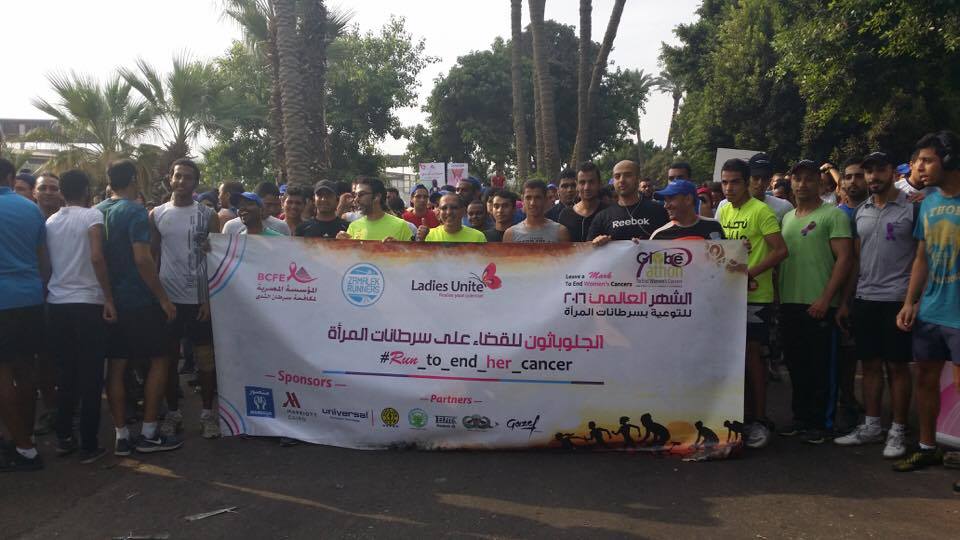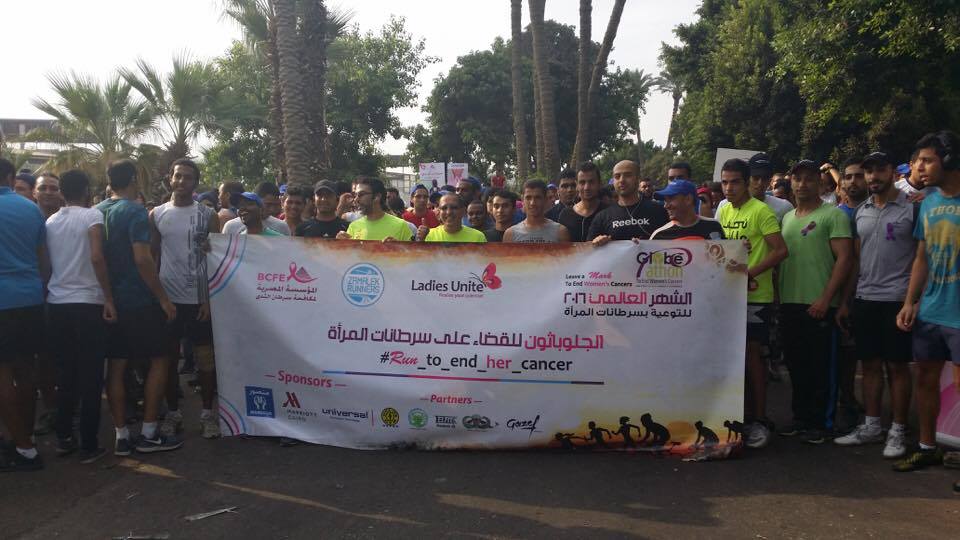 More than 500 men and women took to the streets of Cairo's upscale neighborhood of Zamalek on Friday to run 8 km in the Breast Cancer Foundation of Egypt's "Globeathon to End Female Cancer."
The Director of Media and External Relations Department Ghada Mostafa said that the Globeathon is an international organization that began holding events to help bring an end to all women-related cancers. It was first launched in Washington, D.C., where it started on a small scale before expanding into a global initiative.
The campaign invites various countries around the world to take part by holding a walk in an effort to raise awareness and support for ending gynecological cancers in women.
The main aim of the Globeathon international organization is to end all types of cancer that affect women worldwide. September is the month of Gynecological Cancer Awareness around the world and BCFE decided this year to shed light on the types of cancer that mainly affect women.
In Egypt, the BCFE will raise many awareness campaigns on its official Facebook page to change the wrong perceptions and traditions still held among Egyptians.
"Many patients do recover due to early check-ups," Mostafa said, noting that the monthly campaign attracted all family members.
The campaign will give more information about different types of cancers affecting women, how to recognize them and the different ways of treatment.
"Cancer consequences do not only impact a woman; they affect the whole family and its economic status as well."
The participants, who were mainly youths, practiced yoga after the run in order to promote the idea of combating disease with sports. Meanwhile, the International Academy for Parachuting Jumping showcased some activities to entertain the runners.
The event, held by the BCFE, Zamalek Runners and Ladies United, alongside a number of other partners, was mainly seeking to raise awareness for the youth who will be able to change the misconceptions on fighting cancer in the future, added the organizers.
According to Mohamed Shaalan, the head of the BCFE, breast cancer cases alone account for 25 percent of all women's cancer cases, making it the most prevalent type of cancer among women.
---
Subscribe to our newsletter
---