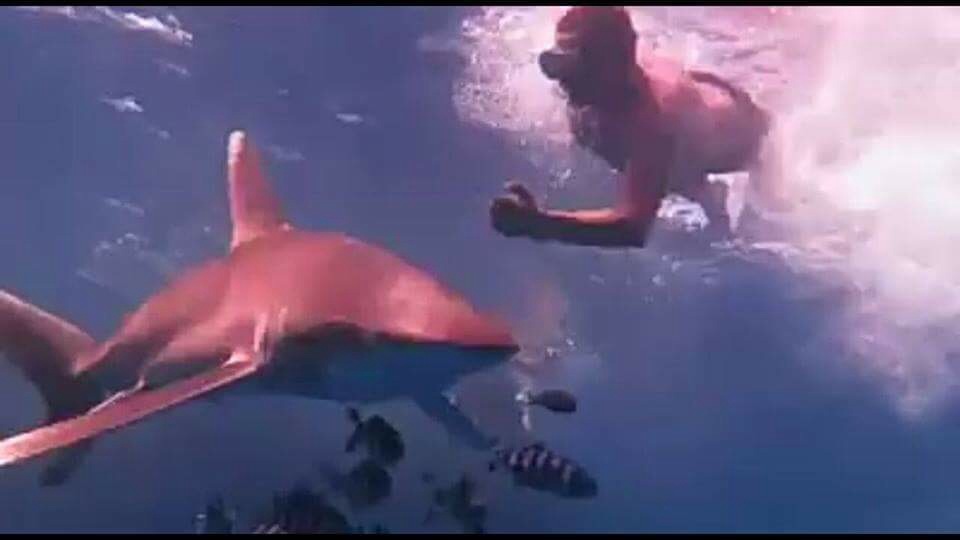 A shark tourists recently found in the Red Sea near Sharm El Sheikh is "dangerous" and "known for its aggressive behavior," Egypt's Ministry of Environment said in a statement on Friday.
The ministry denounced a group of divers who captured video of themselves swimming with and attempting to touch the shark in the Ras Nasrany area.
"The tourists' behavior and decision to go swimming in the area where the shark was present and chasing it, particularly with this species of shark, is a matter of extreme danger…and could have resulted in great physical harm from the shark's unexpected reaction to these provocative actions," the statement reads.
According to the statement, the shark is an Oceanic White Tip, which is characterized by its brown body and white fins, as well as its aggressive behavior. The Oceanic White Tip is currently endangered due to the high demand on the use of its fin in food.
The ministry also urged divers to follow a number of guidelines when swimming in the area and coming across a shark, including refraining from touching, riding or chasing the shark, as well as maintaining a minimum distance of three to four meters from the shark.
In June, a 23-year-old Egyptian was attacked by a shark at the Red Sea city of Ain Sokhna, resulting in the amputation of one of his legs. The man was swimming six kilometers off the coast and the attack seemed to be the result of the man fishing and swimming in the same spot, thereby attracting the shark.
Shark attacks are rare in Egypt, with the last attack killing a 52-year-old German tourist in 2015. In 2010, a string of shark attacks left another German woman dead and three Russian tourists injured. These attacks puzzled experts and resulted in a number of conspiracy theories, including that the attacks were planned by a "foreign government" hoping to destabilize Egypt's tourism.
---
Subscribe to our newsletter
---