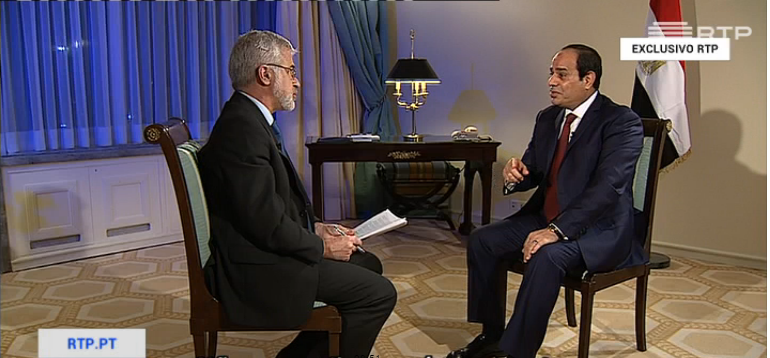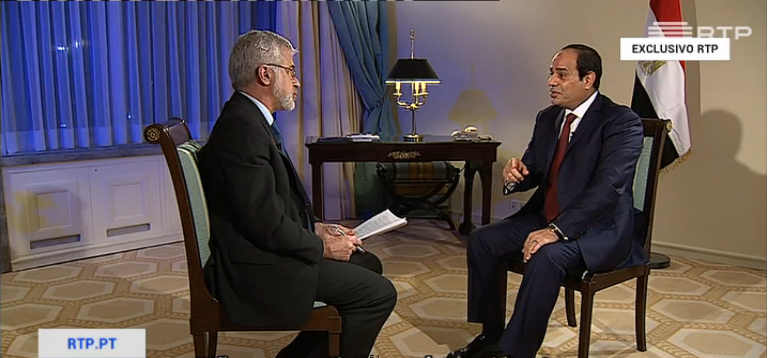 President Abdel Fattah Al-Sisi said there is no longer room for dictatorship in Egypt, in an interview with Portuguese TV network RTP Tuesday night.
When confronted by the interviewer that he may sometimes be dubbed "a dictator," Sisi laughed and said there is no room for dictators in Egypt and that there is a transfer of power every four years.
"No one cannot stay on [as president] after their term is over," he asserted, "according to the law, to the constitution and to Egyptians' will.
"There is no dictatorship in Egypt; every four years, the people can elect a new president," he continued, "and this is one of the January 25 revolution's achievements."
Sisi arrived in the Portuguese capital Lisbon on Sunday for a three-day visit, during which he met with his Portuguese counterpart, the prime minister and the parliamentary speaker.
In his interview, Sisi denied that there are scores "unjustly imprisoned," boasting that a recently-formed committee is still looking into cases of young detainees, after an initial group of 82 detainees was pardoned last week.
"I don't want to give figures," he said, "but if there is just one person jailed unjustly it is one too many."
The committee is currently preparing another list of cases to be potentially pardoned, reportedly focusing on prisoners of conscience, journalists, those with severe health conditions and detainees over 80 years old, excluding those involved in violent acts, according to the National Council for Human Rights.
Sisi said that the number of cases being reviewed by this committee does not exceed 500.
"They are not thousands [as claimed] at all," he maintained.
The Egyptian president also urged those interested in Egypt's affairs not to judge only through media reports.
He maintained that Egypt is a state that respects the rule of law and takes no exceptional measures.
He defended Egypt's judiciary, saying that there are no "unfair trials," since the judiciary is independent.
Sisi warned, however, that the country was on the brink of a civil war and was dealing with an opponent "that was willing to use violence against the will of the people."
The president furthermore denied that there is torture in Egyptian prisons, saying that it is illegal.
"If this takes place, we hold those responsible accountable," he said.
When asked about the recent two-year sentences handed down to the Journalists' Syndicate's head and board member, Sisi maintained that they were tried on criminal charges, rather than for stating an opinion.
"They weren't convicted for being journalists or having an opinion," he said. "This is a criminal case and it's important that you know that."
Sisi said that he accepts freedom of speech and no one is prosecuted for their opinions.
"If you follow the media in Egypt you will see that journalists are free to say whatever they want," he said.
The US-based Committee to Protect Journalists (CPJ) said last December that Egypt is second only to China as the world's worst jailer of journalists in 2015.
Sisi also addressed Donald Trump's recent victory in the US elections, saying that the statements the president elect has been making shouldn't be taken to heart and that "we should wait until he takes power in January."
He said that terrorism is affecting several countries and creates anxiety for politicians.
When asked about Trump's statements against Muslims in the US, and the harassment they have been facing since his election, Sisi said that "every country tries to maintain its stability and security, and I understand that."
This content is from Aswat Masriya
---
Subscribe to our newsletter
---