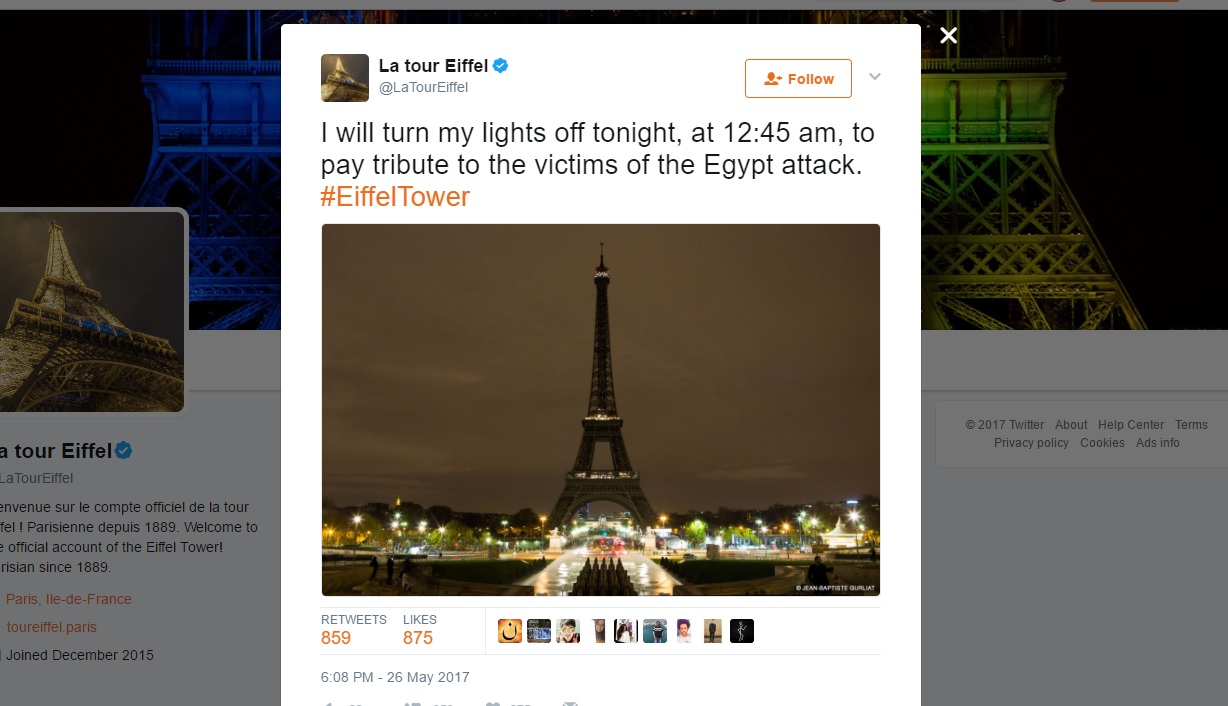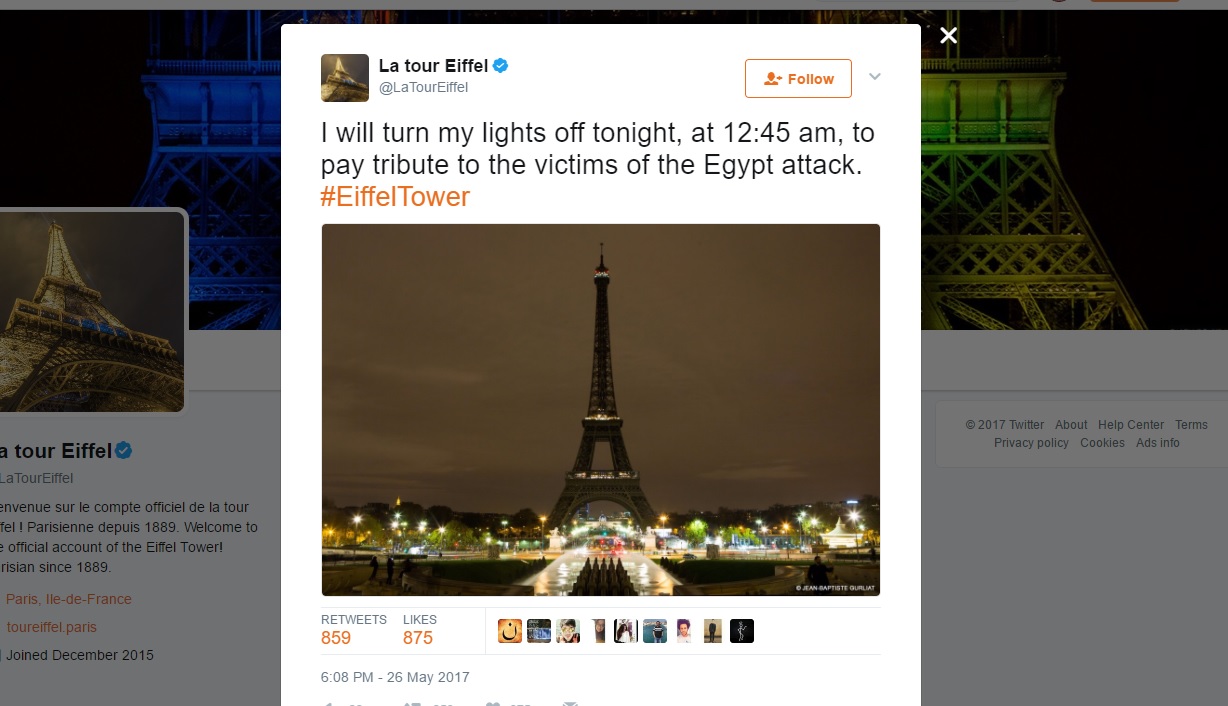 Paris turned off the lights of the Eiffel Tower at 12:45AM on Saturday to pay tribute to the victims of the attack in Egypt's Minya that left at least 28 people dead.
I will turn my lights off tonight, at 12:45 am, to pay tribute to the victims of the Egypt attack. #EiffelTower pic.twitter.com/vBNeQoAI4b

— La tour Eiffel (@LaTourEiffel) May 26, 2017
The decision was announced by Anne Hidalgo, the mayor of Paris, on Twitter and was followed by a similar announcement on the Eiffel Tower's official Twitter page.
International condemnations from across the globe have been voiced following the attack on a bus carrying at least 50 Coptic Christians to a Monastery in Minya.
US President Donald Trump, upon whom the Egyptian President called on to take the lead in the fight against terrorism following the attack, released a statement condemning the "merciless slaughter of Christians in Egypt".
"Terrorists are engaged in a war against civilization, and it is up to all who value life to confront and defeat this evil," read the statement released by the White House.
"This merciless slaughter of Christians in Egypt tears at our hearts and grieves our souls. Wherever innocent blood is spilled, a wound is inflicted upon humanity. But this attack also steels our resolve to bring nations together for the righteous purpose of crushing the evil organizations of terror, and exposing their depraved, twisted, and thuggish ideology."
Similarly, Canada's Prime Minister Justin Trudeau said he was appalled and angered to learn of the attack.
"In this troubling time, the people of Egypt can count on Canada's friendship and support, and we offer our full assistance to the Government of Egypt," said Trudeau in a statement.
"As recent events show, violent extremists often target those most vulnerable. As members of the international community, we must continue to stand against those responsible for these acts of terrorism and counter hate by promoting the values of diversity, inclusion and peace."
Meanwhile, newly-elected French President Emmanuel Macron tweeted that the French people stood 'united and committed' against terrorism and that their thoughts are with Egypt.
Other members of the European Union, the Arab League, the Organization of Islamic Cooperation and more also sent their condolences to Egypt and expressed their condemnation.
No group has claimed responsibility for the latest attack targeting Coptic Christians. However, in a speech to the nation, Egyptian President Abdel Fattah Al-Sisi indicated that the perpetrators may have been operating from Libya.
The Egyptian Armed Forces carried out multiple strikes against terrorist locations in the Libyan city of Derna in response to the Minya attack.
---
Subscribe to our newsletter
---