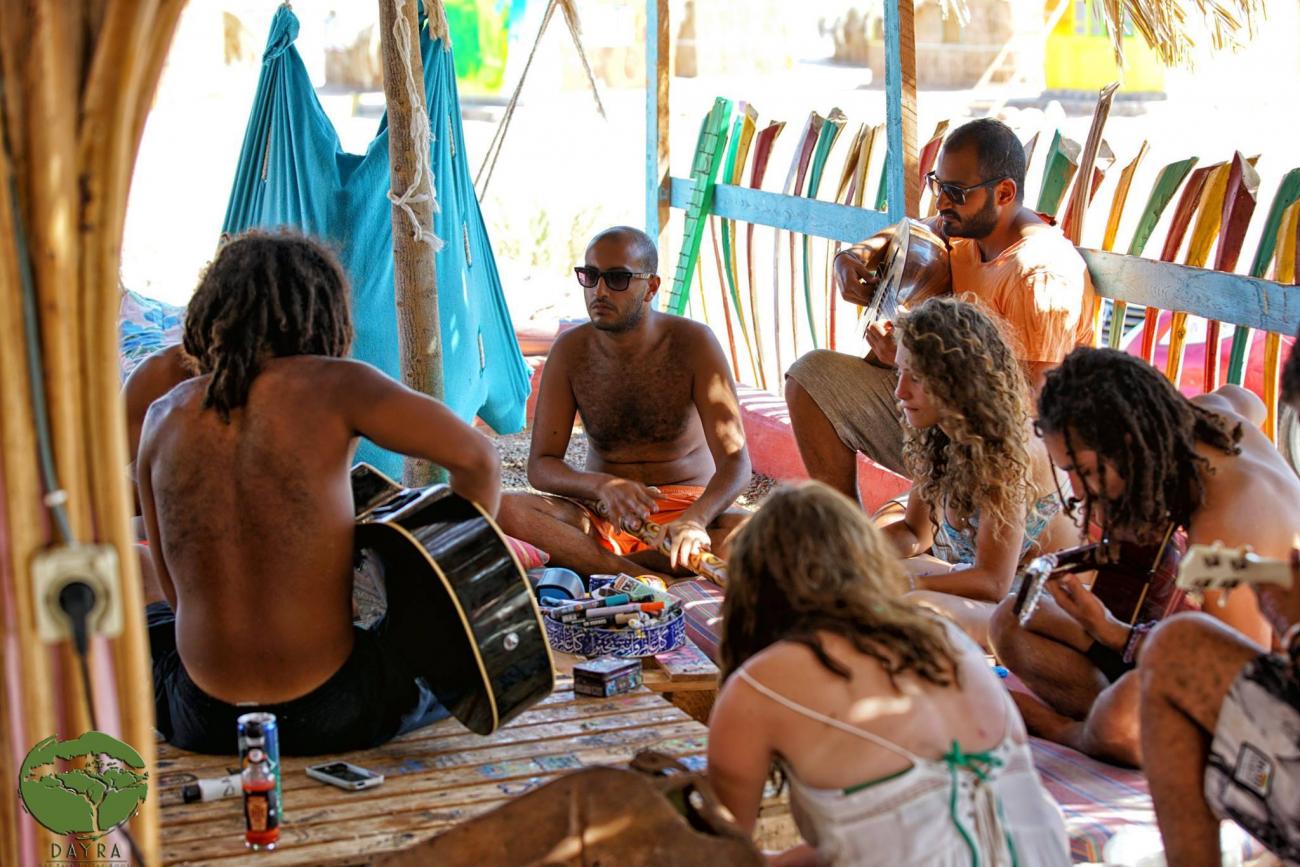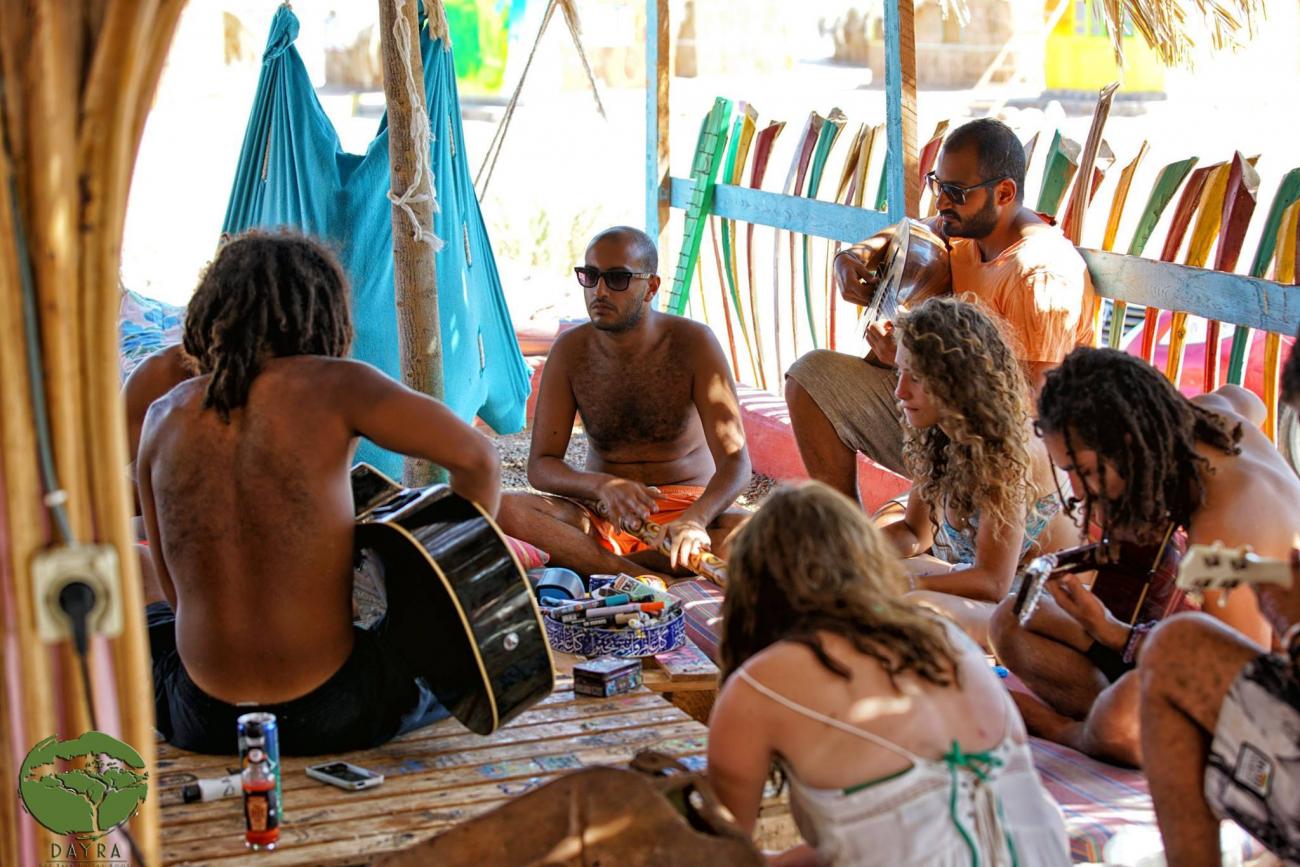 This is the story of three partners from three different career backgrounds who packed their bags and left the big city behind to make Sinai's beautiful shores their home. But that's not the end of their story.
Mohamed Serag, an engineer by training; his wife Randa Said, who hails from a media background; and Ahmed Abo El Seoud, a marketer, began visiting Sinai over a decade ago. Beyond their love for Sinai, they wanted to invest in another dream. After settling in, they turned their new residence into Dayra Camp, a space bursting with art and music that carries a message: care for the Earth.
"From the first time we put our feet on this holy land, we had a dream of leaving Cairo and living in this heaven on earth one day," Serag recalled.
Two years ago, the partners decided to open a green space on the beach, a camp like no other, with the three main pillars of the project being art, music and the environment.
The owners quit their jobs and started searching for land where they could build their dream space.
A piece of land, which had been idle for more than six years and had turned into a garbage dump with no electricity, water or infrastructure, became their choice. They started by transforming it singlehandedly, and had no crew or helping hands until about six months ago.
"We were the cleaning guys. We were the chefs. We were the entertainers. We were the marketers, the salespeople, the social media guys and so on. The camp became our life," Serag said.
"People started loving the homey vibes we invested into the place," he continued. "Once you are in, you are a part of the family."
Volunteers came in and added their sense of art to the camp and then musicians were encouraged to be part of the idea. Thus, the camp became host to a harmonious community within two years. Jamming sessions, art workshops and volunteering opportunities for artists and students made the place come to life.
Meanwhile, the founders were educating themselves about the third pillar: the environment. The main obstacle, however, was finances. Electricity generated from solar and wind power was costly. Gardening had a big obstacle as clean water for irrigation and drinking could only be available if it were driven and delivered to the camp.
Dayra started off with small activities that would still have a promising environmental impact, like sorting garbage, and then signed an agreement with Hemaya to collect the rubbish. They made their own compost from collected seaweed and upcycled materials from things used in the camp.
"We never throw anything away," Serag asserted.
The camp has organized a couple of clean up events, including a dive clean up with Baware and another with Mashrou3 el Saada. During the second event, they cleaned up Weshwashy Canyon, which was suffering under the weight of litter thrown around from people on day trips from Cairo and the delta region. They also sponsored accommodation and food for 50 volunteers to color a village in Nuweiba and built a small football field for children.
When Dayra turned three, its founders decided to invest in some greenery. They planted 500 small trees around the camp with the help of volunteers, as well as some guests.
"Guests never fail to amaze us by helping in a lot of work whenever they see us working," Serag said.
The camp also started a small hydroponic system, and the partners studied how to grow their own salad ingredients.
"We always had the feeling that in Egypt we have a huge lack of awareness when it comes to the environment and wild life. So we started feeling that since the environment is one of our main pillars it is our mission to create awareness, at least within the community we created," Serag highlighted.
The next step had to be something bigger, and something composed of all three of their passions. This is when the big green festival was born, an event that uses art and music to help raise awareness about environmental issues.
To fund the festival, a series of events called Eco-Leko were created. These events were full of small activities that helped spread awareness within the community to create habits that people can take home.  
"The main idea is to take big theories, like global warming, and [bring them] closer to people's minds and hearts. When people hear about global warming, the first thing that comes into their minds are factories, to give one example," Serag explained. "We show them how the small actions in their daily lives are actually a part of these terminologies and theories."
The big festival is taking place in September, but Dayra is ready to welcome its guests all year round.
To check out Dayra Camp, visit their Facebook page. 
---
Subscribe to our newsletter
---