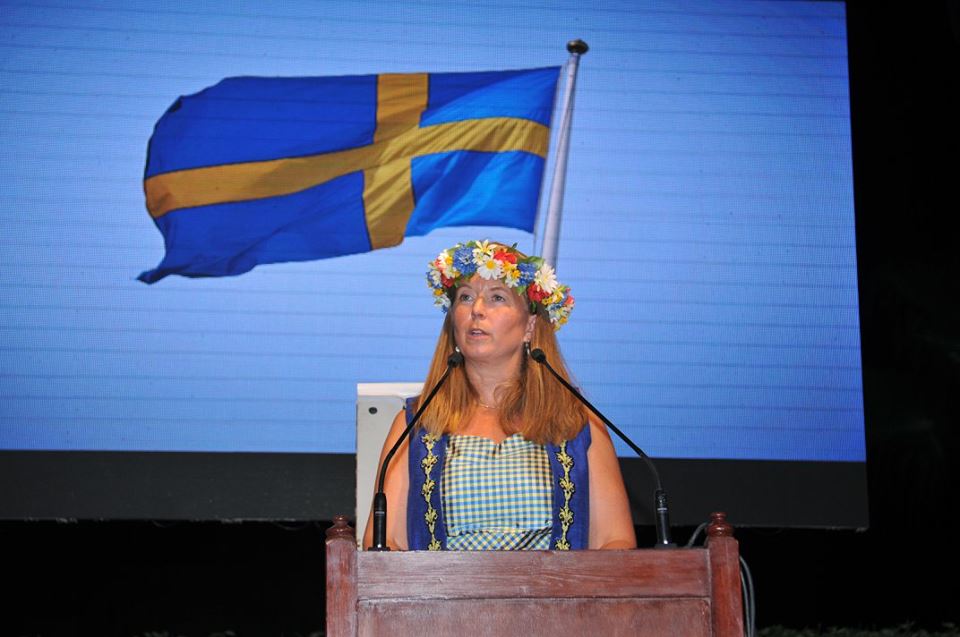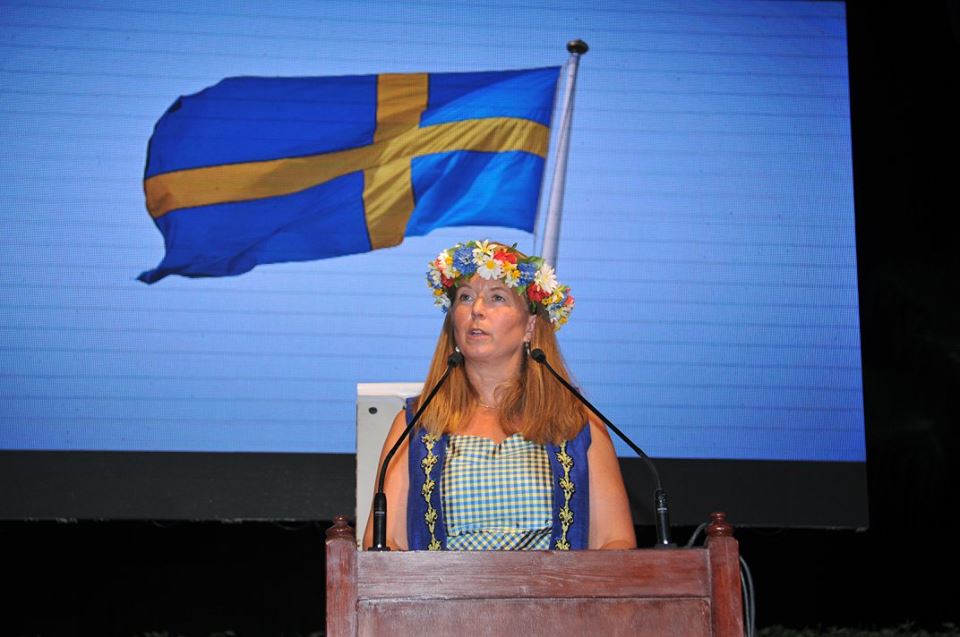 The Swedish Embassy in Egypt held a reception to celebrate Sweden's national day which falls annually on 6 June emphasizing warm relations between Egypt and Sweden.
Sweden's national day highlights two important events. On 6 June 1523, Gustav Vasa was elected as Sweden's king. On the same day in 1809, Sweden approved a new Constitution.
Swedish Embassy in Egypt utilizes the annual opportunity to assure friendly relations between both countries and to make attendees more familiar with Swedish culture. In this regard, Swedish pianist Mattias Nilsson along with Egyptian singer Noha Fekry presented musical phrases infusing Arabic and Swedish melodies.
Art is considered the most powerful and smoothest mean to get culture closer. Following this belief, a two-day textile design workshop was organized in June 2017 by the Swedish designer Nina Jobs, the Swedish Embassy in Egypt, and the Swedish Institute (SI), in Collaboration with Egyptian partners. At the reception Charlotta Sparre presented awards to six Egyptian artists whose designs have been selected as the best products of the two-day workshop.
On the economic side, to assure strong economic relations between both countries, several Swedish companies were present including: ABB, ABB, Baxter, Electrolux, Ericsson, IKEA, Newstag, Oriflame, Scania, SKF, Tetra Pak, Volvo, Absolut, Atlas Copco and Novelari.
"Egypt is a very important economic partner for Sweden as it is the largest market for us in Arica and it is our second largest market in the Middle East, Saudi Arabia is our largest market in the Middle East," said Swedish Ambassador to Egypt Charlotta Sparre to Egyptian Streets.
Moving to the political side, Sweden was elected as a non-permanent member of the UN Security Council for 2017-2018. By that time, Egypt had already been elected as a non-permanent member for the 2016-2017. What marked the bilateral relations in 2017 is that Egypt along Sweden utilized this opportunity and worked together on peace and security issues to promote stability worldwide.
Cooperation between both countries is not limitations between both countries is not limited on politics and economy; it also reaches important concerns including gender equality. In this regard, Sweden supported the campaign of Taa Marbouta, initiated in October 2016 to promote women's social, political and economic empowerment in Egypt. It also honours the role women can play in society alongside with men.
Charlotta Sparre bided a farewell to the attendees as her mission in Egypt concluded after being the Swedish Ambassador to Egypt since September 2013. Her Excellency will be travelling to Sweden to serve the Swedish Ministry of Foreign Affairs.
---
Subscribe to our newsletter
---