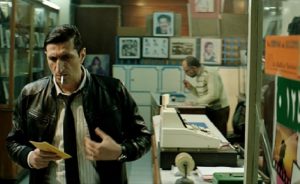 Egyptian police reportedly prevented movie-goers from entering a venue that was scheduled to screen Swedish-Egyptian director Tarik Saleh's award-winning film The Nile Hilton Incident at an arts venue in Cairo's Heliopolis on Friday.
According to first-hand testimonies by Egyptian Streets, police personnel were stationed at the gate of the Balcon Heliopolis venue asking attendees for their identification cards while preventing some of them from entering.
Shortly after, Balcon Heliopolis announced the cancellation of the screening and the event was deleted from their Facebook page.
The film had a few weeks earlier been set to screen at Zawya Cinema as part of the 10th Panorama of European Film lineup, but the venue canceled the screening last minute, citing "involuntary circumstances".
The Nile Hilton Incident (2017) is set against the backdrop of Egypt's 2011 uprising and features a police officer, played by Fares Fares, who investigates the murder of a woman that occurred in one of the rooms of the Nile Hilton hotel. What at first seems to be an ordinary murder case turns into a complicated drama that puts the spotlight on the intricate networks of power and corruption within which the Egyptian elite and police force operate.
The director initially wanted to shoot the film in Egypt, but after being denied a permit, it was instead shot in Morocco.
Initially showed at the Sundance Film Festival earlier this year, the crime thriller has been awarded The World Cinema Grand Jury Prize as well as the Grand Prix at the ninth Beaune International Thriller Film Festival in France, the festival's most prestigious price.
Numerous films have throughout the years failed to pass Egypt's strict censorship authority. Some of the most recent films facing screening bans include 18 Days, Halawet Roh, and Exodus: Gods and Kings.
---
Subscribe to our newsletter
---